Sunday afternoon's marginal sunshine did little to drive people away from Chelsea restaurant Txikito, who opened up the spacious alley behind the eatery to host "Txikifest '14," a now annual showcase for the many wines of the Basque region of Spain alongside small dishes from participating restaurants to compliment them. Proceeds of this year's festivities would benefit nonprofit organization Edible Schoolyard which seeks to bring expertise in gardening and kitchen instruction to underprivileged areas. The four hour event would bring more than a dozen wineries and ten food purveyors under the erected tent space, packing in a sea of hungry guests chomping at the bit to taste something new.
The line to enter "Txikifest" stretched from around the back alley of the restaurant out toward its front doors on 9th Avenue just as the party was getting started. Since the event had been so historically successful a sellout was no real surprise, though the sheer mass of bodies in one place did make moving around and eating comfortably a bit of a challenge. But that said, the food and drink offerings were particularly tasty and with the funds being raised from the sellout donated to a charitable organization, it's tough to find much to really complain about. And to the credit of the many folks stuffed inside, spirits remained high throughout the afternoon as guests enjoyed their fill of unique eats.
Guests were handed a commemorative tasting glass upon entering and with those in our outstretched hands, we quickly sipped on crisp pours of Txakoli (wines) from Gorka Izaguirre and Zudugarai, which were deliciously tangy. After slurping down some "Blue Point Oysters" doused in a mixture of mignonette and cocktail sauce, freshly shucked courtesy of Wild Edibles, we found ourselves briefly waiting on lines as we headed toward the far end of the alley. Along the journey, standouts included some delectably deep-fried "Crab Doughnuts" from Poole's on a bed of pickled field peas and a creamy piquillo aioli, a tremendously "Spicy Green Papaya Salad" from Kuma Inn and a modernized take on traditional fare from Hoboken's Cucharamama with grilled shrimp atop a "Fresh Corn Cuban-Style Polenta."
Toward the very back of the outdoor space, a large grill was fired up cooking a pile of green root vegetables until their exterior had turned completely black and charred. Bar Mateo was preparing the day's most eccentric dish as their "Baby Vidalia Onion 'Calcots,'" which were wrapped and served in newspaper like street food, had to be stripped of their char-grilled strands and dipped into a delicious red sauce. The onions themselves were soft and sweet and the garlic and oil-filled chunky sauce provided a tangy contrast to the white layered vegetable- though removing the black coloring from each of our fingers did prove to be a chore.
Following a re-visit to our favorite tastes from Co. (Their "Panzanella Spiedeni" and "Broccoli Rabe & Chili Toast" bites were excellent), we made a final stop to La Newyorkina and their selection of frozen paletas. With a fiery "Mango Chili" pop and a "Chocolate" variety, we made sure to sample both the sweet and savory spectrum before licking them down to the very stick. Though certainly crowded, "Txikifest '14″ was an enlightening afternoon in Chelsea and proved to be an ideal way to spend a Sunday in New York City- by celebrating the eclectic cuisines and flavors from a region that is too often underappreciated for their culinary accumen.
- Jane Van Arsdale
Food Photos from Txikifest '14

Wild Edibles: "Blue Point Oysters"

Txikito: "Txikito's Homemade Txistorra – Navarran Style Homemade Sausage"

La Vara & El Quinto Pino: "Fideua – Toasted Noodle Paella, Shrimp, Calamari"

 
Cucharamama: "Fresh Corn Cuban-Style Polenta"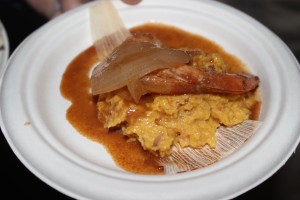 Kuma Inn: "Spicy Green Papaya Salad"

  
Bar Mateo: "Baby Vidalia Onion 'Calcots' with Salvitxada"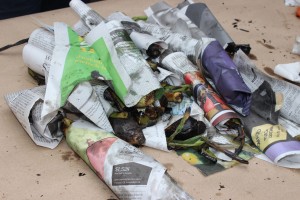 Co.: "Panzanella Spiedeni," "Broccoli Rabe & Chili Toast," "Rhubarb Brioche Bread Pudding"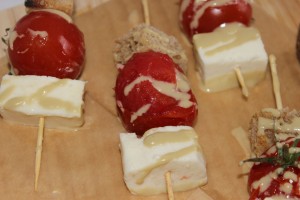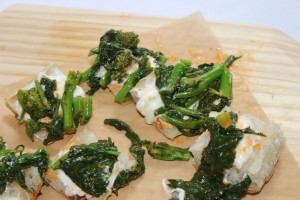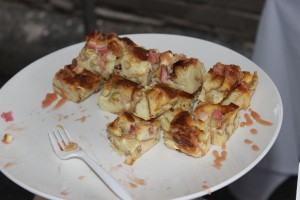 Poole's: "Crab Doughnuts"

Related Articles
Share
About Author
(0) Readers Comments