After a whirlwind event on Saturday evening, our heads are still spinning from the exceptional array of eats and drinks that was the first annual "Lobster de Mayo." The posh Capitale was transformed into an event space of exquisite proportion with more than twenty of New York City's finest restaurants and chefs doling our eclectic dishes featuring the luxurious red shellfish during as exciting a four hour event as you'll find anywhere. Hosted by celebrity chef Katie Lee (we also spotted supermodel Chrissy Teigen in the fray), the Mexican inspired fresh fare and tasty tequila combined for an unforgettable evening of festivities, all to benefit City Harvest.
The red carpet was rolled out onto Bowery as hundreds of guests began to file into the glamorous ballroom. Though there were two designated VIP sections, everyone fortunate to have been in attendance on this night was specifically made to feel special- as they should, with tickets for the evening priced at just under $300. But if you gauged the lineup of folks leaving Capitale at the conclusion of the evening, you would hardly get the impression that any of them had buyer's remorse after experiencing such a memorable affair.
The lineup of participating restaurants at "Lobster de Mayo" sounds like you'd be reading them off of a Zagat New York City restaurant list. Gramercy Tavern, Jean Georges, ABC Kitchen, Marea, Betony, Marc Forgione among others, are among the most highly regarded in all of Manhattan and each of them were fully staffed on this night, doling out everything from lobster tacos to ceviche by the meticulous crafting of their chef's hands. The lobsters were provided courtesy of Homarus, who are among New York's top purveyors but also acted as the evening's hosts.
Once inside, guests were welcomed to pose on the red carpet at the step and repeat setup and to peruse the multitude of silent auction items ranging from music memorabilia to autographed sports jerseys and experiences. But most in attendance took a few additional steps forward to marvel at the grandiose space. The dead center featured a massive bar, fully staffed on all sides and doling out hand crafted cocktails and beers at a rapid pace. Just steps away, a special Margarita Bar was erected where guests were given fully engraved fruit muddlers and given their choice of Margaritas, prepared with freshly squeezed juice all sponsored by Patron. VIP guests meanwhile were treated to some plush lounge style seating, food runner services, a special raw bar and exclusive Patron tastings, along with elevated views down upon a crowded ballroom floor.
But all of the accoutrements aside, the truly exceptional food being served cannot be understated. It began even before we entered the main space at Betony where Executive Chef Bryce Shuman was personally handing out a succulent "Poached Lobster." Richly lacquered with a creamy sabayon and chives, the colorful dish was an outstanding offering both in texture and flavor. Just steps away, Lavo had been garnering perhaps the most buzz all evening long with a fully fleshed out pink lobster claw atop a freshly sliced salad. The addition of a salty, crunchy breadstick was but a tasty afterthought to the generous portion of chewy lobster meat which was mouthwatering enough on it's own.
Though some restaurants like ABC Kitchen, Tao Downtown and Beauty & Essex similarly served their own inventive takes on "Lobster Tacos," we found ourselves drooling at the prospects of distinction. And Jean Georges' unparalleled "Lobster and Gruyere Cheeseburgers" were as distinctive and delectable as anything that we had the pleasure of tasting. The hunk of lobster meat was fashioned into a bulbous patty, stuffed between a halved brioche bun and topped with a dollop of green chile drizzle, bibb lettuce and a pickle for a particularly hearty combination of different flavors. The sandwich was absolutely extraordinary and was our immediate standout of the night for this writer's discerning palate. To avoid mentioning the dishes from The General (an excellent "Cantonese Lobster"), Catch (creamy "Lobster Roll") and Gramercy Tavern (one-bite "Lobster Salad with Pickled Aji Dulce Peppers" atop a crunchy cracker) though, would be doing each of them a disservice, considering the fact that at any other event, each of these would be the clear cut finest samples offered.
Considering there's perhaps no food that exudes a feeling of opulence like a lobster (at least, until "Caviar de Mayo" exists), it's fitting that the first ever "Lobster de Mayo" was as lavish and grand as its name would imply. There was delicately crafted food and drink at literally every turn, enough so that the sheer amount of things to taste or imbibe could be a bit overwhelming. And when you've paid a premium to attend an event of this magnitude, that's precisely how you should be left feeling long after it's concluded- completely satisfied, inspired and in awe that you had been fortunate enough to be a part of it all.
- Jane Van Arsdale
Food Photos from Lobster de Mayo 2014

ABC Kitchen & ABC Cocina: "Lobster Taco, Fennel, Chiles & Lemon"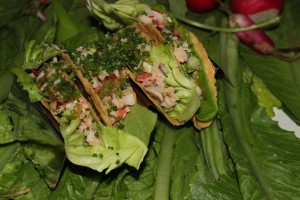 Tao Uptown – Lobster Sausage with Mis en place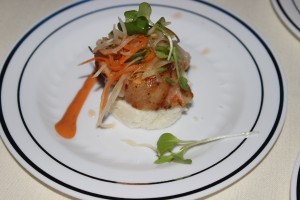 Betony: "Poached Lobster, Sabayon, Chives"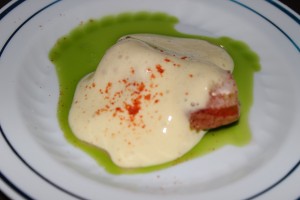 Lavo – Lobster and Spring Vegetable Salad
Tao Downtown – Lobster Tacos with Avocado, Cabbage & Special Sauce

  
The Sea Grill: "Lobster Five Ways"

 
 
 
The General: "The General Roll" & "Cantonese Lobster"

 
Beauty & Essex: "Lobster Tacos" & "Black Bottomed Butterscotch Pot de Creme"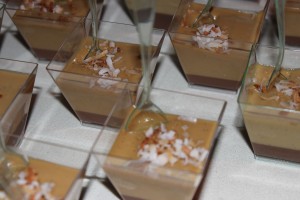 Marea – Lobster and Sichuan Beef Tendon Arepas

Marc Forgione – Chili Lobster, Spring Cous Cous

The Wayfarer: "Roasted Maine Lobster" & "Poached Maine Lobster"
 
Gramercy Tavern: "Lobster Salad with Pickled Aji Dulce Peppers"
Catch: "Lobster Roll" & "Macaroni & Lobster Cream"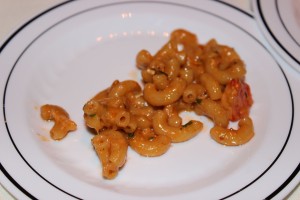 Jean Georges: "Lobster and Gruyere Cheeseburgers"
Arlington Club

Related Articles
Share
About Author
(0) Readers Comments