It's only fitting that the May weather was downright summery on Saturday afternoon in celebration of the 20th Anniversary of "Taste of Tribeca." The outdoor food and drink event would once again welcome some of Manhattan's finest chefs and some of the posh neighborhood's best restaurants to set up cooking stations to serve up a singular dish reflective of their cuisine to a famished lunchtime crowd. The family friendly culinary festival would host thousands of wandering New Yorkers all to benefit two special local schools- music instruction for P.S. 234 and initiatives like dance instruction, author visits and arts support for P.S. 150- while also serving to showcase many of the inspired eats that Tribeca has to offer.
Affordably priced at just $40, guests would be granted tickets that would entitle them to six tastings of their choosing from the more than seventy participating restaurants. And with table after table lining Greenwich and Duane Streets, picking and choosing which six to settle upon proved to be far more challenging than even we had anticipated. Though we arrived just after the event had kicked off, the designated streets were already rife with activity as folks were stopping in their tracks to eat with both hands all around us amid a live blues band keeping spirits high performing in the background.
Sensing that the afternoon was poised to become a crowded affair, we quickly glanced at our festival map and began strategically circling the restaurant no-brainers for us to visit. Unsurprisingly, we began at Locanda Verde where the "Lamb Meatball Sliders" were sandwiched in between a crisp brioche bun and doused in sweet red sauce. The additional plating of cucumber and greens was a pleasant surprise, rounding out an otherwise savory slider. Speaking of sliders, Sarabeth's Tribeca served up an excellent "Mini Crabcake Sandwich" with a touch of remoulade sauce that complimented the tasty hunks of fresh crab meat. Their housemade "Mini Chocolate Chip Cookies" also didn't hurt as the lone dessert that we indulged upon during the three and a half hour event.
American Cut, the newly opened steakhouse from Marc Forgione has been one of the neighborhood's most widely talked about restaurants in recent months and their "Pastrami Steak Sandwich" showed us why. Thinly sliced strips of tender pink meat with scant tastes of slaw and mustard sat atop a thick rustic rye slice decadently and the flavor profile was so unique, we utilized two of our tastes here. The small sandwich seemed to be the day's calling card as other eateries like Warren 77 ("77 Sliders"), Walker's (their "Pulled Pork Sandwich" drew the day's lengthiest line by far), Roc Restaurant ("Chicken Parmigiana Sliders"), Macao Trading Co. ("Beef Pastrami Roll"), Cercle Rouge ("Pain Bagnat") and Terroir Tribeca ("Meatball Sliders") each offered a variation on the small sandwiches.
Though we made sure to hit the remaining well known spots like Telepan Local, Distilled NY, Palm Tribeca, The Harrison and of course, Nobu- whose "Black Cod with Miso" was among the best dishes that we ate all day- for our money, the "Pulpo (Octopus) a la Gallega" from a restaurant called Tablao Tapas y Restaurante was our absolute favorite. The massive purple tentacle was sliced up into roughly twenty pieces and lacquered in extra virgin olive oil- the flavor of which was fresh and delicious, despite its strange consistency. The slimy exterior and chewy texture did nothing to dissuade us from enjoying helping after helping of the delectable dish and judging by the plates of folks eating around us- we weren't the only ones who had stumbled onto such a unique offering.
Even though we weren't able to taste every single dish that looked mouthwatering, part of the fun of the afternoon was being selective and exchanging some of our suggestions with other attendees. Once our last hole was punched though, we grabbed a few seats and sat for quite awhile just taking in the festive atmosphere where parents and their children and groups of young people all seemed to be following suit. "Taste of Tribeca" certainly puts in perspective the fine array of restaurants that the area has to offer, coupled with the relatively close-knit nature of the neighborhood's inhabitants- who just like us, had been waiting all winter for an excuse like this one to finally enjoy City life outdoors.
- Dave Gendelson
Food Photos from Taste of Tribeca 2014

Telepan Local: "Ramps with Asparagus, Wild Garlic, Lemon Ricotta & Sorrel"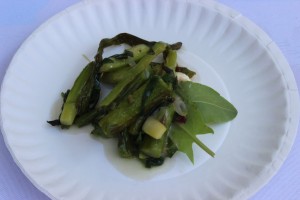 Tablao Tapas y Restaurante – "Pulpo (Octopus) a la Gallega"

Sarabeth's Tribeca: "Mini Crabcake Sandwiches, Mini Chocolate Chip Cookies"

Daruma-Ya – "Foie Gras Sushi"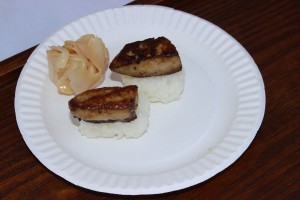 Nobu – "Black Cod with Miso"

Smith & Mills: "Oysters"
Warren 77: "77 Sliders"

Locanda Verde: "Lamb Meatball Sliders with Caprino & Cucumber"

Tiny's & the Bar Upstairs – "Homemade Duck Pastrami Tartine"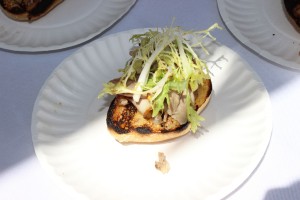 Khe-Yo – "Creekstone Farms Sesame Beef Jerky & Smoked Chili Sauce"

American Cut: "Pastrami Steak Sandwich"
Marc Forgione: "Fluke Fish Tacos, Smoked Avocado, Grilled Ramp, Salsa Verde"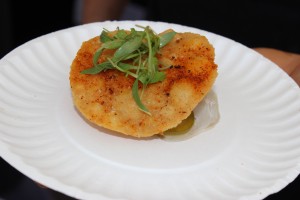 The Greek: "Hand Rolled Grape Leaf Stuffed with Herbed Rice & Bulgur Wheat"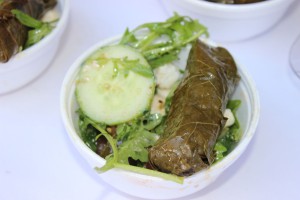 Walkers: "Pulled Pork Sandwich, Coleslaw & Watermelon Wedge"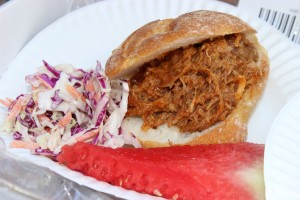 Lotus Blue Dong Tian Kitchen Bar:"Peppercorn Chili Chicken"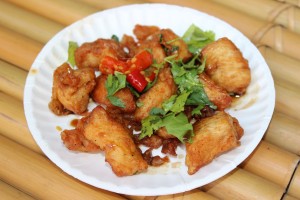 The Butterfly:"Deviled Eggs" & "Ice Cream Sandwiches"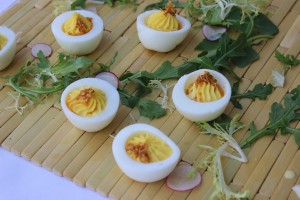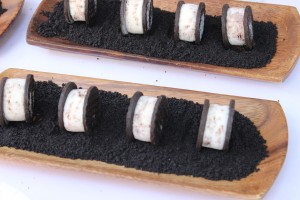 Zucker's:"The Zucker's Traditional" & "The Max Zucker on Mini Bagels"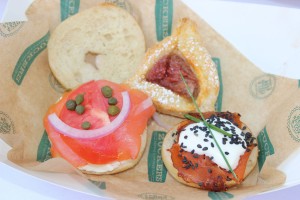 Roc Restaurant:"Chicken Parmigiana Sliders"
My Belly's Playlist:"Herb Roasted Zucchini, Almond Gremolada, Red Onion, Lemon, Roasted Chicken on Baguette"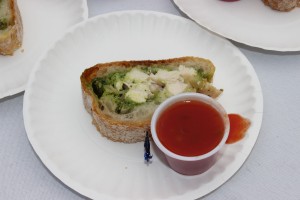 Macao Trading Co.: "Beef Pastrami Roll with Kimchee-Pickled Jalapeno Relish & Horseradish Mayo"
Los Americanos: "Seafood Tamale"
The Hideaway: "Pigs in a Blanket & Roasted Vegetables"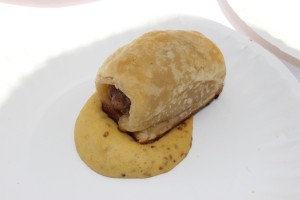 Max: "Lasagna"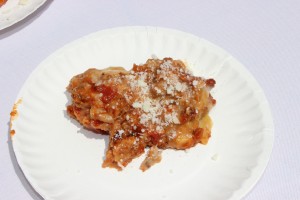 Landmarc: "House Cured Salmon with Pickled Onions, Mustard Seed & Dill Creme Fraiche"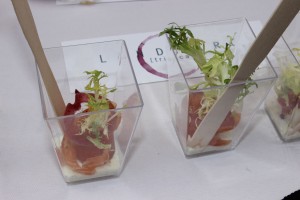 Distilled: "Chicken Liver Pate"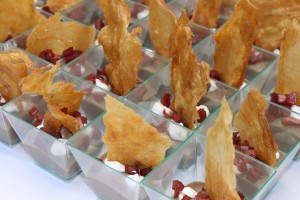 Church Publick: "Bangers & Mash Crostini"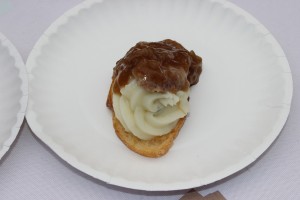 Bubby's: "Apple Brown Betty"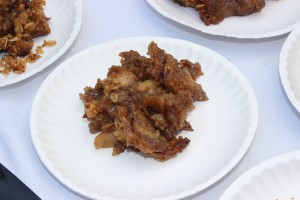 Tribeca Tap House: "Crostini Trio"
Tribeca Grill: "Chicken & Hominy Stew"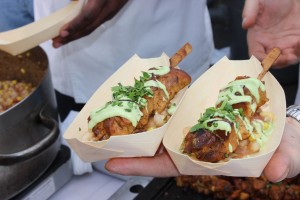 China Blue: "Pan Fried Pork Buns" & "3 Cup Chicken"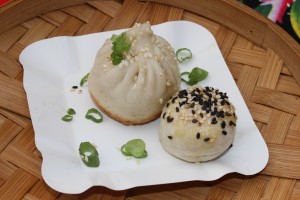 Sazon: "Shrimp Ceviche with Fresh Guacamole & Caribbean Chips"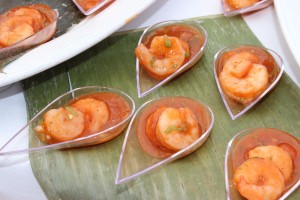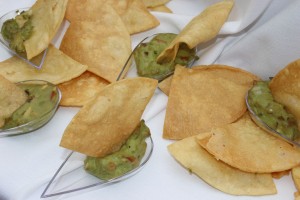 M1-5: "Chicken Tikka Masala" & "Seared Eggplant Sandwich"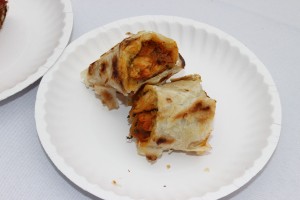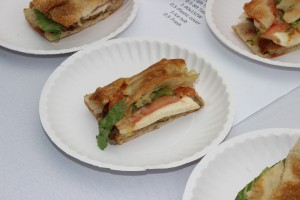 FDNY-Ladder 8: "Chicken Quesadillas"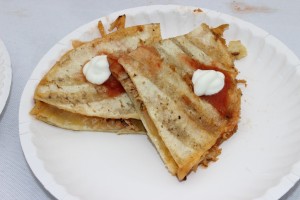 Billy's Bakery: "Red Velvet Mini Cupcakes, Brownie Bites, Hello Dolly Bites"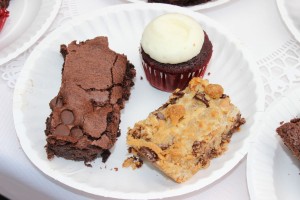 Pepolino Ristorante: "Pannino con Porchetta Toscana"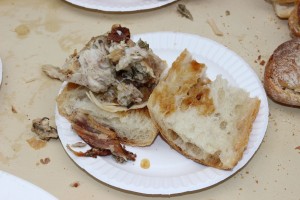 The Harrison: "Lamb Keffe"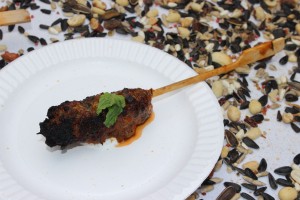 Palm Tribeca: "Hickory Smoked Ribeye & Creamed Spinach"
Ninja New York: "Roast Beef Sushi, Colorful California Roll & Spicy Tuna Roll"
Cercle Rouge: "Pain Bagnat"
Blaue Gans: "Strawberry & Elderflower Coupe"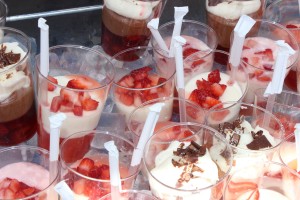 Scalini Fedeli: "Risotto with Porcini Mushrooms & Peas"
Woodrow's: "BBQ Chicken Wrap with Homemade Chips"
American Flatbread: "Punctuated Equilibrium, New Vermont Sausage, Medicine Wheel"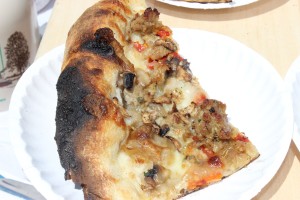 Terroir Tribeca: "Meatball Sliders"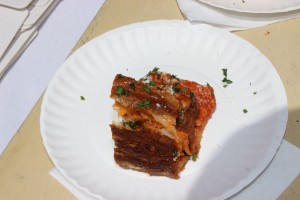 Anejo: "Pork Belly Tostadas"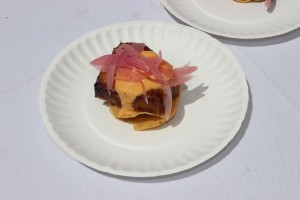 Dirty Bird To Go: "Buttermilk Dipped Chicken Nuggets"
Jungsik: "Miyeok – 'Birthday Meal' – Seaweed Soup Paella"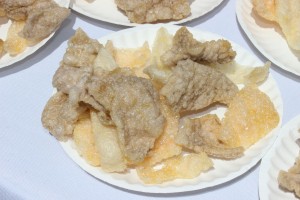 Related Articles
Share
About Author
(0) Readers Comments