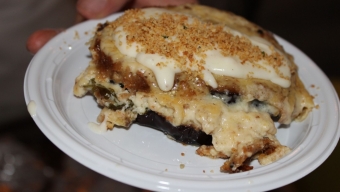 Tucked underneath the elevated subway line of the 7 train, more than 30 Queens restaurants setup a makeshift marketplace for doling out their specially made eats on Tuesday evening. The 2014 "Taste of Sunnyside," in partnership with the folks at Edible Queens, was a celebration of the culture of the neighborhood with live music, food and drinks among the festivities. And with General Admission tickets priced at just $35, there was simply no beating the value provided during the entertaining two hour event.
A grandiose white tent was propped up providing ample room for the over a thousand in attendance to move about the space, jumping from table to table with plates of tasty food samples. Meanwhile, local beermakers Singlecut Beersmiths and Queens Brewery passed around cups of their terrific suds to wash down much of the heartier fare. In between tastings, a sea of guests faced the erected stage, welcoming the likes of Sunnyside Social Club, the acappella group Ten and Change and New York City's only all female mariachi band Mariachi Flor de Toloache to provide some live entertainment as they gorged on delicious dishes.
Like many of the arriving guests, we entered "Taste of Sunnyside" and immediately posed for wacky photos inside of the Mashbooths photo booth, before seeking out on our culinary adventure. Almost immediately, we stumbled onto Los Verdes, a Sunnyside based burger restaurant which was dishing out large portions of their "Chicken Maicito"- a savory collaboration of corn niblets, cream and grilled chicken topped with an aioli mayo drizzle. The piping hot bowl of 'kernel corn' was deliciously rich and hearty, similar to the housemade cup of "Homemade Chicken Pot Pie" from Woodside's Copper Kettle. Topped with a light puff pastry biscuit that acted as pie crust, chunks of potato, chicken and carrots were coated in the traditionally thick golden savory filling that was a seemingly odd choice considering the warm weather, but tasty nonetheless.
With assorted Atomic Wings from 43 Bar & Grill, two different variations of chili from WilliamsBurger and Aubergine Cafe, "Smoked Meatballs" from Quaint and the pleasant surprise of White Castle slinging tasty hamburgers and cheeseburgers, there was no shortage of comfort foods to suppress any hungry diner's appetite. It seemed though that the most popular dishes at "Taste of Sunnyside" came from two local neighborhood spots- and they were our absolute favorites. First, the American inspired Salt & Fat was serving an intricately prepared "Pork Pate" atop a crostini, equipped with a bacon mayo and pickled ginger to garnish. But it was the mustard seeds and gelatinous salmon row that added the most depth of flavor to the smooth but thick terrine slice. Just steps away, Venturo Osteria and Wine Bar's "Eggplant Lasagna" was as mouthwatering as its appearance was eye-opening. Layered with crunchy breadcrumbs atop thick cheese, cooked kale and lightly battered eggplant, the dish was topped with a white cream sauce, each decadent element was peeled away to reveal tastier and tastier ingredients inside- and the entirety of the generously portioned plate was hands down the best that we sampled all evening.
As the evening wore down, the music pressed on and guests headed toward the front of the space for the reveal of the raffle prizes- most of which came courtesy of the evening's participating restaurants. Though it was our first trip out to this part of Queens, we certainly experienced more than we could handle of the many dining options in Sunnyside. And although it was recommended that we simply have a "Taste," we are already planning a follow up trip to enjoy a full meal out in our sister borough.
- Jane Van Arsdale
Food Photos from Taste of Sunnyside 2014

Los Verdes: "Chicken Maicito"

DeMole Restaurant: "Seitan with Vegan Mole Poblano"

Nita's European Bakery: "Assorted Mini Puff Pastries"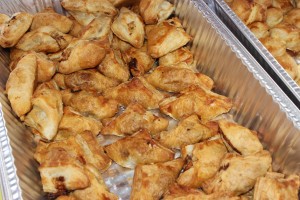 Ariyoshi Japanese Restaurant:Â "California Rolls, Fried Chicken Karage, Chicken Terriyaki"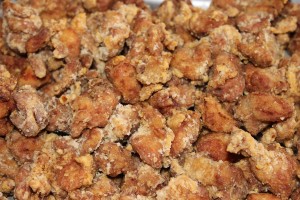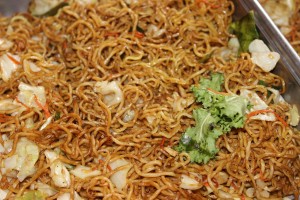 Bliss Street Station: "Penne with Vodka Sauce," "Chicken Curry" & "Shepherd's Pie"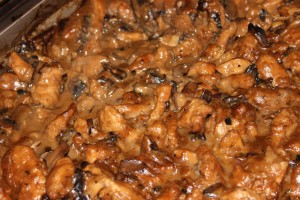 Murphy's Lobster Grill: "Lobster Mac & Cheese"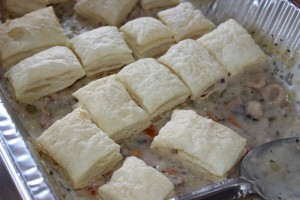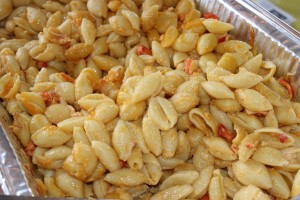 Aubergine Cafe: "Vegetarian Chili" & "Curried Chicken Salad"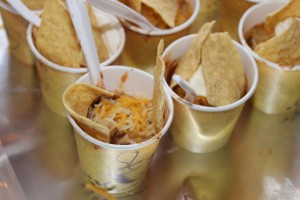 Quaint: "Smoked Meatballs"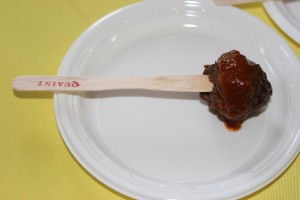 43 Bar & Grill: "Assorted Atomic Wings"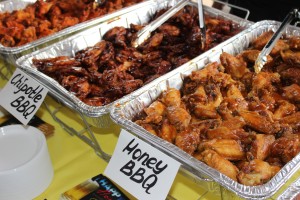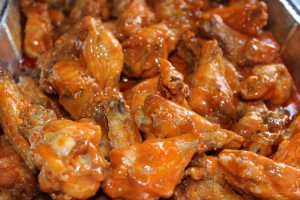 Salt and Fat: "Pork Pate with Bacon Mayo, Salmon Roe, Micro Chives & Pickled Ginger"

Sidetracks: "Mini Crab Cakes" & "Chicken & Steak Skewers"

New York Style Eats: "Grilled Chicken Caesar Salad with Housemade Dressing"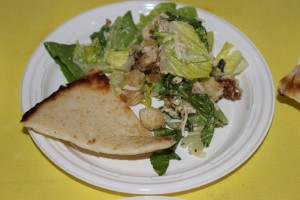 Venturo: "Eggplant and Kale Lasagna and 'Baby Jesus Cake'"

 
Go Natural Health Foods & Juice Bar: "Organic Brown Rice, Cous Cous & Quinoa"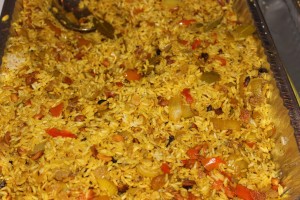 Arriba Arriba: "Shrimp Appetizer" & "Sangria"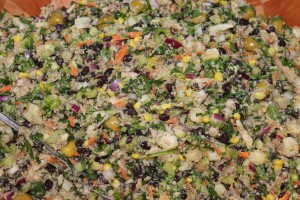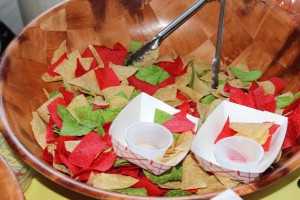 Bucharest Restaurant: "Romanian Sausage" & "Stuffed Cabbage"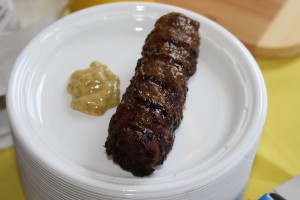 WilliamsBurger: "House Made Beef Chili"

Bliss 46 Bistro: "Scampi, Hanger Steak" & "Brownie"

White Castle: "Cheeseburger" & "Hamburger"

Copper Kettle: "Homemade Chicken Pot Pie"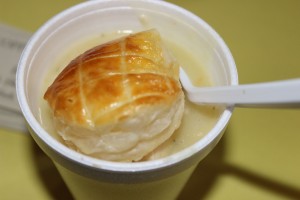 The Dog and Duck: "Deviled Eggs and Fried Pickles"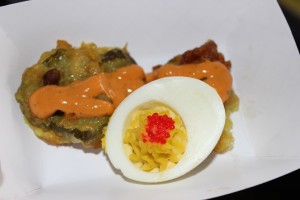 Claret Wine Bar: "Assorted Crostini with Cheese, Charcuterie,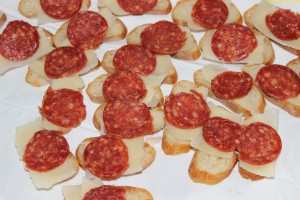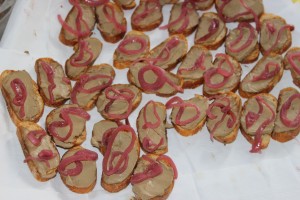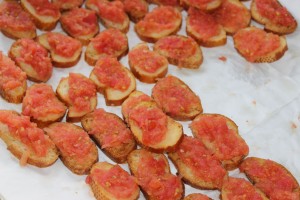 Related Articles
Share
About Author
(1) Reader Comment