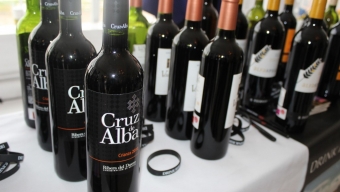 With more than 70 different wines and with tickets priced at just $35, the folks at Snooth.com hosted an affordable introduction of different varietals for a few hundred guests on Thursday night at an event entitled "Snooth Selects." The chic 12th floor space of the west side's Studio 450 provided stunning panoramic views of the City- and its rail yards- as the loft space was transformed into a full on tasting room for both casual and expert wine drinkers. The friendly wine pourers and tasty bites of food only served to compliment the array of wines on hand, most of which were as reasonably priced as the event itself.
The two hour affair kicked off promptly at 6pm, where guests were whisked inside of the all white space on West 31st Street and the room was still well lit by the remaining daylight outside. Food stations were setup on opposite sides of the spacious room serving the likes of "Patatas Bravas," "Black Bean Empanadas," "Lamb Meatballs" and a selection of cheeses and fruits to pair with each wine. With food in hand, we grabbed our empty glasses and hit the tables.
Upon entering the room, we were greeted almost immediately by the folks from Vouvray, who were drawing a sizable portion of the room to their tables lined with all Chenin Blanc wines. The Loire Valley in France is renowned for terrific wines and the selection here was no different, with the "Vouvray Brut 2008," the full bodied "Louis Armond Vouvray 2011″ and the nicely acidic "Chateur de Montfrot Vouvray 2011″ all being standouts. But our hands down favorite was the incredibly affordable "Thierry 'Tuffeau' Vouvray 2011″ which came at the suggestion of the table's expert wine pourer. At roughly $10 a bottle, the unbeatable wine offered an apricot nose, and a clean smooth finish despite being subtly sweet. It's an ideal wine for warmer months and is one on our 'to buy' list for the approach of summer.
Toward the venue's entrance we chatted up Brotherhood Winery, whose been a presence at many similar events that we've attended in recent months. The Hudson Valley based winery was pouring their "Sparkling Chardonnay B," a crisp and refreshing white that was nice and dry- just how we like it. But despite some more local flare, a good portion of the wines being poured were of international variety as France, Chile and Spain all had a presence at the "Snooth Selects" tasting. We had a difficult time leaving the Ribera Del Duero table, which is from a region in Spain known for exceptional Tempranillo grapes. Here we enjoyed some exquisite pours like the 14 month oak casked aged "Cruz de Alba 2008″ and a personal favorite, the "Vina Mayor Riserva 2008," with a black cherry and red fruit nose but a completely approachable taste profile with a bit of an earthy back end. The finish is smooth and the wine, priced at just under $20 is an absolute steal.
The two hour event was but a snapshot of some affordable and interesting wines that guests were treated to taste for the first time. Many of those in attendance spent portions of the evening with pens in hand jotting down tasting notes in their take-home booklets, likely to serve as a reminder to purchase some of these wines in the coming weeks. Not us though- we headed right for our local wine store and grabbed a case of some of those mentioned above right on the spot, rather than waste any more time. Snooth always has a way of hosting some affordable and interactive wine tasting events that suits any palate and with a website devoted to wines, recipes, suggestions and more, you can get lost in their universe of big reds or crisp whites just as easily as you can inside of a wine store.
- Jane Van Arsdale
Related Articles
Share
About Author
(0) Readers Comments