More than thirty floors high, the Mandarin Oriental hotel overlooking Columbus Circle welcomed hundreds of revelers to their ballroom space on Friday night to be served by dozens of New York City's finest food and drink purveyors. The annual LUCKYRICE Festival has become amongst spring's most highly anticipated events. As a touring entity, the festival is slated for stops in Los Angeles, San Francisco, Las Vegas and Miami in the coming months. And though the New York City string of happenings had been consolidated into one extraordinary evening for this year, the "NYC Feast" proved that the planners know a thing or two about pulling off an exceptional party with multiple moving parts as part of their fifth year celebration in Manhattan.
The picturesque views of the Columbus Circle fountain somehow played second fiddle to the flurry of activity going on inside of the elevated 36th floor ballroom with chefs heating up and plating each dish with their respective teams, photographers snapping flashbulbs toward smiling guests around the room and mixologists vigorously shaking and pouring each carefully crafted cocktail at one of the multiple liquor stations. Undaunted, we surveyed the frenzy around the room before heading off to begin tasting some of the cuisine, which already smelled delicious.
To no surprise, most of the evening's longer lines revolved around the likes of Morimoto ("Diver Scallop Tataki") and Perry St., whose "Peekytoe Crab Fritters" were said to be outstanding. But alas, we spent so much time parading around the room and enjoying cocktails from the likes of Employees Only and Asahi Beer and picking up other bites to eat here and there that we wound up missing out on two of the evening's best dishes. Nevertheless, the other participating restaurants did a more than admirable job in their place.
The evening combined inspirations from previous LUCKYRICE events so that the chefs had carte blanche to interpret Asian-style fare as they chose to do so. The dishes being doled out to hungry guests were each distinctive and infused with a plethora of different components. The Feast's most creative dish was served courtesy of Le Colonial, where the Midtown based French Vietnamese eatery was offering a small serving of "Ca Bam"- a sesame seed chip overloaded with peanuts, basil and spicy seared monkfish. Though it was a single bite snack, the collection of different flavors meshing together was utterly delectable. Just a few steps away, we chatted with Chef Michael Ferraro of Delicatessen whose "Skuna Bay Salmon Tataki" was equally as delicious pairing seared slices of fish served with fresh hunks of avocado, hazelnut and a fennel pollen.
Though many of the dishes were based around either noodles or seafood, meat eaters salivated over REDFARM's piping hot "Kowloon Filet Mignon Tart," which was a tender cut of steak atop a bite-sized pie crust stuffed with some Chinese vegetables. Yunnan Kitchen's "Yunnan Spiced Lamb Meatball" was also incredibly noteworthy. Despite its diminutive size, the single bite ball was packed with flavor and the additional serving of mint salad proved to be the perfect contrast for the intricately seasoned sample. In between such a collection of different eats, we frequented at many of the bars stationed throughout the ballroom, often grabbing pours of Sakamai's excellent "St. Thomas," crafted with Bombay Sapphire East Gin, pineapple, cucumber and a touch of lemongrass and dill which really brought everything together nicely.
With drinks in hand, we resumed grabbing bites from Pig & Khao ("Burmese Papaya and Noodle Salad"), Asiate ("Uni Panna Cotta") and Macao Trading Co. ("Pickled Shrimp Ceviche"), before settling in and finding our favorite eats of the evening. First, the "Kao Soi Noodle" from Rhong Tiam was a revelation. Offering considerable spice on the back end, the rich noodle dish was topped with a savory braised Berkshire pork, hard boiled egg, and finished with a smattering of creamy sauce for perhaps the most complete tasting dish being served at the entire Feast. We also went wild for Spice Market's spoonful of "Yellowfin Tuna," which was just as impressive despite being far smaller. Crunchy tempura pearls meshed with the chilled hunks of fresh pink tuna capped off with a smear of zesty lemon szechuan mayonnaise.
For years, we've extolled the virtues of the LUCKYRICE Festival and 2014 was no different. Though the events this year were consolidated into one unforgettable night, there was enough activity going on to keep the entire crowd satisfied. With incredible cocktails, a live songstress and pianist performing in the center of the room, and some of New York's finest chefs preparing Asian inspired fare, the entire night was a soiree like none other, expertly run and executed masterfully from start to finish.
- Jane Van Arsdale
Photos from the 2014 LUCKYRICE New York Feast

Rasa: "Roti Canal: Indian Fluffy Bread"

Rhong Tiam: "Kao Soi Noodle with Braised Berkshire Pork"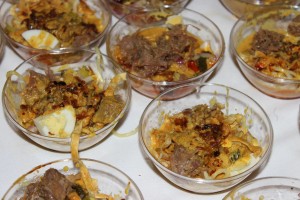 Public: "Uni Chawanmushi with Lobster, Lime and Caviar"

Savoury: "Hara Bara Kebab" & "Chicken Seekh Kebab"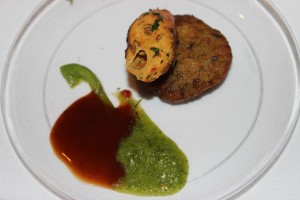 Pig & Khao: "Burmese Papaya and Noodle Salad"

Yunnan Kitchen: "Yunnan Spiced Lamb Meatball with Mint Salad"

Asiate: "Uni Panna Cotta"

Besfren: "Creme Chaps, Chaps Truffle, Chaps Pie, Red Ginseng Latte"

Maharlika: "Kinilaw Na Isda with Taro Chips"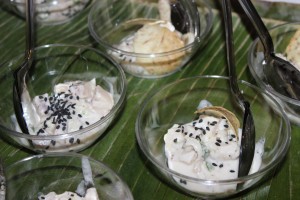 Sakamai: "Scallop Ceviche"

Coppelia: "Torrejas de Oliva"

Macao Trading Co.: "Pickled Shrimp Ceviche"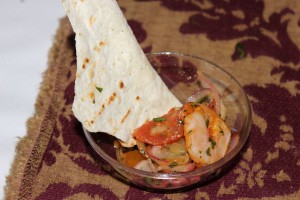 OI: "Kra Dook Mooh O-One=Tin"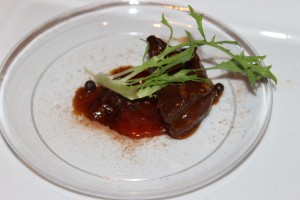 Mehtaphor: "Tamarind Bacon Raisin Glazed Chicken Satays"

Spice Market: "Yellowfin Tuna with Tempura Pearls and Lemon Szechuan Mayonnaise"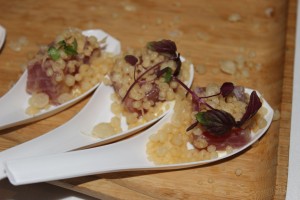 Clement: "Heirloom Carrots with Avocado Mousse and Gojuchang"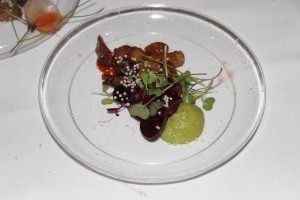 Le Colonial: "Ca Bam – Spicy Wok-Seared Monkfish, Peanuts, Basil, Sesame Seed Chips"

miss Korea 'Sun': "Imperial Modeum Jeon – Traditional Korean Pancakes"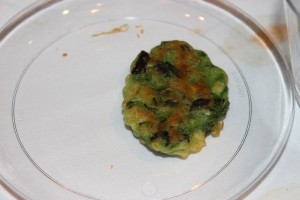 Redfarm: "Kowloon Filet Mignon Tart"

Delicatessen: "Fennel Pollen Skuna Bay Salmon Tataki"

Related Articles
Share
About Author
(1) Reader Comment