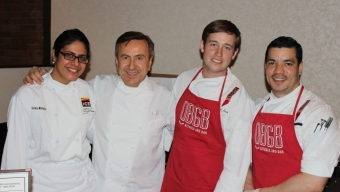 Daniel Boulud. Anita Lo. Richard Kuo. Michael Chernow & Daniel Holzman. Andy Ricker. Michael White. Jamie Bissonnette & Ken Oringer. King Phojanakong. The list of participating chefs from Wednesday evening's 7th Annual STREETS International event reads like a rundown of New York City culinary royalty. With a focus on Asian inspired cuisine, eleven different restaurants would showcase their inventive renditions with the proceeds of the evening serving to benefit STREETS, a nonprofit aimed at turning around the lives of the supremely disadvantaged youths in Southeast Asia through a career in the hospitality industry.
Trainees of the program undergo training and education in English classes, mentoring in life and computer skills and are supported with food, housing and medical care to ensure their 18 month participation is brought along smoothly and effectively. The inspirational stories of the many STREETS graduates put actual faces to the program- success stories of young people escaping the likes of poverty and trafficking just by receiving an opportunity to turn around much of the plight that was seemingly beyond their control. STREETS International provides opportunity, but more importantly, the group provides hope abroad- though the fundraising starts here.
With that in mind, several hundred guests flocked to the Astor Center on Wednesday night to enjoy a festive evening of spirits, inventive fare, a wildly competitive silent auction and to take in a screening of STREETS' newly created documentary short film. The three hour tasting frenzy kicked off with a VIP hour, where attendees were welcome to chat with the chefs on hand and taste some exclusive dishes courtesy of Chef Ron Hsu from Le Colonial. Meanwhile the talented bar staff from The Wren and The Penrose were slinging mixed drinks and handing out beers and pours of 2010 "Treana Red," an outstanding blend of Cabernet and Syrah.
With glasses in hand, we began tasting and exchanging pleasantries with the team from The Meatball Shop, where their sticky "Sweet & Sour Pork Balls" were unsurprisingly excellent. Lacquered in a sweet golden sauce, the piping hot meatballs were brilliantly tender and tasty and proved to be a nice contrast to some of the spicier dishes that we tasted from the likes of Pok Pok ("Coconut Curry with Ground Fish & Krachai") and Kuma Inn ("Spicy Green Papaya Salad"). After slurping on some subtly sweet and succulent "Oysters Escabeche" with hints of strawberry and rhubarb from Toro, we grabbed a bulbous "Pulled Duroc Pork Sandwich" from Num Pang Sandwich Shop, deliciously enveloped in a fresh brioche bun and topped with a spiced honey spread.
Though each of the offerings were truly notable, our favorites came courtesy of standout restaurants DBGB Kitchen and Ai Fiori. Chef Boulud, who couldn't have been more courteous or engaging, was doling out full sized portions of their "Thai on a Bun," a thin warm sausage, lined with green papaya and chili sauce, topped with a cilantro garnish. The soft white bun could barely contain the explosion of tasty contents inside, meshing the salty and sweet ingredients together with an unparalleled creativity and yielding some outstanding flavors. Although we didn't spot Chef Michael White in person, his masterful vision was on full display with Ai Fiori's "Crudo de Dentice," a spectacular chilled snapper crudo. Laid atop a dollop of smooth garlic crema, the fresh white fish slices and gelatinous bubbles of trout roe were further enhanced by the contrast of a crunchy layer of crostini, which while simplistic, brought together all of the ingredients in admirable fashion.
In all, the 7th Annual STREETS International NYC Benefit raised tens of thousands of dollars for the organization- much of which is owed to the many participating chefs and restaurants who not only donated their precious time to attend the event, but also donated exclusive experiences to the array of silent auction items up for bid. And though we certainly enjoyed noshing on some of the finest fare that Manhattan has to offer, it was conversing with members of the STREETS team, like founders Neal Bermas and Sondra Stewart, perusing the pages of the new STREETS cookbook "Good Food Helping Good Kids," and watching the organization's short film that truly put this evening into perspective.
For more information on STREETS International, spend a few minutes on their website for a glimpse at their efforts abroad.
- Dave Gendelson
Food Photos from STREETS International 7th Annual Benefit

Num Pang Sandwich Shop: "Pulled Duroc Pork Sandwich with Spiced Honey"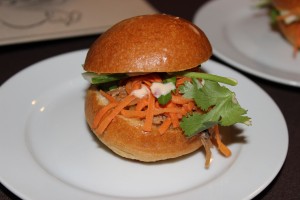 Ai Fiori: "Crudo de Dentice – Snapper Crudo, Garlic Crema & Trout Roe"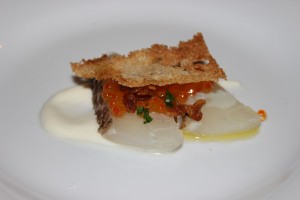 DBGB Kitchen: "Thai on a Bun – Green Papaya, Chili Sauce & Cilantro"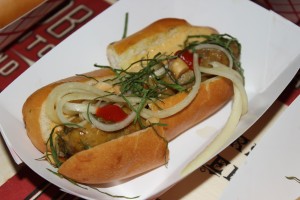 Pok Pok: "Khanom Jiin Naam Yaa – Coconut Curry with Ground Fish & Krachai"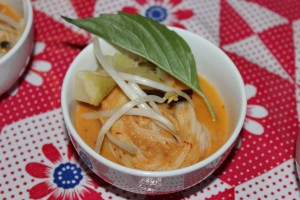 Toro: "Oyster Escabeche with Rhubarb, Horseradish & Green Strawberry"

The Meatball Shop: "Sweet & Sour Pork Balls"

Blue Smoke: "Mini Beef Ribs with Sesame Slaw"

Annisa: "Chicken with Sesame Celeriac & Szechuan Chili"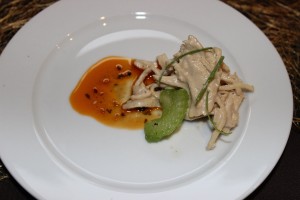 Pearl & Ash: "Squid, Chickpea, Jicama & Onion"

Kuma Inn & Umi Nom: "Spicy Green Papaya Salad"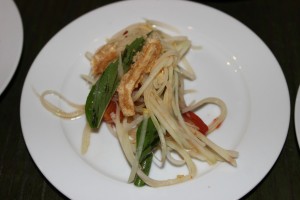 Le Colonial: "Goi Ga – Chicken Salad with Starfruit" & "Goi Cuan – Shrimp Summer Roll"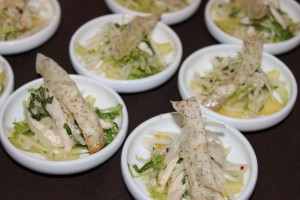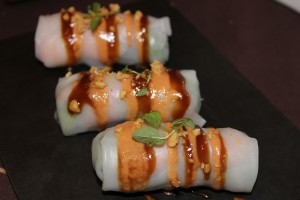 Related Articles
Share
About Author
(0) Readers Comments