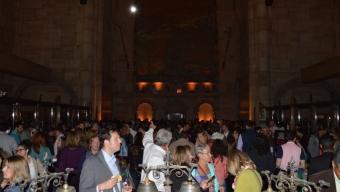 Blog: Edible's "Brooklyn Uncorked 2014"
New Yorkers often have an uncanny way of maintaining their composure in the midst of the frenzied goings on in our fast paced city. Such was the case at Thursday night's "Brooklyn Uncorked" event, which returned once again to the grandiose Skylight One Hanson building in Fort Greene, Brooklyn. More than sixty New York state winemakers and local Brooklyn establishments joined forces to host a festive evening highlighting the finest tastes of the entire borough.
The venue was already considerably crowded by "Uncorked's" 6pm kickoff, with many of the hundreds in attendance wary of the potentially large crowd that would surely gather during the course of the three hour event. Because the folks at Edible Brooklyn and Edible Manhattan know a thing or two about hosting events that run seamlessly, the affordably priced tickets proved to be a bargain for eventgoers, who somehow seemed even more excited by the array of wines being poured than they did the delicious fare. With our Bormioli Rocco wine glasses in hand, we headed out toward the tasting tables where we fittingly began with Brooklyn Oenology Winery. Pouring six different varietals, the zesty "Finger Lakes 2012 Gewurztraminer" and the soft but complex "North Fork 2008 Motley Cru"proved to be big winners early on in the evening.
Tacos seemed to be a featured dish at this year's "Brooklyn Uncorked" where we indulged upon no less than five different styles. Nightingale 9′s "Vietnamese Tacos" meshed a lemongrass beef with coconut and a creamy chili-peanut yogurt while Park Slope's Taco Santo was serving both "Pork and Beef Tacos" on their trademark newsprint cut-outs in delectable fashion. No. 7′s "Double Decker Broccoli Tacos" were perhaps the most intricately prepared though, overstuffed with fried shallots, feta cheese and black beans. Paired with Long Island's Paumanok Vineyards' white fruit laden "2013 Semi Dry Riesling," the tacos and wine proved to be an outstanding and refreshingly crisp combination.
Following a tasty "Yellowfin Tuna Carpaccio" from Rose Water and a plate of assorted vegetables courtesy of Grillo's Pickles, we chatted with Chef Michael Anthony of the iconic Gramercy Tavern, whose "Reuben Cracker," delivered all of the elements of the traditional sandwich in just three small bites. Similarly delicious was 1 Knickerbocker's "Housemade Pork Liver Mousse," a scrumptious and crunchy sample that had hints of peppermint amid a rich blue cheese flan. These exceptional dishes aside, The Saint Austere's "Wagyu Steak Tartare" was perhaps our favorite of the evening. The creamy consistency of dijon vinaigrette and the tangy aftertaste of fresh capers meshed brilliantly with the chilled raw red meat served atop a slice of rustic bread. It's long been a restaurant that we've been wanted to visit in person and their tasting may have finally pushed us in the right direction.
From vegetarian options like The Good Fork's "Savory Mung Bean Pancake" and Red Gravy's bed of "Ricotta, Pea, Mint & Spring Onion" to innovative seafood dishes like Strong Place's "Red Snapper Escovitch" and Benchmark's "Marinated Main Lobster Gazpacho," there were multiple dishes to appease any appetite. And to boot, wines from Red Tail Ridge, Brotherhood, Anthony Nappa, and the folks at Bedell Cellars among others, were each worthy of considerable praise- despite the fact that we simply can't name everything that we loved in this limited forum. As the evening progressed and finding ample space to eat and drink became a bit more challenging, the selection of food and drinks available prevented anyone from becoming truly frustrated. And though we unfortunately didn't leave enough room to taste The Chocolate Room's "Chocolate Almond Flan" or Whole Foods Market's "Vanilla Bean Pannecotta," we left 2014′s "Brooklyn Uncorked" both impressed and satisfied nonetheless.
Make sure to get the full scoop on everything on Edible's calendar – including a big "Bryant Park BBQ with 'wichcraft" coming up in June- by subscribing to their magazine or by checking out their website here.
- Dave Gendelson
Food Photos from Edible Manhattan's "Brooklyn Uncorked 2014″

1 Knickerbocker: "Housemade Pork Liver Mousse"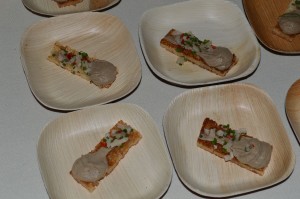 Nightingale 9: "Vietnamese Tacos"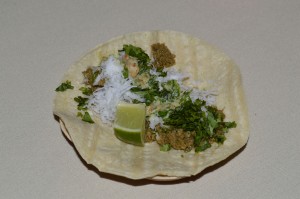 BAMCafe: "Mini-Chicken Mole Tacos"

Strong Place: "Red Snapper Escovitch"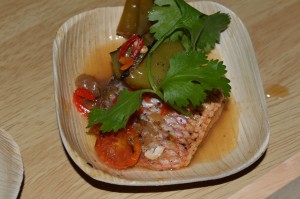 Benchmark Restaurant: "Marinated Maine Lobster, Green Garbanzo Gazpacho"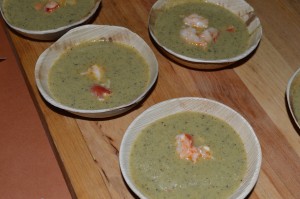 The Saint Austere: "Wagyu Steak Tartare"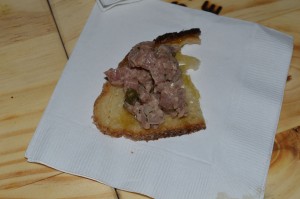 Home/Made: "Bruschetta with Home/Made Lemon Ricatta" & "Rampbutter & Pickled Ramps"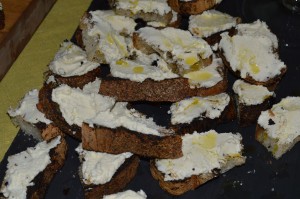 Hunter's: "Housemade Spelt Focaccia, Eggplant Jam & American Prosciutto"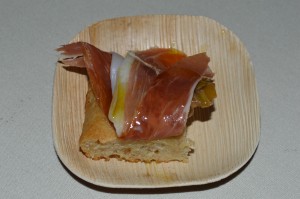 La Vara / Txikito / El Quinto Pino: "Alubiada – Salad of Black Eyed Peas, Local Squid, Butternut Squash"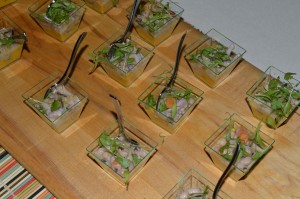 Taco Santo: "Pork Tacos" & "Beef Tacos"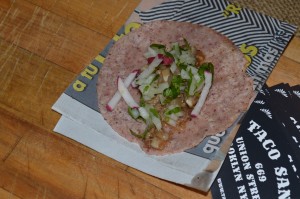 Gramercy Tavern: "Reuben Cracker"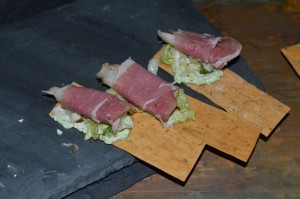 Whole Foods Market: "Vanilla Bean Panna Cotta with Berry Compote"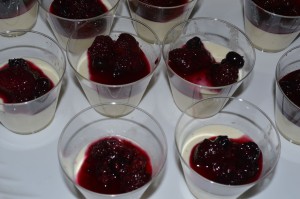 Emily: "Korean Meatballs"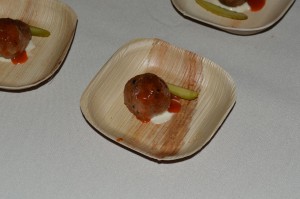 Gramercy Tavern: "Savory Mung Bean Pancake"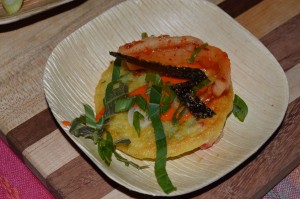 Formaggio: "Assorted Formaggio & Charcuterie"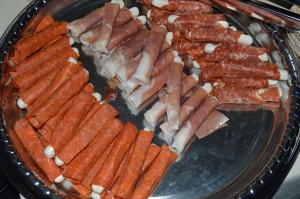 Rose Water: "Yellowfin Tuna Carpaccio, Spring Pickles, Chili Aioli, Feta Cheese"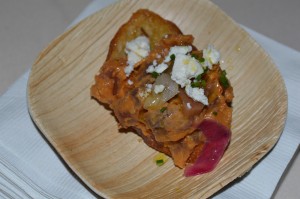 The Cleaver Co. & Green Table: "Rhubarb Brown Butter Cakes & Goat Cheese Frosting" & "Olive and Anchovy Flatbread"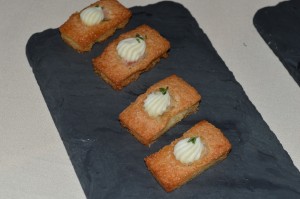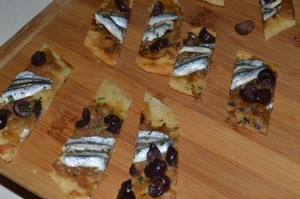 Enoteca on Court & Marco Polo Ristorante: "Marinated Octopus"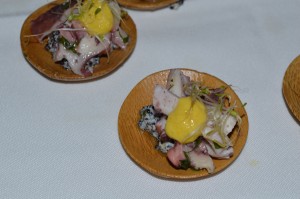 The Dogwood: "Grilled Ham Over Cantaloupe"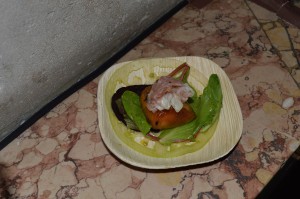 No. 7: "Double Decker Broccoli Tacos with Black Beans, Feta, Fried Shallots"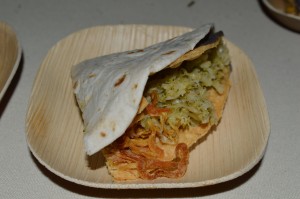 Parker Red Culinary Experiences by Ted & Honey: "Orange Scented Goat Cheese Stuffed Medjol Date with Crispy Prosciutto and Candied Pecan"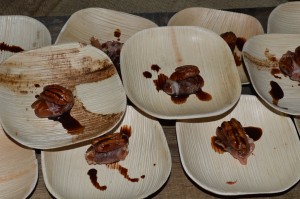 Red Gravy: "Ricotta, Pea, Mint, Spring Onion"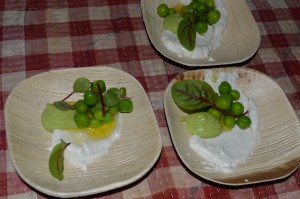 Runner & Stone: "Smoked Bluefish with Dill Horseradish Cream on Caraway Rye"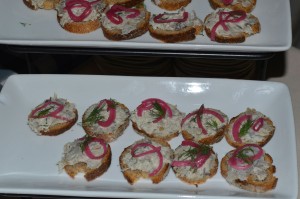 Krescendo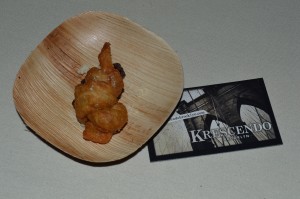 Grillo's Pickles: "Dill Pickle Spears, Asparagus & Grapes"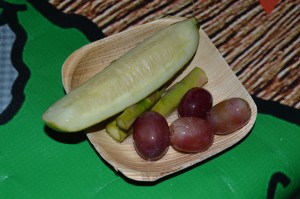 Watty & Meg: "Scottish Salmon Tartar Taco with Spicy Chipotle Slaw"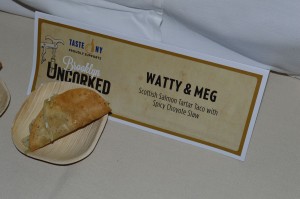 Three Letters: "Black Sea Bass Crudisson"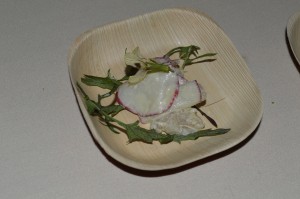 The Chocolate Room: "Chocolate Almond Flan with Amaretto Cakes"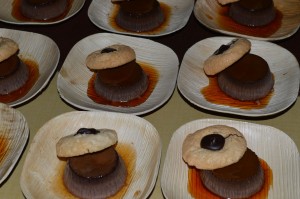 Related Articles
Share
About Author
(1) Reader Comment