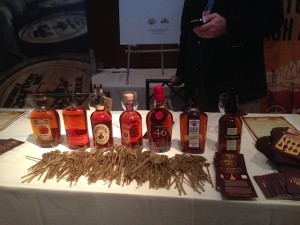 Set on Pier Sixty at Chelsea Piers in a room of floor to ceiling windows jutting out into the Hudson River, Whisky Live New York was rallying a dedicated crowd of enthusiasts from all over the region to get their piece of some of the world's finest whiskey offerings. From bar owners to distillers, connoisseurs to amateurs, the male dominated crowd was saturated with whiskey fervor on Wednesday night for the touring event's 2014 triumphant return to Manhattan.
Over 50 distilleries, and a few daring breweries, set up shop to showcase their products and share their stories to a sea of thirsty listeners. For an amateur whiskey drinker, you could do alright by simply skirting the tables of the bigger names in attendance. Johnnie Walker for instance, was mixing up delicious cocktails infusing ginger beer with their "Double Black Label" brand.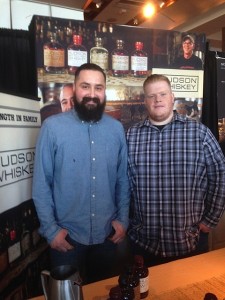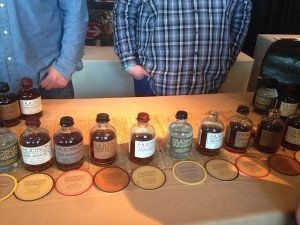 It was hard to stick to giants like Maker's Mark though without all the smaller, interesting, and some totally out there whiskey labels catching your eye. The locally based Hudson Whiskey was pouring samples of their lesser aged, clear, corn based whiskey, while Corsair was getting quite playful with a new quinoa based variety. And then there was the Chocolate Distillery, who was not only turning out rums and other liquors but delicious, organic, and unique (think orchid) flavored chocolates.
But the real treat for guests was a trip to the Whiskey Lounge. Hosted by Kentucky's Moonshine University, the unbelievably knowledgeable staff was bubbling over with southern charm and offering up a delicious dose of whiskey education. In just under five minutes, we learned that Maker's Mark is just one of a small handful of wheated bourbons and that the warm and robust rye-heavy Old Forester Signature Bourbon was the first one to ever be bottled, lasting from before, during, and after prohibition (surviving during solely via medical prescriptions). This, we were assured, was the one to break out when you want to impress your friends, widely considered "the only whiskey people from Kentucky drink."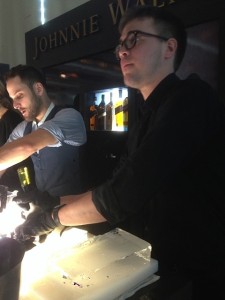 The more serious groups trooped into rooms off to the side of the event space to attend periodically scheduled "master classes" where different distilleries offered more complex tastings, techniques, and a broader view of their whiskeys.
On the terrace, suit clad men gathered to watch the sun dip behind the New Jersey skyline while smoke from their free cigars wafted out over the river. Sounds of the Scottish step-dancing rock band permeated the early evening silence, allowing the event to remain relaxed and fun without the stuffiness that can sometimes accompany a room full of scotch bottles.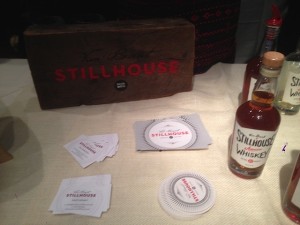 The passion behind the distilleries, many of which were family owned and some of which were local, was a gentle reminder that a small but rapidly expanding craft whiskey market was remaking the rules around these warm and aromatic liquors. The love and dedication was so apparent on the faces of these men and women and in each unique background story that I started to register it on my own palate alongside the afternotes of smoke and cinnamon. It began to resonate with this writer.
Whisky Live brought out the drinkers, the business men, a few mold breaking ladies (who assured me "that we drink whiskey too") and plenty of the average guy. Mostly, though, it brought a room full of passionate people together to talk, drink, eat, breathe, and love some damn good whiskey.
- Alicia Raeburn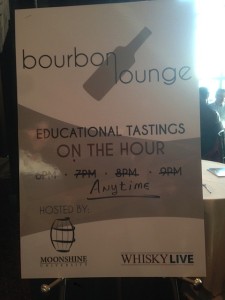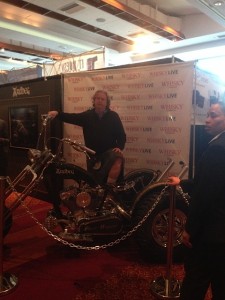 Related Articles
Share
About Author
(0) Readers Comments