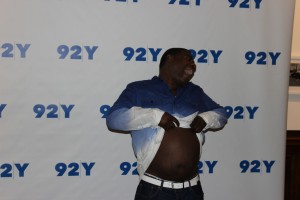 On Sunday April 20th, veteran actor and comedian Tracy Morgan's fourth hour long stand-up special "Bona Fide" premieres on Comedy Central. In celebration of its release, Morgan joined fellow funnyman Hannibal Burress in New York City on Wednesday night at the Upper East Side's 92Y for an evening of laughs as the two exchanged opinions, compliments and equal confusion at a truly eclectic audience.
After seven seasons a piece first as a cast member on Saturday Night Live and then again on NBC's hit show 30 Rock, Morgan is entirely comfortable in a live setting, often quickly riffing on point after point and jumping in with a hilarious anecdote whenever one strikes him. Burress meanwhile, a comedian quickly rising up the ranks on the highly buzzed show Broad City, is more of a reluctant celebrity. Even as the evening's moderator, his stage presence here seemed reserved if not a bit uncomfortable, though he comes off as dry and often very funny. The pair chatted casually on stage without much of a road map to keep their conversation on track- it was as if an auditorium filled with some 500 people were let into their private conversation- and for ninety some minutes, it was difficult not to maintain an ear to ear smile with Morgan ranting on stage. In person, he's far funnier than he probably gets credit for.
(Photo Credit: Joyce Culver, right)
The pair touched upon Morgan's upcoming hour long special fairly often. Filled with a range of topics, the comic calls "Bona Fide" a milestone for himself, one about his life, his family and his journey. A relieved Morgan revealed "I finally get to hear my voice again. It's my voice and my story and no one else has to write for me." That voice was on full display on Wednesday night and though several of his diatribes were seemingly plucked verbatim from the special, the dialogue felt unique proven by each eruption of belly laughter from the 92Y audience, which never seemed to end as the evening progressed.
Between all the raucous laughter throughout the night, a funny thing happened. The often rambling, rambunctious Morgan also showed an introspective side. Genuinely appreciative for the opportunities which he's been given, he espoused the virtues of his comedic predecessors showing a love for the art of comedy that just isn't evident from seeing him perform on screen. Forced to be funny as a defense mechanism by growing up with an older brother, crippled with paralysis, Morgan, a proud father, often preached positivity to the audience- encouraging aspiring comedians to ignore detractors and simply 'be funny.' As if it were that simple to the rest of us, as we marveled at a truly underrated mastermind's undeniable comedic talents. In perhaps the most entertaining and undeniably the funniest conversation at 92Y in some time, on the heels of his upcoming Comedy Central special, Tracy Morgan's star has never shined brighter.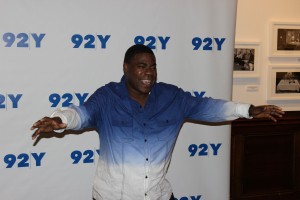 Tracy Morgan Sounds Off On….
On people doing Tracy Morgan Impressions: "I don't mind. I made a living doing me."
On meeting Hannibal Burress in Chicago in 2008, who opened for Morgan: "You be like the date rape drug and I'll be like the Big Black Dick."
On social media: "I'm old school. Social media ain't nothing but standing on the corner."
On political correctness in 2014 and stifling free speech: "The comedy, stage, clubs, concerts: that's off limits. You already killed rock and roll. Now you want our sense of humor?"
On his approach to his audience: "When I get on stage, before I'm even funny, I want people to relate to me on a human level."
On Morgan taking over for the departing David Letterman: "I tried to throw my hat in that ring. That ring was too damn high. I wanted that late night job. I woulda shook late night up."
On comedians: "There's a difference between stand-ups and comics. Comics are when you are on your way in or on your way out. But stand-ups- you're standing up and connecting with the people in the back."
On white people: "Sometimes when white people look at me on stage, I get nervous. Like I'm in court. That's why I wear a watch."
On a work/life balance: "Our girlfriends must hate us. Because our first love is comedy."
On his family asking him for money: "You not going to out think me man. If you were smart, I'd be asking you for money. You'd be on Saturday Night Live."
On potential outside ventures: "My business is stand up and my side business is TV."
On his start in comedy: "The first time I ever touched a mic professionally, I got chuckles. I heard my voice in a mic and I liked it. I approach it with enthusiasm because even if I'm not hungry, I still got mouths to feed."
On his legacy: "When I die, I'm gonna be like Richard Pryor- a shell of a man. Because I gave you my all."
- Jane Van Arsdale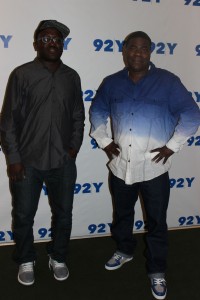 Related Articles
Share
About Author
(0) Readers Comments