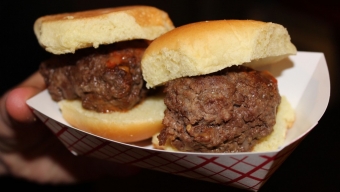 In support of the borough's entrepreneurial spirits, the Queens Economic Development Corporation returned for their 12th annual food tasting entitled "Queens Taste" bringing out some of the area's best restaurants, vendors and liquor distributors to Flushing's Sheraton LaGuardia East Hotel. The move from 2013′s event at the Caesar's Club at Citi Field did little to dissuade the more than 800 guests from attending this year, their sights set on sampling their way around the spacious ballroom. And much like the Queens culture, the Taste brought forth a range of different and eclectic cuisines.
The 2014 event would commemorate the anniversaries of the 1939 and 1964 World's Fairs (75 and 50 years respectfully), which were both historic and successful boons for the borough, housed in nearby Flushing Meadows Corona Park. The annual "Queens Taste" seeks to mirror as great an economic impact, with proceeds benefiting the QEDC's efforts toward neighborhood development, food and business incubation and marketing attractions to bring about continued growth to the entire area. Though the event is primarily aimed at networking entrepreneurs, local business folks and other working professionals, it's the selection of some choice dishes which had people hemming and hawing for space amid the jam packed setting.
Despite considerable volume in the room, QEDC Executive Director Seth Bornstein welcomed the room filled with participating vendors and attendees out to the "Taste" and encouraged everyone to not only eat to their heart's content, but also to visit and frequent the Queens' based businesses in attendance. We did as we were told and quickly grabbed small pours of the newly released Samuel Adams "Rebel IPA" before heading off for some food tastings. Recalling their delicious fare at last year's event, we struck up a conversation with Christos Steakhouse, based out of Astoria whose buttery bed of orzo played a perfect compliment to their savory "Braised Short Ribs." which literally pulled apart instantly and tenderly. Speaking of tender, we also spotted the familiar folks from F. Ottomanelli Burgers & Belgian Fries who were doling out three bulbous beef sliders, of which our favorite was the "Bacon Cheddar" variety, well seasoned and served with a dollop of ketchup.
Momentarily, we bypassed much of the tasty desserts in our quest for continued savory dishes where we found our three favorites of the evening. First, Jamaica's O Lavrador Restaurant was passing around glasses of sweet red sangria to pair with their piping hot tray of "Seafood Paella." The seasoned yellow rice was fluffy and flavorful on its own, before the addition of clams, shrimp and calamari, which put the small bowl over the top. Mere steps away we chatted with the team from Bill's Balls, the Astoria based creators of inventive meatball varietals. Bill's brought out two different blends, but "The Flushing" equipped with its pork dumpling base and a cabbage-scallion slaw proved to be our preference between the two. Finally, Elmhurst's Argentenian haunt La Fusta brought out the big guns with their "Skirt Steak Skewers" that topped the sausage, mushroom and tomato stick with a chunky garlic and onion garnish that brought all of the flavors together admirably.
In between noshing on the distinctive dishes, we joined a swarm of other guests perusing the numerous raffle prizes being handed out toward the end of the evening which included items from McClure's Pickles, Little Bird Chocolates, a bottle of organic vodka from Punzone Vodka and a selection of beers from Brooklyn Brewery to name a few. Once the evening drew nearer to its conclusion, we returned to some of the sweets that we had previously bypassed, indulging on "Italian Gelato," from Desserts That Matter, some excellent "Jamaica Coffee Cupcake Bites" from Yardie Treats, and a plate of sweets from Ridgewood's Rudy's Bakery, which put us into sugar overload.
The spirit of the evening was geared toward focusing on many of the fantastic businesses and restaurants in Queens which are often unfairly overshadowed by the likes of Manhattan and Brooklyn. But the 2014 "Queens Taste" proved that these places don't have to take a backseat to any borough evidenced by the sheer number of satisfied smiles on the faces of just about everyone in attendance that joined us in heading back toward the coat check, with the knowledge that we'd soon give many of these participants a revisit.
- Jane Van Arsdale
Photos from Queens Taste 2014 at the Sheraton LaGuardia

Christos Steakhouse: "Braised Short Rib"

The Dog & Duck: "Meatball Sliders"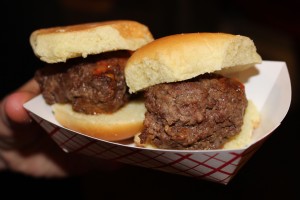 Sheraton LaGuardia East Catering: "Asian Chicken" and "Seafood Salad Ceviche"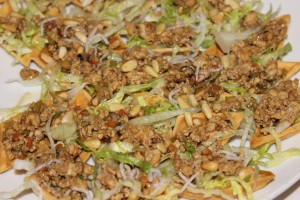 F. Ottomanelli and Sons: "Bacon Cheddar Sliders"

Leo's Latticini Mama's: "Pizza Bread," "Caprese Salad," & "Italian Sandwiches"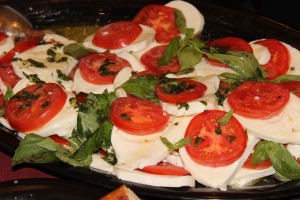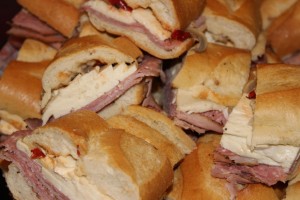 Dutch Kills Centraal: "Chicken Liver Pate Crostini" & "Deviled Eggs"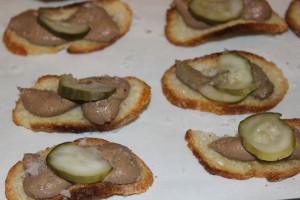 Bill's Balls: "The Flushing" – Pork Dumpling Meatball with Cabbage-Scallion Slaw & Thai Chili Sauce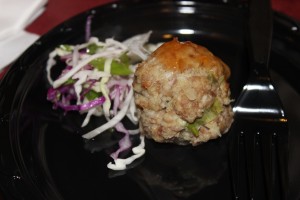 O Lavrador Restaurant: "Seafood Paella"

La Fusta: "Skirt Steak Skewer with Mushroom and Sausage"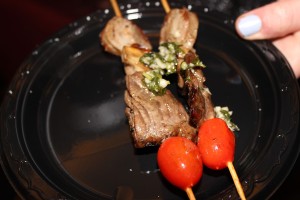 Fairway: "Beef Sliders" & "Grilled Chicken, Roasted Red Pepper & Mozzarella Sliders"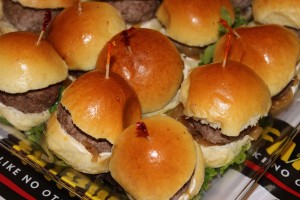 Desserts That Matter: "Italian Gelato"

Zenon Taverna: "Octopus," "Taramosalata" & "Char-Grilled Lamb Meatballs"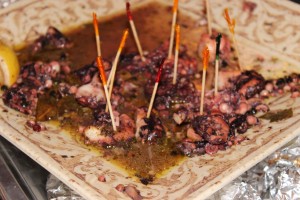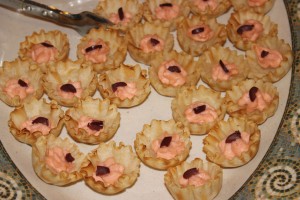 Yardie Treats: "Jamaica Coffee Cupcake Bites" & "Appletini Cupcake Bites"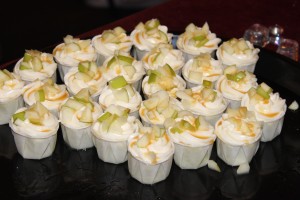 Kim Chi Smoke: "Smoked Pulled Pork & Smoked Kimchi Over White Rice"
Related Articles
Share
About Author
(0) Readers Comments