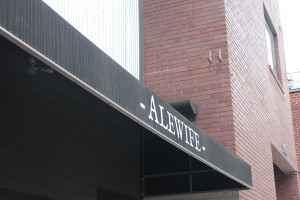 Set in New York's up and coming Long Island City, Alewife's "New York Beer and Bacon Festival" was the signature highlight of Queens Beer Week. With either a 12-3pm or a 4-7pm time frame, the venue was closed specifically for the festival in both blocks this past Saturday. With a casual atmosphere including couches, a projection TV, and an outdoor patio, the bar was a great place to mingle with friends or to hang solo. Highlighted by over 30 local New York beers on tap, there was plenty to drink for all in attendance.
Whether you prefer a wheat or a stout, it's clear that this event is a beer lover's paradise. Getting a free cup while walking in, it was up to you to decide which beer- or more than likely, beers- were up to your billing. Besides the draught beers being poured at the front bar, Alewife also featured new offerings from the likes of Captain Lawrence, Peekskill, Port Jeff, Southern Tier, Bluepoint, and Horsehead.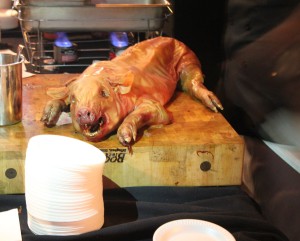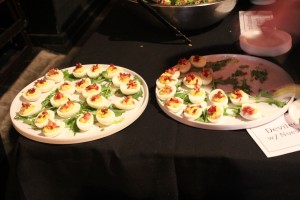 While being overwhelmed with the limitless beer choices, the smell of bacon could not be ignored. This wasn't simply bacon being fried on a Saturday morning like mom used to make, bacon was in everything. From Bloody Marys to bacon infused bourbon, the cured meat was clearly in the air. With buffet style serving, bacon could be found in every dish being offered, from deviled eggs with bacon on top, broccoli cooked with bacon, bacon smoked beans, bacon mac 'n cheese, and bacon wrapped dates, the food almost seemed never ending. All of that seemed like too much…until the revelation of the suckling pig. Sliced freshly in front of you, the suckling pig was roasted in house and cooked to perfection and was without question the food highlight of the day, as every person in attendance had to dive in.
If beer wasn't your game, Alewife had you covered, as another table was set up for bacon spirits. And due to the relaxed setting, this setup wound up having a much more profound purpose. With the leadership of bartender/bacon cocktail expert Jacob, this ended up becoming a showcase for the "After The Gold Rush Cocktail," fittingly named after the newly opened Houston Street bar Fools Gold, also from the Alewife team. A work of art more than a cocktail, the drink-making took around five minutes to reach his high standards. No matter where you turned, bacon was the headliner and somehow, the guest of honor.
This Long Island City establishment did bacon and beer justice in every aspect in each of the three hour sessions on Saturday. Whether you were here to drink, eat, or hang with friends, Alewife's "New York Beer and Bacon Festival" satisfied your needs. Alewife defined Queens Beer Week perfectly with their festival and left everyone full on bacon, beer and a fun time with a great crowd.
- Joseph Vayas
Related Articles
Share
About Author
(1) Reader Comment