With more than thirty brewers of craft beer and more than 100 different styles being poured, Friday night's "Five Boro Craft Beer Festival" brought out hundreds of guests from all around New York City. Astoria's Studio Square space would play host to the 1st annual event, utilizing their private second floor space to house a frenzy of local brewmakers. And after being handed a sizable tasting glass upon entering, attendees were tasked with being able to taste them all.
The live music performed on the makeshift stage by Stolen Rhodes proved to be the perfect backdrop as the evening progressed. Drinking tasty pours of Finback's "IPA" and Sixpoint's "SAISon" while a band performed Bruce Springsteen's "Rosalita" just somehow felt right. Though we tried to pace ourselves, the tantalizing array of brews made it nearly impossible to do so. Before the crowd had gathered in full, we made sure to grab some of the savory bites being served up by local purveyors. Bite Size Kitchen was doling out two piping hot buns – "Braised Pork Belly" and "Red Curry Coconutty Chicken" – but it was Brooklyn Wok Shop that had our tongues dancing with excitement. Their decadent "Pastrami Dumplings" and somehow even more impressive crispy "Crab Rangoon" proved to be among our favorite eats of the evening. Both were jam packed with flavor, but the hunks of crab meat pairing with the crunchy fried wonton shell hit a home run for our palates. But don't just take these words for it- have a look at the pictures below.
In between grabbing plate after plate of food samples, we imbibed quite a bit on some delicious beers, which ranged from the completely unique to some of our old favorites. Big Alice Brewing Company brought out the heat right off the bat with "Lava's Rye, Oat & Hot Pepper Stout." With an A.B.V. of 13.5%, we were ready for anything, but the intensely spicy flavor profile was a true revelation. Beers are frequently being made with spicier ingredients and although this one wasn't prepared with the likes of a ghost pepper, its long and delicious finish provided a much welcomed kick on the back end.
We also indulged in more seasonal selections and Coney Island Beer Company's "Tunnel of Love – Watermelon Wheat" had us yearning for warmer weather. The refreshing pour offered subtle hints of the summertime fruit without overwhelming the beer's overall taste profile. Just a few steps away, we stumbled onto cans of Sly Fox's "Royal Weiss," another seasonal beer ideal for pouring in spring. The Hefeweizen style wheat was jam packed with hints of banana and was nice and tangy tasting all the way through the finish for such a light-bodied beer. Other mentionables include the Captain Lawrence Brewing Company's hops filled "Sun Block," Two Roads' cleverly named "Ol'Factory," and Radiant Pig's outstanding "Junior IPA," which has become a must-taste at local beer events.
We made one final stop at The Bronx Brewery's table where pours of their tasty "Bronx Summer Pale Ale" again had us swooning. With the opening of an actual brewery up in our sister neighborhood, folks will be clamoring for a visit and walkaround tasting once the facility is up and running. In the meantime, the Ale was smooth and crisp, with all the perfect elements of a good Summer beer alongside Bronx's signature array of malts thrown in for good measure. Though there was no way that we tasted each of the 33 different breweries' choice selections, we certainly made a valiant effort. And as Stolen Rhodes' finished off their last live song and the last remaining sudsy droplet was cleared from our glasses, it was time to stumble off into the Queens sunset- with the lasting memory of a night well spent with some of the local beer community's brightest talents.
- Jane Van Arsdale
Food Photos from The Five Boro Craft Beer Fest at Studio Square

BeeHive Oven: "Bite-sized Buttermilk Biscuits with Fried Chicken and Honey Mustard"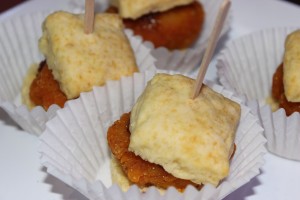 Asiadog: "The Mash" – Hot dog with Spicy Ketchup, Jalapeno Mustard, Crushed Potato Chips.  "The Mel & Steve" – Hot Dog with Sesame slaw, Scallions, Toasted Sesame Seeds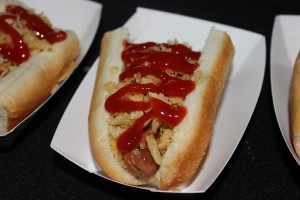 Bite Size Kitchen: "Braised Pork Belly Bun" & "Red Curry Coconutty Chicken Bun"

Brooklyn Wok Shop: Pastrami Dumplings & Crab Rangoon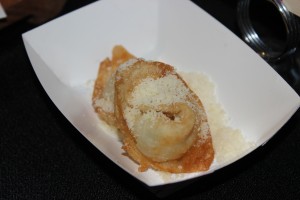 Related Articles
Share
About Author
(2) Readers Comments