Blog: Brooklyn Bloody Mary Festival at Tacu Tacu
Close to a dozen bars and restaurants from Brooklyn's many neighborhoods threw their names in the proverbial hat on Sunday afternoon, trekking out to Williamsburg haunt Tacu Tacu, a place that combines the eclectic fare of Southeast Asia and Peru. The space was a fitting metaphor for the strangely different takes on the traditional tomato concoction being offered by each participant during the First Annual "Brooklyn Bloody Mary Festival." Sponsored by Three Olives Vodka, the three hour event would welcome close to 200 guests out to the restaurant, each of whom was given a chip to cast their vote for the day's most deliciously created Mary.
The afternoon began at a frenzied pace as guests anxiously began filing into Tacu Tacu just as the restaurants had finished garishly garnishing each plastic cup on their tables. In anticipation of an afternoon gulping down a slew of particularly acidic drinks, we grabbed some cans of Perrier being doled out during the course of the event and kept them on standby to wash down some of the spicier entrants into the competitive afternoon. Surveying the room, it became quickly clear that the entire borough was well represented as bars from Prospect Heights, Fort Greene, Cobble Hill, Greenpoint, Bed-Stuy, Clinton Hill and even Williamsburg were on hand to compete in the event. Though each place was encouraged to use Three Olives Vodka in their drinks, that's about the only ingredient that the entrants shared in common.
Admittedly, we may have erred in our ways with our first Bloody Mary in that it was up there for the spiciest of the day. Prospect Heights' Bearded Lady's array of pickled vegetables sticking out from their bright red Bloody may have looked innocent enough, but their 'Double Secret Spice Blend' mixed with fresh horseradish was enough to have us yearning for huge gulps of water. Opting for a tamer mixture, we grabbed pours of 606 R&D's "West Texas Bloody Mary," which was shockingly mild with their use of tequila rather than vodka. The bacon and housemade pickle chip used as garnish was a nice addition to a smoke-filled Bloody that was relatively thinned out in comparison to some of the thick with ingredient alternatives.
With most Bloody Marys, the accoutrements typically make for eye-catching fodder but they don't necessarily make an overall impact on the drink's actual flavor. Not so however with Lucky Luna's "Kimchee + Nori" submission, which utilized srirachi and house-made kimchi to kick up the spice of their Bloody Mary. The key ingredients though were both the sea salt rubbed around the rim and the wasabi nori or seaweed paper which lined the opposite side. The overall flavor profile certainly brought the heat, but this wound up being one of the most complete drinks that we sampled. Speaking of heat, our vote wound up being cast for 706 Bar from Prospect Heights, whose drinkwas our favorite.  "The Garcia" meshed vodka infused with more savory elements like garlic, basil, jalapenos and Jamaican scotch bonnets, and surrounded a lone pickled green bean that jutted out the top of each cup. The incredible spice really snuck up on us, but provided an absolutely delicious tasting Bloody Mary from start to finish. Despite its fire, this was one of the few we sampled more than once.
In all, eleven restaurants participated in the Brooklyn Bloody Mary Festival ranging from the traditional looking (Williamsburg's Trix brought a Bloody that looked fairly basic yet was prepared with Mezcal and capers) to the truly outrageous (Crown Heights' Catfish served a "VooDoo" overstuffed with shrimp and veggies and contained bits of crab meat) to the essential serving of a full meal (Cobble Hill's Congress Bar served "The Cadillac" which basically had an entire sandwich laid atop the serving cup). In the end, Lucky Luna took home the big victories, named "Best Bloody Mary" (the aforementioned Congress Bar was the runner up) and "Most Original Bloody Mary." The "People's Choice Award" meanwhile was handed out to Olea, whose serving was topped with an 'almond stuffed bacon wrapped date' and was as delicious as its description implies. Though the winners were limited to a select few, the "Brooklyn Bloody Mary Festival" gave the hundreds of eventgoers the opportunity to taste some delicious drinks from around the borough, from the hands of some of Brooklyn's best drink purveyors.
- Jane Van Arsdale
Photos from The Brooklyn Bloody Mary Festival at Tacu Tacu

Olea, Fort Greene: Key Ingredients- Marissa's Famous Vegan Steak Sauce, Almond Stuffed Bacon Wrapped Date

Lucky Luna, Greenpoint: "Kimchee + Nori" – Key Ingredients- Srirachi, House-made Kimchi Essence, Wasabi Nori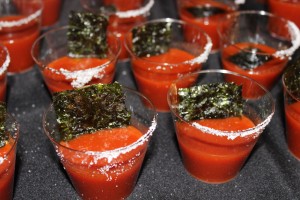 Bearded Lady, Prospect Heights: Key Ingredients- Milk Stout, Double Secret Spice Blend, Quick Pickles

706 Bar, Prospect Heights: "The Garcia" – Key Ingredients- Vodka Infused with Garlic, Basil, Jalapenos and Jamaican Scotch Bonnets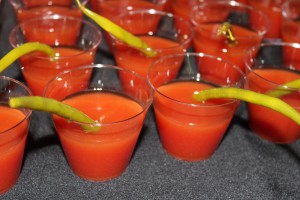 Congress Bar, Cobble Hill: "The Cadillac" – Key Ingredients- Pickle Juice, Worcestershire Sauce, Crostini, Cheese, Beef Jerky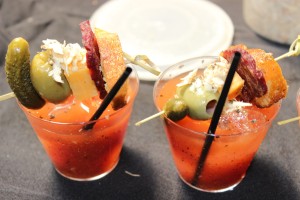 Passenger Bar, Williamsburg: "The Midwest" – Key Ingredients- Secret Bloody Mary Mix, Salami, Cheddar, Pepperoncini

606 R&D, Prospect Heights: "West Texas Bloody Mary" – Key Ingredients- Tequila, Yellow Onion, Bacon, Housemade Pickle Chip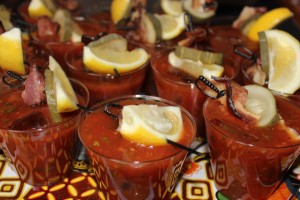 Trix, Williamsburg: Key Ingredients- Mezcal, Capers, Combier Kummel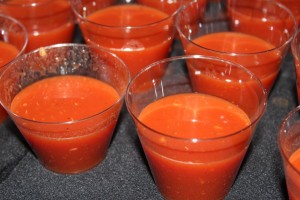 Black Swan, Bed Stuy: Key Ingredients- Chipotle Tobasco, HP Sauce, White Pepper, Shrimp, Olive, Pickle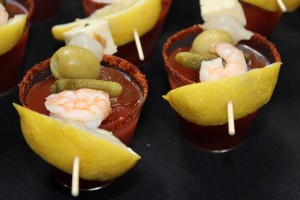 Catfish, Crown Heights: "VooDoo" – Key Ingredients- Crab Meat, Secret Recipe Cajun Spice, Stout Float, Beef Bullion, Green Bean, Shrimp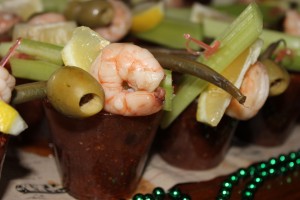 Beast of Bourbon, Bed Stuy: Key Ingredients- Hellraiser BBQ Sauce, Whiskey BBQ Sauce, Sriracha

Related Articles
Share
About Author
(1) Reader Comment