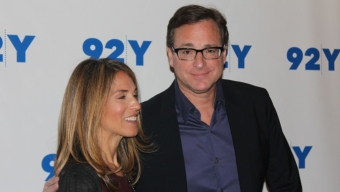 There's an old adage in show business which dictates that tragedy plus time equals comedy. It's fitting then that the often milquetoast character he's played on the likes of Full House and as the host of America's Funniest Home Videos and the raunch that he brings to the stage with his over-the-top stand up, has been influenced by an unparalleled level of real life familial tragedy. On the day of the official release of his new book "Dirty Daddy," veteran actor and comedian Bob Saget joined John Oliver at the Upper East Side's 92Y on Tuesday night for a wildly entertaining evening of banter that was both revealing and hilarious as the night progressed.
92Y has a penchant for putting just the right types of guests together and this evening was no different. Former correspondent on The Daily Show, Oliver is poised to takeover his own late night satirical news series on HBO with "Last Week Tonight With John Oliver" which launches on Sunday, April 27th. And as interesting a persona as Oliver carries, he mostly played in the background yielding to Saget's tales of a storied career from sitcom dad to game show host (1 vs. 100) to his voiceover work on How I Met Your Mother, whose recent series finale has been both praised and panned to varying degrees.
From his early days as a butcher's son to growing up under the watchful eye of his overly controlling mother, Saget like most comedians, was rebellious as a result, finding his own voice from his upbringing. But with two siblings that died in childbirth before he was born, and two sisters that also passed away before turning 50, when Saget speaks of being forced to "laugh at the expense of intense pain," his words ring truer than most. While there was a great deal of comedic banter to enjoy between the pair as the night wore on, it was hard not to be touched by Saget's ability to overcome such personal tragedy. Recalling his need to get laughs following his own father's funeral, he reminisced about how his dad found life funny and was able to take some solace in that. And much like his memoir, which he describes as "filth jazz" because he talks about painful things and then returns them back to his genitalia, Saget quickly changed course with crass joke after crass joke, apologizing to a more refined audience than he's probably used to performing in front of, for potentially offending them. But instead of being offended, we were truly captivated by his story and admired his openness in this forum.
To no surprise, Saget's love for writing comedy and performing live was evident- it's where he's admittedly most comfortable and because he "looks like a dentist when the sound is off." Following more than an hour of conversation, Saget took some pointed questions from the members of the audience, many of which focused on his comedic inspirations and some of the more notable roles in his career. And in perhaps the most poignant moment that punctuated the evening's focus, Saget left us with this gem: "It sucks when funny people die and it sucks when unfunny people die. But it doesn't suck as much."
- Alexandra Fetsey
Related Articles
Share
About Author
(0) Readers Comments