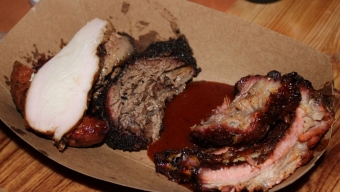 Blog: TMBBQ Pop-Up at Hill Country Brooklyn
Seemingly every region of America sports their very own style of barbecue. From the simple rubs in Memphis to the vinegar based sauces in North Carolina to the sweet thick sauces in Kansas City, regional barbecue is as varied as the parts of the pig utilized to serve the hungry masses. In the northeast, we often harness a collaboration of different methods learned from the south and serve them in urban areas as our own. Thursday evening however, (pardon the expression) was a different animal altogether.
Any short list of the finest Citywide 'cue joints has Hill Country near the very top. It's recent expansion into Brooklyn Heights (Hill Country Barbecue Market Brooklyn) has only served to further their brand with another sprawling space that offers up live music, a festively southern atmosphere and tender meats lacquered in red sauce and grilled to perfection. Its Texas style barbecue was effectively punctuated with a one-night pop-up event featuring some of the Lonestar State's most widely recognized pitmasters who made the trek to Manhattan's sister borough courtesy of magazine Texas Monthly. Dubbed the "TMBBQ Pop Up Joint," the evening would feature unlimited Texas-style beers and mouthwatering meats, but most importantly, would introduce a salivating New York City audience to some authentically prepared Texas eats.
Guests flocked to Hill Country Brooklyn's spacious balcony level, which provided ample views down upon an entirely full dining room below. At 6:30pm, the meats were unloaded and the culinary masters began grabbing for their slicing knives as ice cold bottles of Shiner Bock and Lone Star beers were served out in thirst quenching fashion. Toward the end of the evening, Texas Monthly barbecue editor (perhaps the world's coolest job) Daniel Vaughn would take a few moments to host an interactive Q&A with the collection of remaining folks on hand, to help spread the word on the intricacies of Texas style 'cue. But prior to that point, it was all about the finger lickin' eats.
Three of Texas Monthly's top 50 masters of barbecue would be welcomed to Brooklyn on this night, each preparing a different meat using their own techniques. As the cooks manned their stations behind the bright lights of heat lamps, guests began to form a lengthy line of their own as they awaited their southern salvation. We began first with Nick Pencis of Tyler, Texas, graciously representing Stanley's Famous Pit Barbecue. With a ladle-full of tangy barbecue sauce to line our cardboard tray, Pencis plucked apart three fall off the bone pork ribs per person and we made sure to coat each salty rib in the dark crimson sauce. The contrast of sweet to savory paired together exceptionally despite being a bit on the messy side, but with a roll of paper towels in the middle of our table, we cleaned up quickly and moved along.
Inches away, we came upon Louie Mueller Barbecue out of Taylor, Texas where Wayne Mueller was picking apart and doling out some of the most bulbous and tender cooked hunks of beef ribs we'd ever seen. The brunt crisp ends were perfectly peppered and fell completely apart with each poke of our fork, making the base of barbecue sauce an essential element for lapping up the meaty remains. Mueller was also plating some delectably fatty slices of marbled brisket which remained utterly juicy throughout, a characteristic not always employed by the many brisket purveyors here in Manhattan.
Before stopping to grab helpings of fresh potato salad and baked ziti and cheese, we made our final stop at Lockhart, Texas staple Black's Barbecue where the team led by Kent Black pulled out all the stops with two types of homemade sausages (house blend and jalapeno) along with some of the most succulent slices of hot turkey breast that you'll ever taste. The sausages were wrapped in casings that delivered an ample snap with each bite and the warm salted interior delivered the sublime satisfaction that you'd expect from such a fine crafted comfort food.  Meanwhile the turkey managed to be a much welcomed and equally tasty alternative to the otherwise heavy meats.
As the evening progressed, we spotted Shake Shake honcho and New York City restaurateur Danny Meyer making the rounds, enjoying some tasty traditional 'cue as we continued to slug down some draught beers and indulged in a caramel and chocolate brownie topped with a single saltine cracker. The array of eats offered at the TMBBQ Pop-Up on this night were simply unforgettable as each sliced meat was as delicious as the previous. Prior to the arrival of these three masters of barbecue, we had long lauded New York City as kings of the proverbial pit, but after Thursday evening we realized that our City still has a long way to go.
- Jane Van Arsdale
Related Articles
Share
About Author
(0) Readers Comments