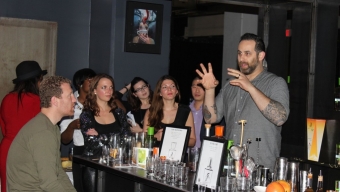 Blog: The Sauce- Classic Cars and Cocktails
A mutual love of some of the finer things to experience in New York City- great food, good drinks, fine art and live music – brought together two women from completely different worlds. Becoming Brooklyn creator and food blogger Caitlin Heikkila and Diana Murakhovskaya, formerly from the world of finance, collaborated as a result of their mutual affinity for these aforementioned passions. The pair formed a group called The Sauce which launched in November and is described as a lifestyle club for those that share these similar interests. Tasked with producing distinctive style supper clubs each month for their friends and family, the pair began to spread their wings even further Wednesday evening in a truly unique setting.
The Sauce welcomed dozens of guests to downtown Manhattan's Classic Car Club, a massive showroom on Hudson Street that houses an array of eye opening sports cars. With close to 15 remarkable cars set amid the background, the ladies brought together a roomful of likeminded folks under one roof in an evening entitled "Classic Cars and Cocktails" that was rife with both, coupled with plenty of interactive and informative conversation. The three hour event kicked off promptly at 7pm as guests were welcomed inside from a rainy evening outdoors and given the opportunity to peruse the lineup of cars which ranged from Porsche to Corvette to Charger to M3 to a variety of others. Meanwhile, just a few feet away attendees were treated to some light fare courtesy of Saxelby Cheesemongers and charcuterie from Despana Spanish Foods, which guests picked apart in between tasty cocktails whipped up by the onsite bartenders.
Following a brief presentation courtesy of Brooklyn Hemispherical Bitters co-founder Mark Buettler, we sipping on the tangy "Marquerite" made with Excellia Tequila Blanco and prepped with Brooklyn Bitters' 'Sriracha' and the sweet "Lilly's Lemonade" made with G'Vine Gin and Brooklyn Bitters' 'Meyer Lemon.' The pair of drinks were on opposite ends of the spectrum and yet equally satisfying. Local artist Robert Bruno added to the room's atmosphere with his artwork displayed on walls around the space, which encouraged conversation between guests and between the food and drink purveyors in celebration of the relatively new fangled club.
Looking around at the crowd, the ladies seemed more than satisfied with the turnout based upon the reaction of their guests. Said Murakhovskaya, "We wanted to be an educational kind of club- not just bringing them together, but teaching them something." Added Heikkila, "We want to talk to everybody. We want to introduce them to things that we love and keep it special while still scaling it up." Their passion for introducing new things to new people was evident on this night and judging by the crowd that surrounded them inside of this special setting, it appears that they had done their job admirably.
For more information on The Sauce, check out their Facebook page or send them an e-mail at info@sauceevent.com to see how you can get involved.
- Jane Van Arsdale
Related Articles
Share
About Author
(0) Readers Comments