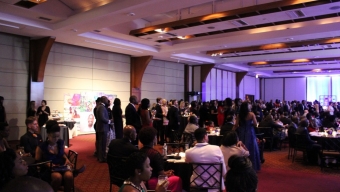 More than 350 million people in Africa are unable to readily access safe and clean water and as such, more than 3.4 million people perish each year from water related causes. These figures, while only numbers on a page, are real. And they certainly put that extra two minutes of running your shower water or cleaning your dishes in full perspective. FACE Africa is an organization that is focused on reducing these statistics with efforts to bring sustainable clean water initiatives to the region and improve the lives of the impoverished African people.
Saturday night, hundreds of FACE Africa volunteers, friends and supporters joined forces at the picturesque Pier Sixty at Chelsea Piers just as the sun was descending for their 5th Annual 'Wash Gala.' This year, the organization was focused on a fundraising goal of $250,000 to fund 30 different clean water projects for RiverCess County, which is among the poorest in Liberia. With black ties in tow and guests dressed to the nines, the Gala would serve to educate a roomful of philanthropic attendees on the harsh realities resulting from the water issues in Africa as well as championing the incredible successes that FACE Africa has worked diligently to bring about to date.
A flurry of guests posed amid the flashing of bulbs on the red carpet leading into the Gala's main space- each enjoying their momentary share of the limelight. Following a cocktail hour with some light fare, the hosts welcomed everyone into the Pier Sixty ballroom for the evening's program, hosted by actress Ebbe Bassey who introduced founder Saran Kaba Jones to the stage. Jones, a true pioneer and founder of FACE Africa truly has far too many commendables to mention- but born in Liberia, she left the country at eight years old only to return two decades later to a country in dire need of assistance. She then made it her mission to bring safe drinking water to the region and to use education and skills training to help empower the area's oppressed African women. Following several video packages highlighting the efforts being put forth by the group, Jones then introduced the keynote presentation by Alexander Cummings, Executive Vice President and CEO of The Coca-Cola Company, genuinely honored to be a part of the proceedings.
The evening also included a seemingly endless supply of silent auction items which ran the gamut from designer handbags and artwork to local sports memorabilia. Bassey meanwhile played her part as the evening's emcee by taking in-kind donations from the audience in an effort to meet an exceed their $250,000 target. With a live band laying down beats in the background, it was easy to get caught up in the moment and as a guest, to be humbled and overcome with empathy for something that we as New Yorkers truly take for granted. On a night when the cocktails are flowing and tables are littered with choice selections of meats, cheeses, crackers and an array of different foods to taste, it's important to keep the event's main focus in perspective. And it's something that we'll surely be thinking about every time we run a little bit of extra water for our toothbrush or over-rinse those remaining dishes in our sink. There are people in Africa literally dying every day over the cleanliness of one of our most fundamental resources and despite being so far away, there are ways that we can help from right here in New York City. For more information on FACE Africa and how to get involved or to make a donation, make sure to visit faceafrica.org.
- Jane Van Arsdale
Related Articles
Share
About Author
(1) Reader Comment