Blog: Edible Manhattan Good Spirits 2014
E
dible Manhattan has turned from localized publication to a community all its own, hosting some of the most highly anticipated food and drink events each calendar year alongside some of the City's most interactive and informative ones that are scaled down a bit. Thursday night, the
Edible
family teamed with roughly thirty New York City area restaurants and food purveyors and dozens of brands from the world of liquor for the 2014
"Good Spirits"
event, the annual pairing event that aligns cocktails with different dishes.
Initially scheduled for February, "Good Spirits" was forced into being rescheduled resulting from blizzard-like conditions that would have prevented many guests and participating restaurants from attending. Fortunately, Thursday night was particularly mild and the lavish 82 Mercer Street was equipped to handle the hundreds upon hundreds of excitable attendees who were looking to quickly shed their coats and scarves, grab a tasting glass and a fork and head out toward the two sprawling rooms. The three hour feast of gluttony featured chefs and restaurants representing Manhattan, Brooklyn and Queens doling out an assortment of different inspired cuisines, many of which are shown for you below.
With so much food to choose from, the folks at Edible made sure that guests wouldn't leave hungry and with that in mind, we begin with our favorites. Tacos proved to be a big time success at "Good Spirits" as the evening's finest dish and its longest line were both dominated by the Mexican inspired concoction. The Flatiron District's L&W Oyster Company was serving what became our immediate favorite- a "Crispy Long Island Oyster Taco." Overstuffed with golden fried oysters, the two bite sample was lathered with a creamy garlic aioli and a subtle pear-jicama slaw that coupled for an outstanding confluence of different flavors. Meanwhile, just a few paces away, we found ourselves at the tail end of the event's lengthiest wait – and with good reason. Newly opened Park Slope taco haunt Taco Santo and Chef Jacques Gautier were doling out their "Lobster Taco" served on two fresh handmade tortillas and layered with avocado, radish and greens with sides of sauce for each guest's choosing. The tender lobster meat was succulent, pairing brilliantly with the ripe array of vegetables inside and the kick of green hot sauce to boot. A home run for the revamped new restaurant. The run of terrific seafood dishes continued at The Fourth where their chilled thinly sliced "Cured Juniper Hamachi" was downright excellent. Paired with celery, cucumber and citrus, the crudo was a fantastic example of fish done right.
Rest assured, there was plenty for a meat eater to also enjoy at "Good Spirits" beginning with plates of fatty proscuitto, coppa and soppressata cured and sliced up by Salumeria Rosi, some "Whiskey Cured Beef Tongue Skewers" from Hecho en Dumbo, and a dizzying sample of "Miss Mamie's Fried Chicken on a Mac & Cheese Croquette" and a small bed of collared greens courtesy of Dizzy's Club Coca-Cola. Fletcher's Brooklyn Barbecue however served up our favorite meat-infused dish with a plate of "Cuban Mojo Pork" served over a chilled, sweet corn salsa and some mini plantain chips. The crispy ends tore right from the tender chunk of smoked pork and the contrast of hot and cold and sweet and savory was pretty exceptional here. Meanwhile, Prospect's "Truffled Deviled Egg with Duck Confit," The Penrose's "Crostini wth Smoked Trout Rilette" and Brasserie Magritte's "Belgian Beef Croquettes and Carbonade Flamande" were all noteworthy additions that rounded out our food tasting experience.
With a couple of "Gin Rickeys" from Hendrick's and a supremely tasty "Ginger Pirate" -prepared with ginger ale, tea and Privateer Rum- used to wash down some of the hearty fare, it was time to finally retire the silver fork and toss out the remaining disposable plates as our time at 82 Mercer had drawn to a close. Fortunately for the remaining guests, the food service was still in full swing until nearly the very end of the evening and nobody in attendance was forced to scarf down samples in anticipation of servings becoming scarce. It was yet another wildly successful affair for the Edible Manhattan team, who make pulling off grandiose events like "Good Spirits" seem like another routine Thursday night. But year after year, they continue to be just as special as the one held in the prior year.
- Jane Van Arsdale
Edible Manhattan's "Good Spirits" 2014 in Pictures
Sysco Metro NY - "Hot" Carpaccio of CAB Prime Tenderloin, Habanero Custard, Smoked Corn Fumet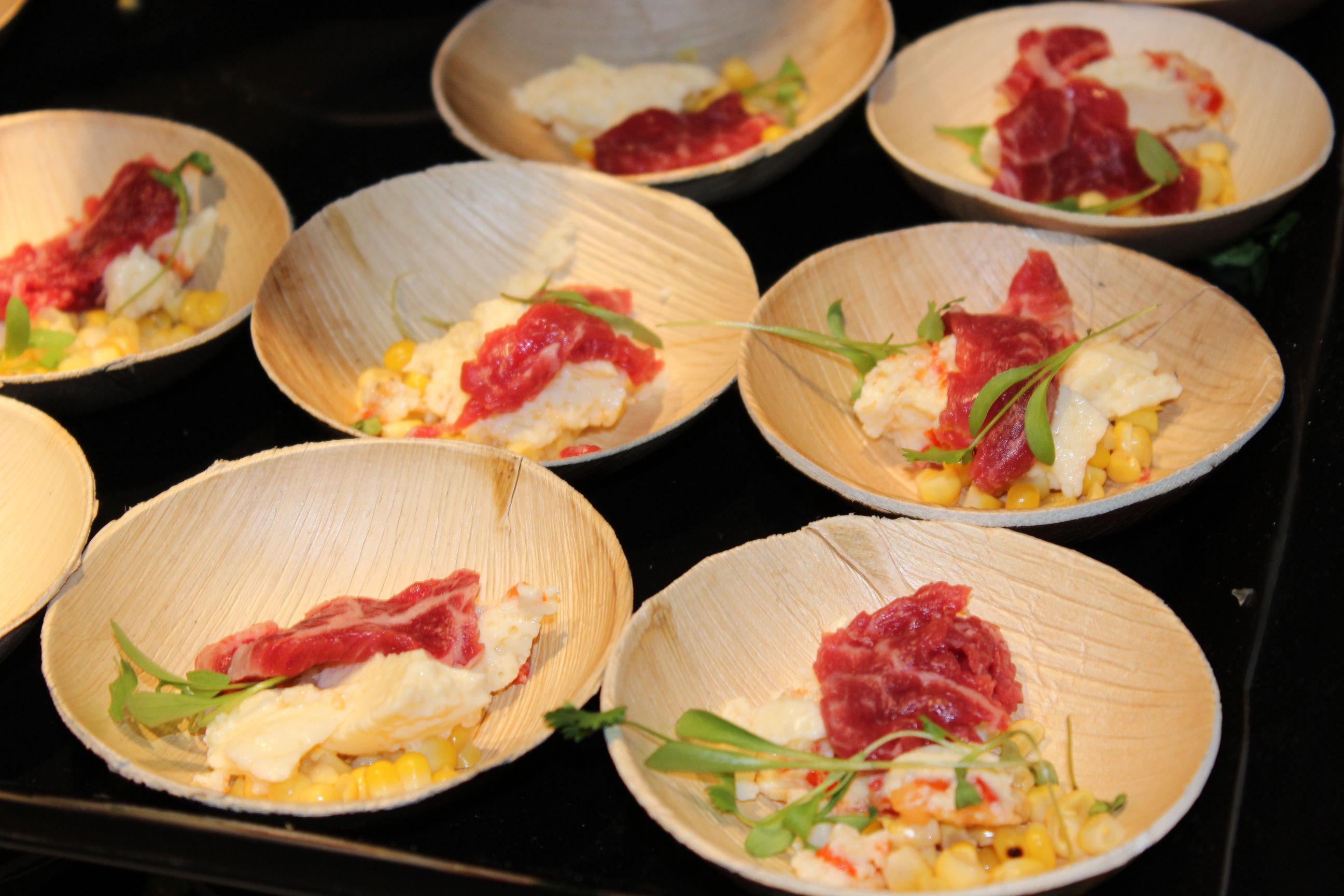 Almond Restaurant - House Cured and Smoked Pastrami with a Whiskey Maple Glaze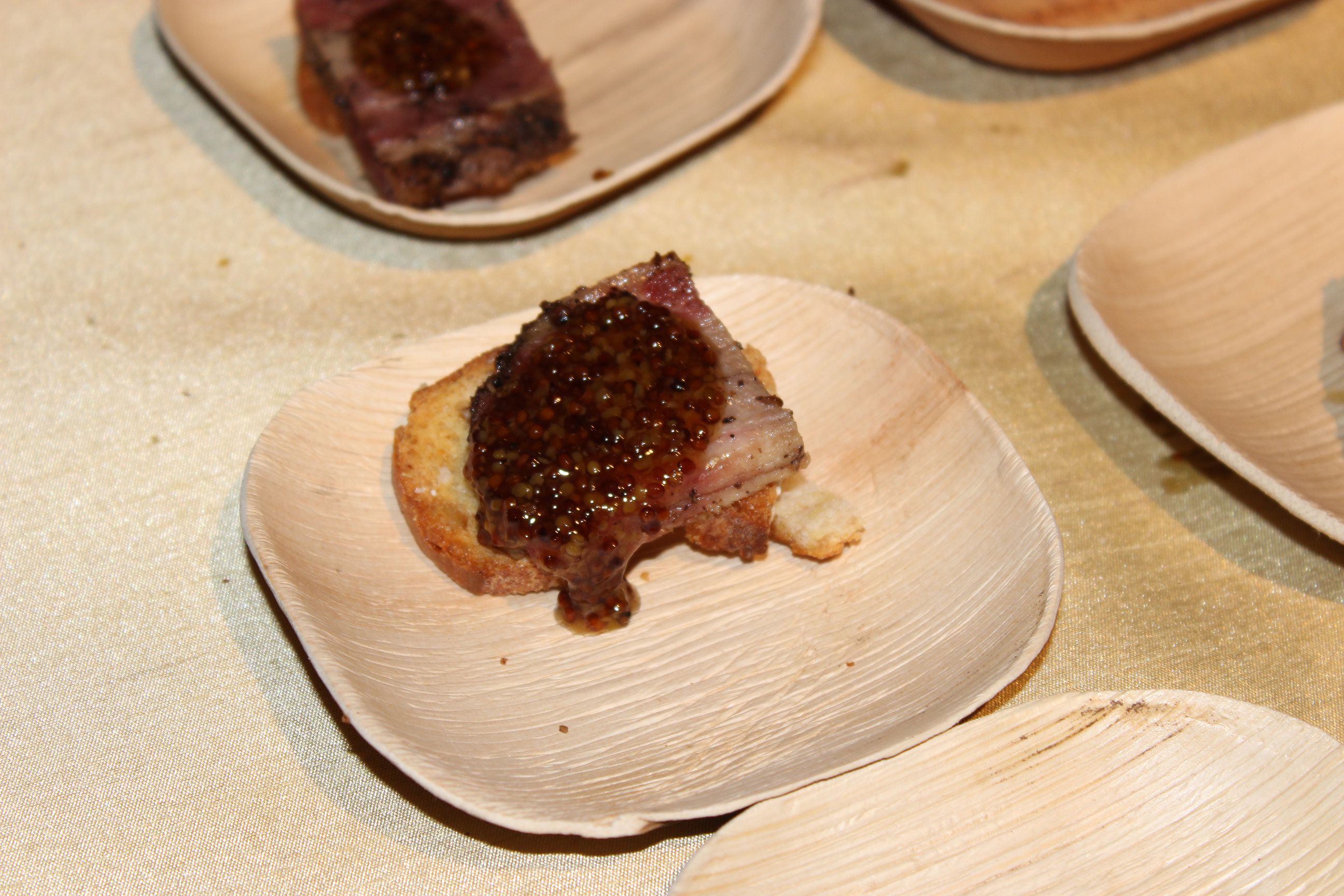 Bitter End Brownies - Chocolate Brownies topped with Mexican Mole Bitters infused Whipped Cream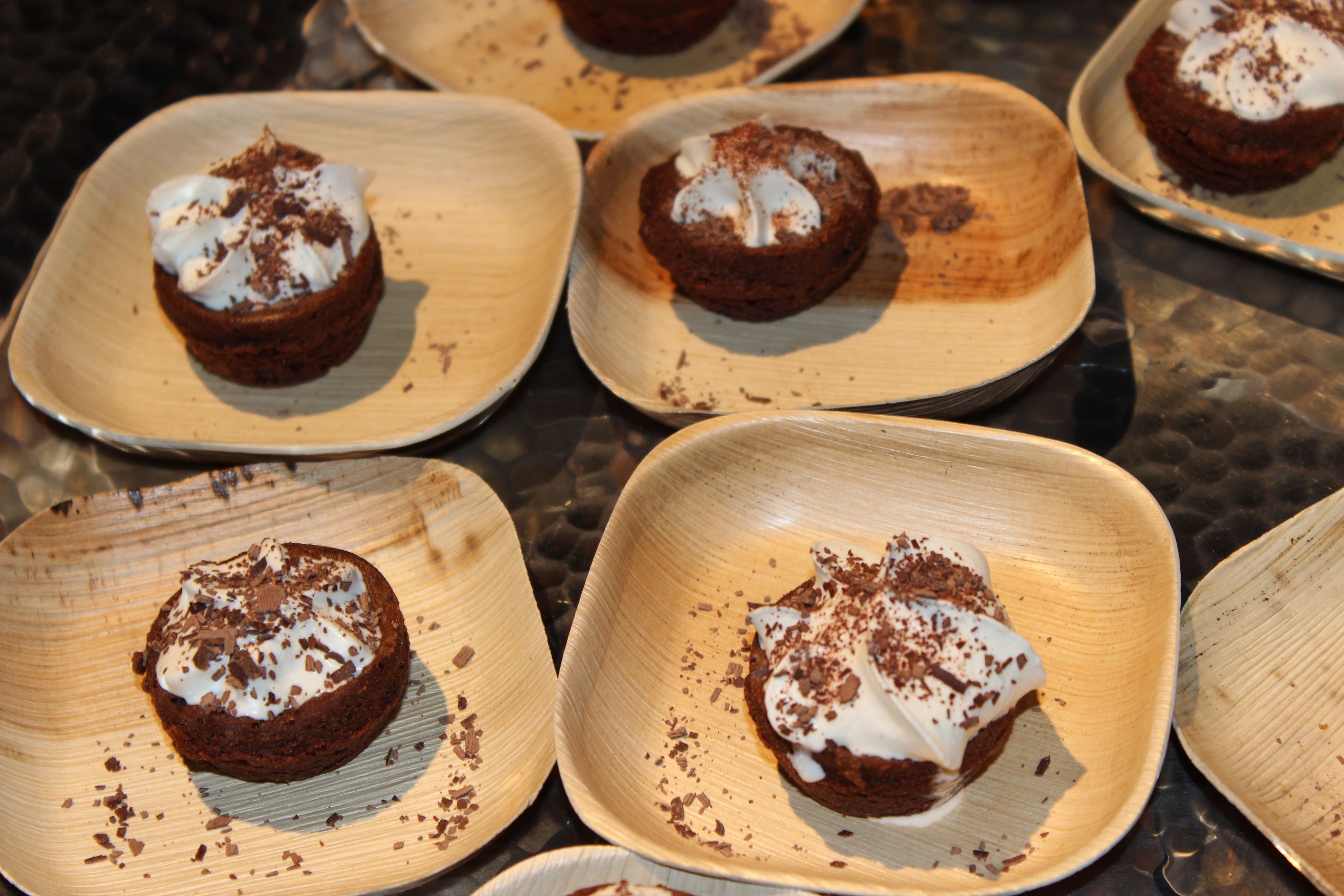 L&W Oyster Co. - Crispy Smoked Long Island Oyster Taco, Pear-Jicama Slaw, Garlic Aioli

Taco Santo - Lobster Taco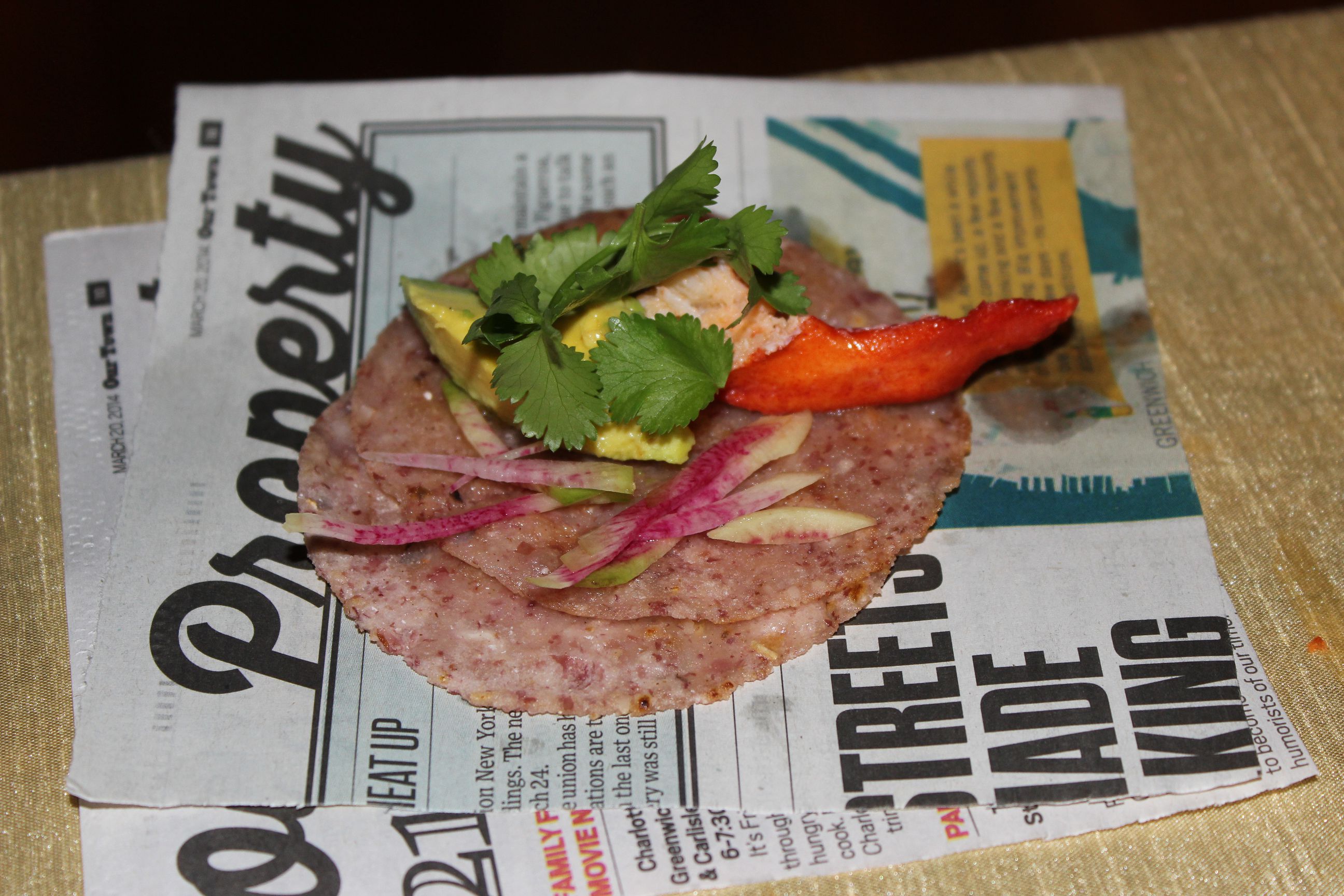 Crescent Grill - English Pea and Carrot Gelee, Scallop Mousse, American Caviar and Crispy Pappadam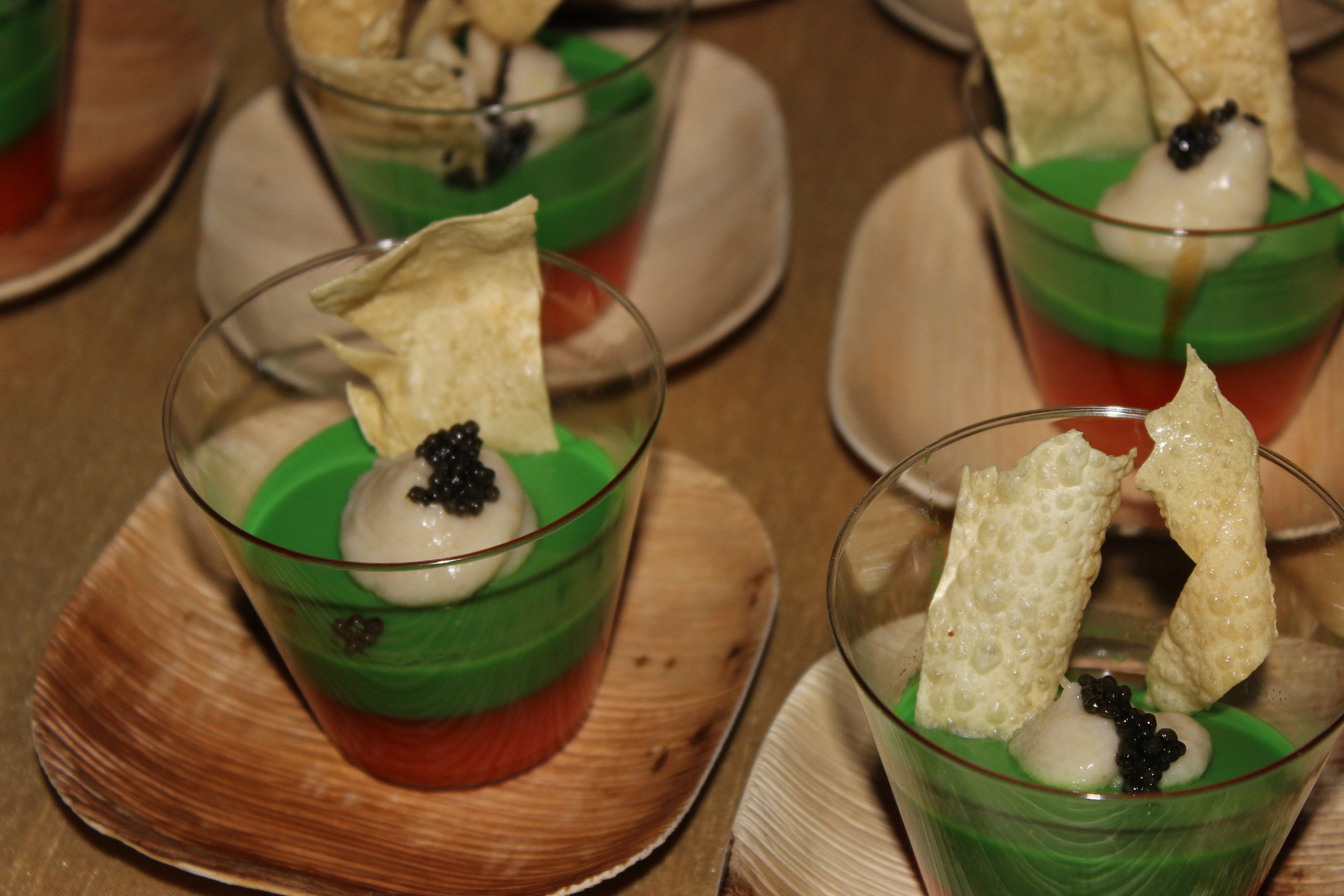 The Penrose - Crostini with Smoked Trout Rilette and Pickled Mustard Seeds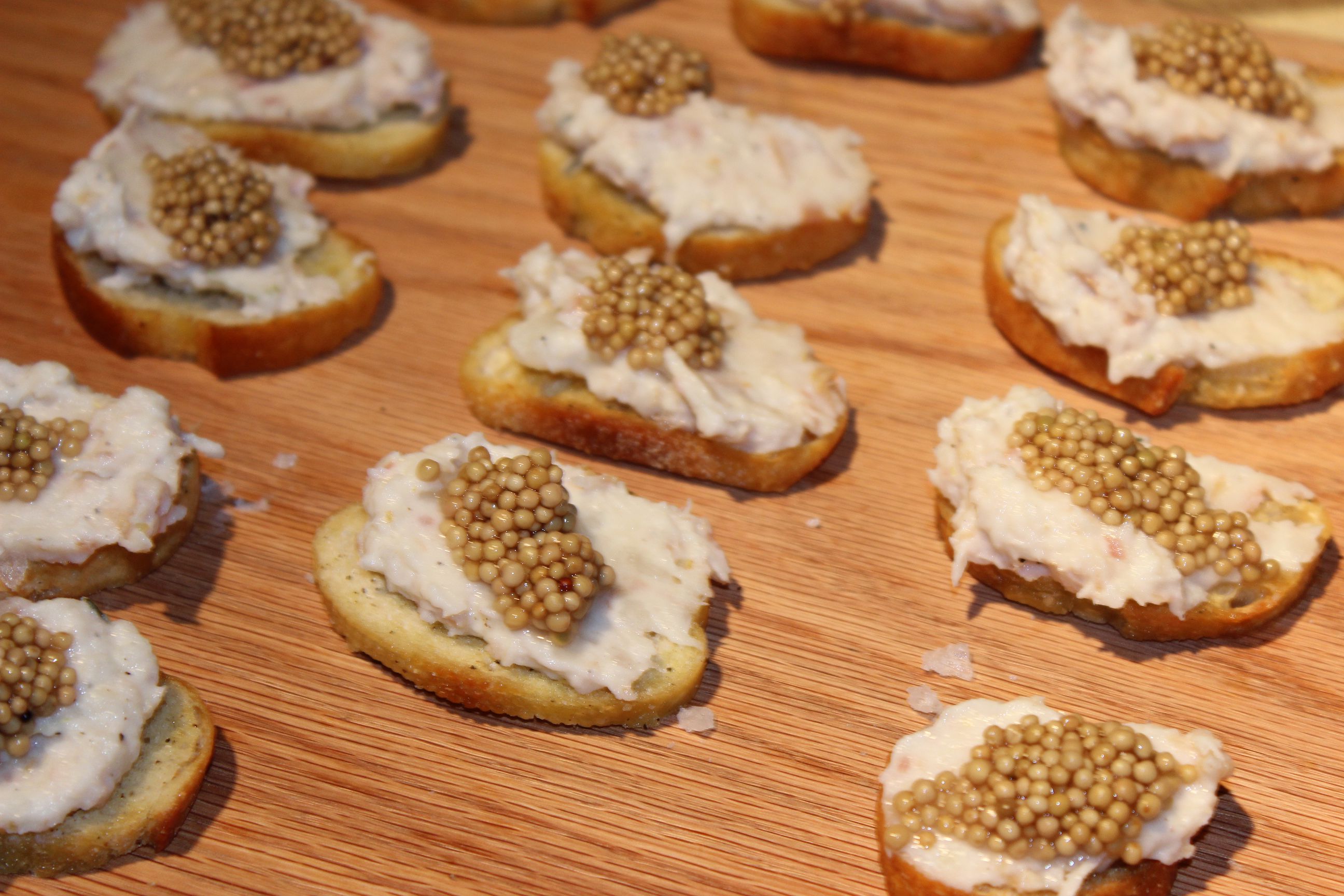 Prohibition Bakery - The Revolver Cupcake (Four Roses, Coffee, Orange Bitters)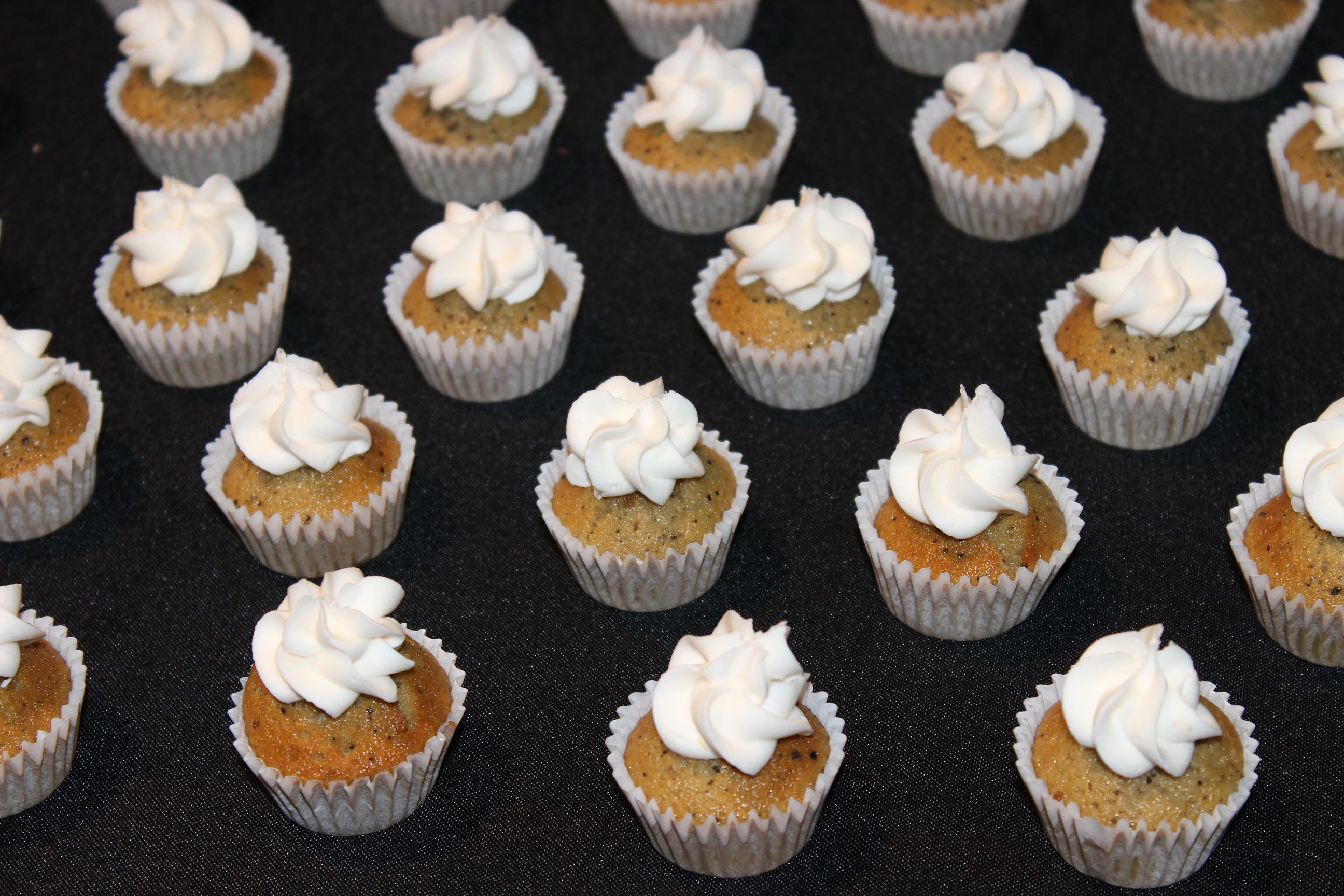 Monument Lane - Smoked Pork Shoulder with Baked Navy Beans, Country Bread, Pickled Onion and Cilantro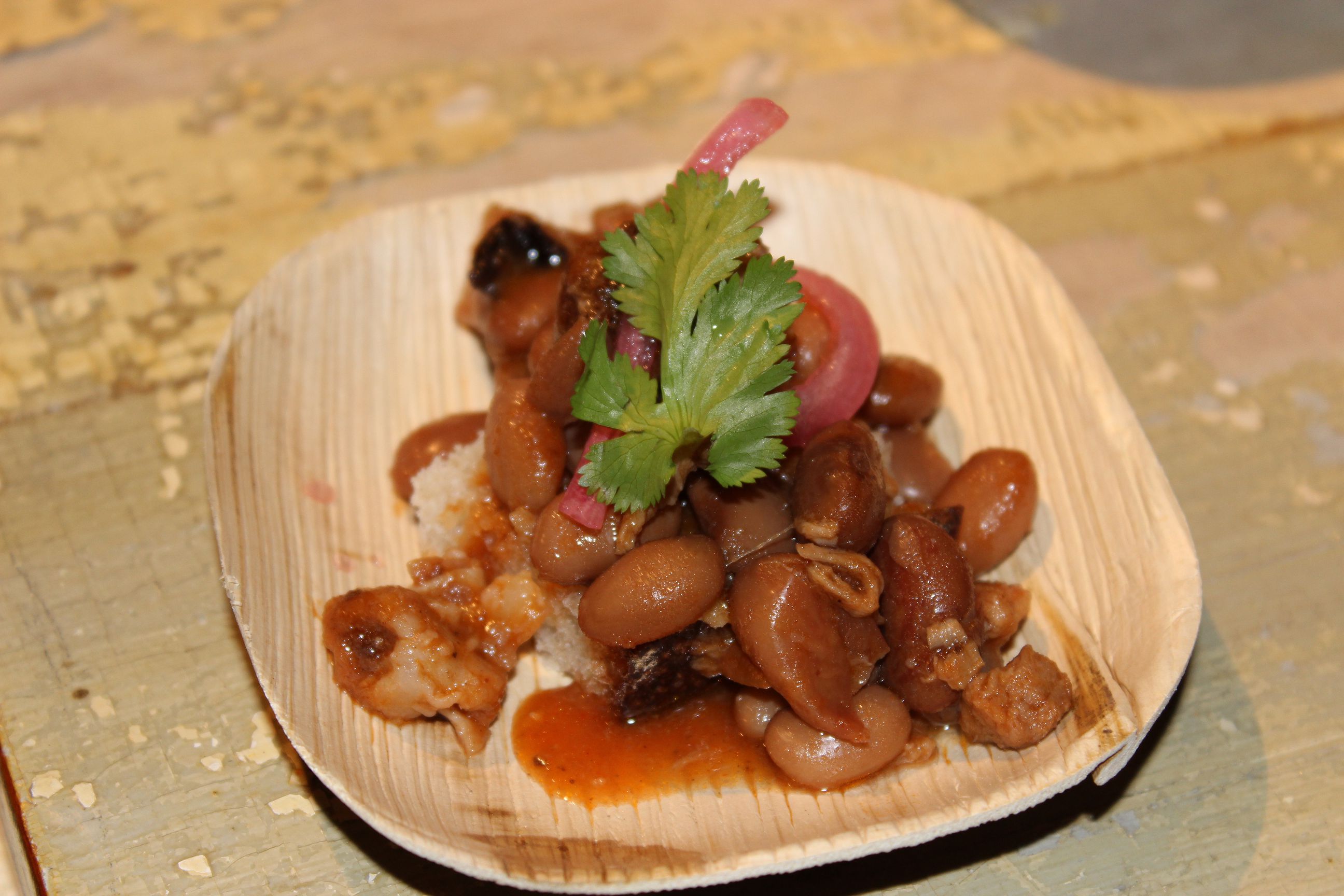 Northern Spy Food Co. - Pickled Sardines with Beets and Horseradish on Crostini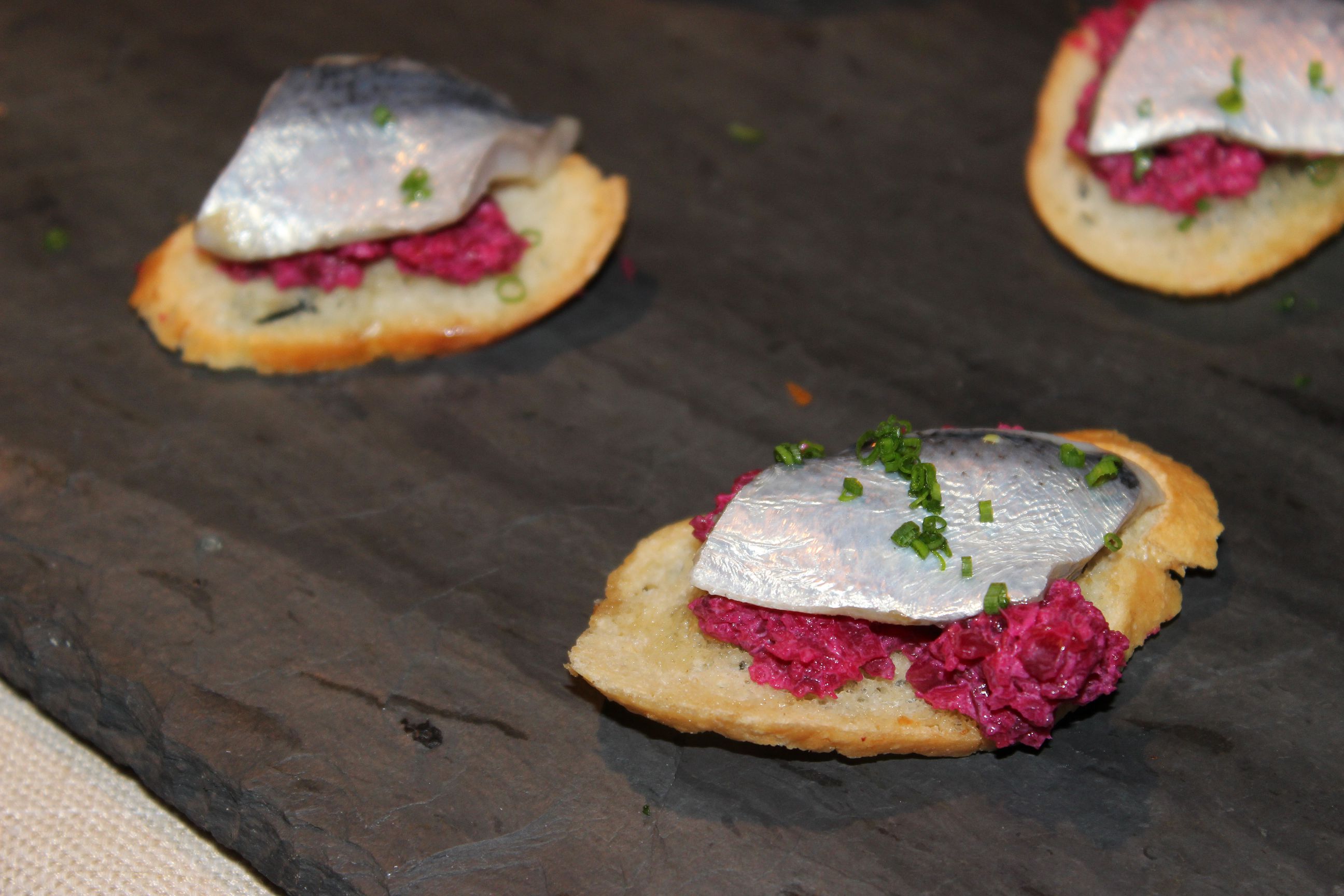 Ovest Pizzoteca By Luzzo's - Arancini Al Grancho (Crab Meat Rice Ball)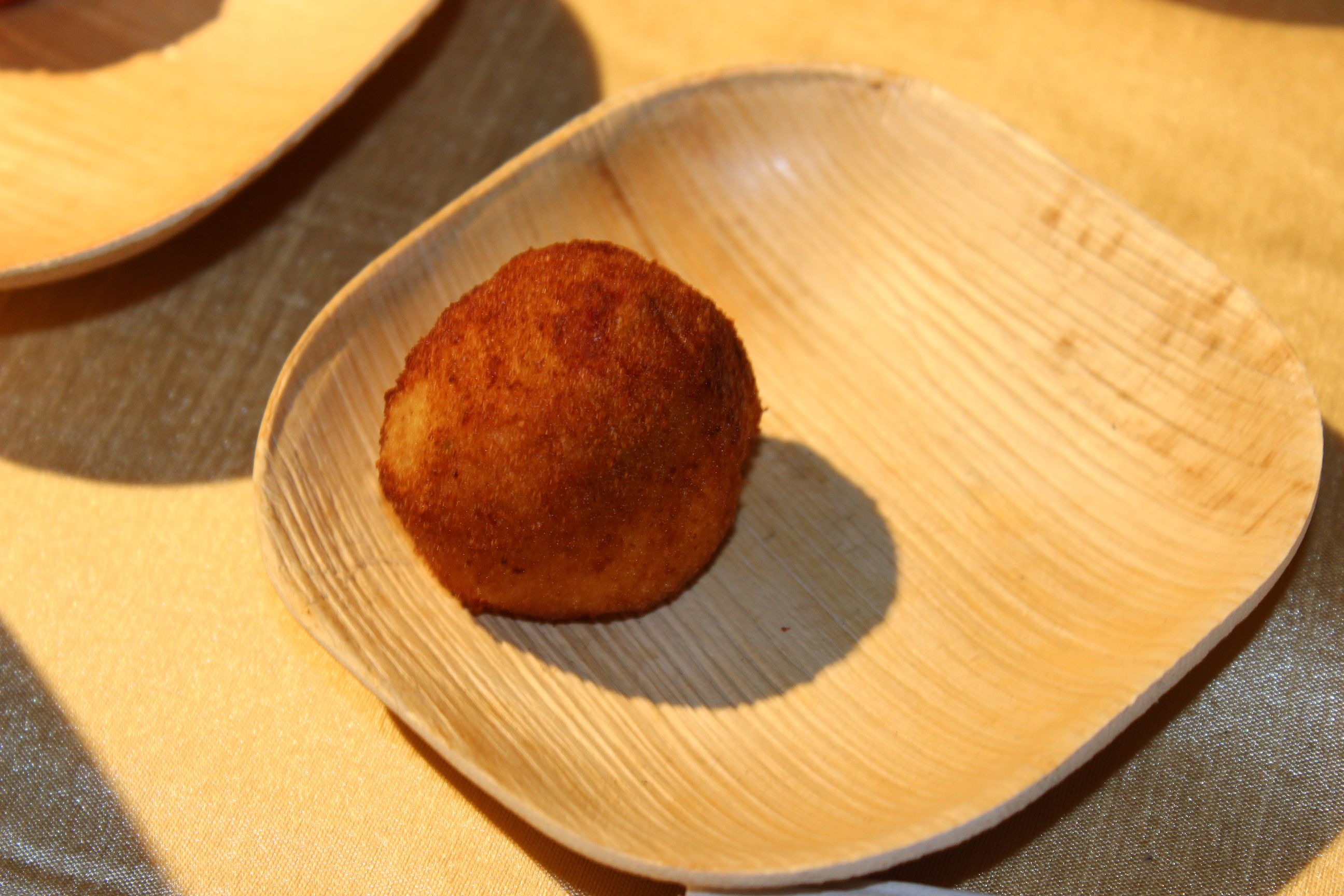 The Fourth - Cured Juniper Hamachi with Cucumber, Celery and Citrus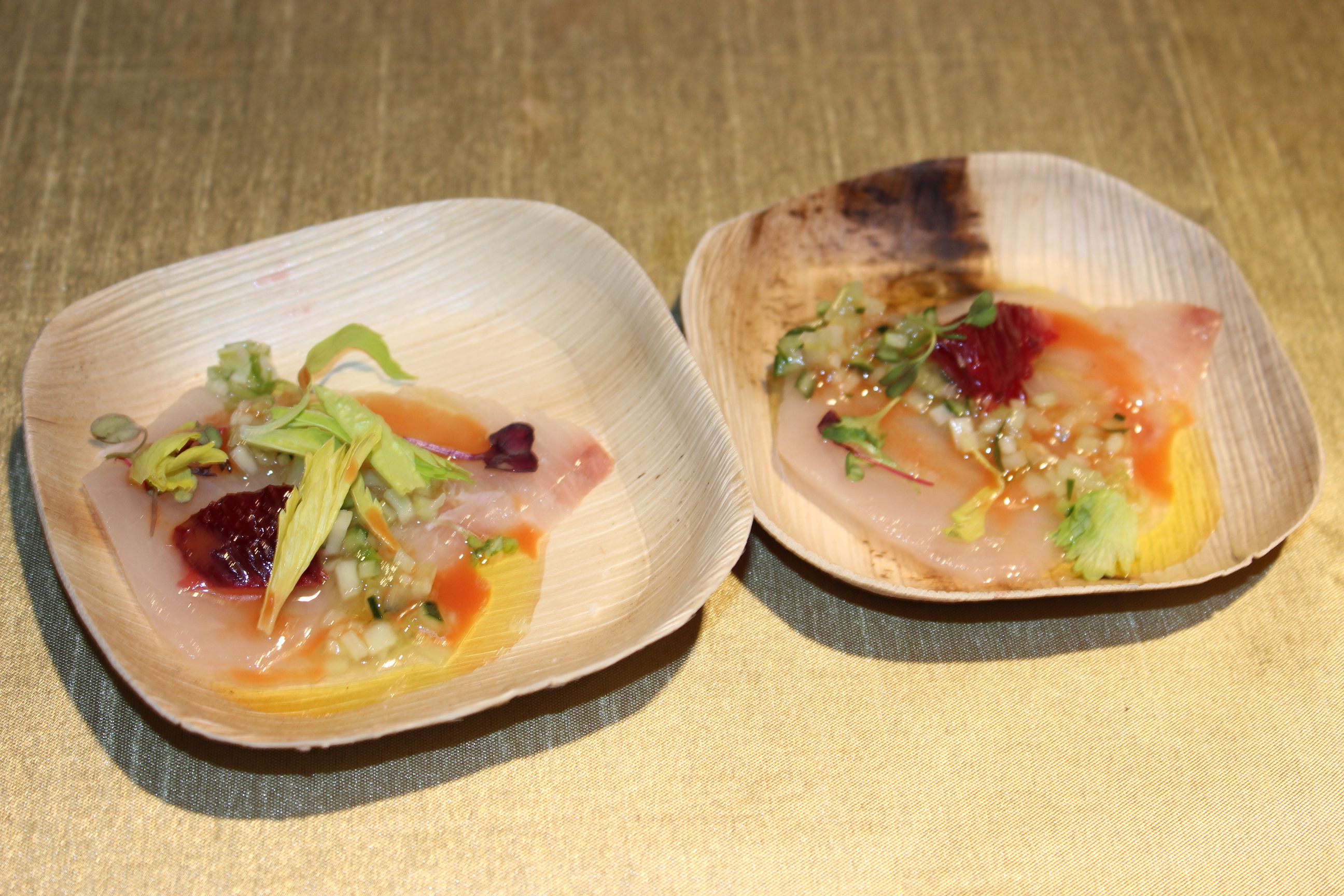 Hecho en Dumbo - Van Brunt Whiskey Cured Beef Tongue Skewers with Grilled Cactus a Tomatillo Chile Guajillo Salsa

Anfora - House Cured Lardo Crostini

Salumeria Rosi - Prosciutto di Parma, Coppa & Soppressata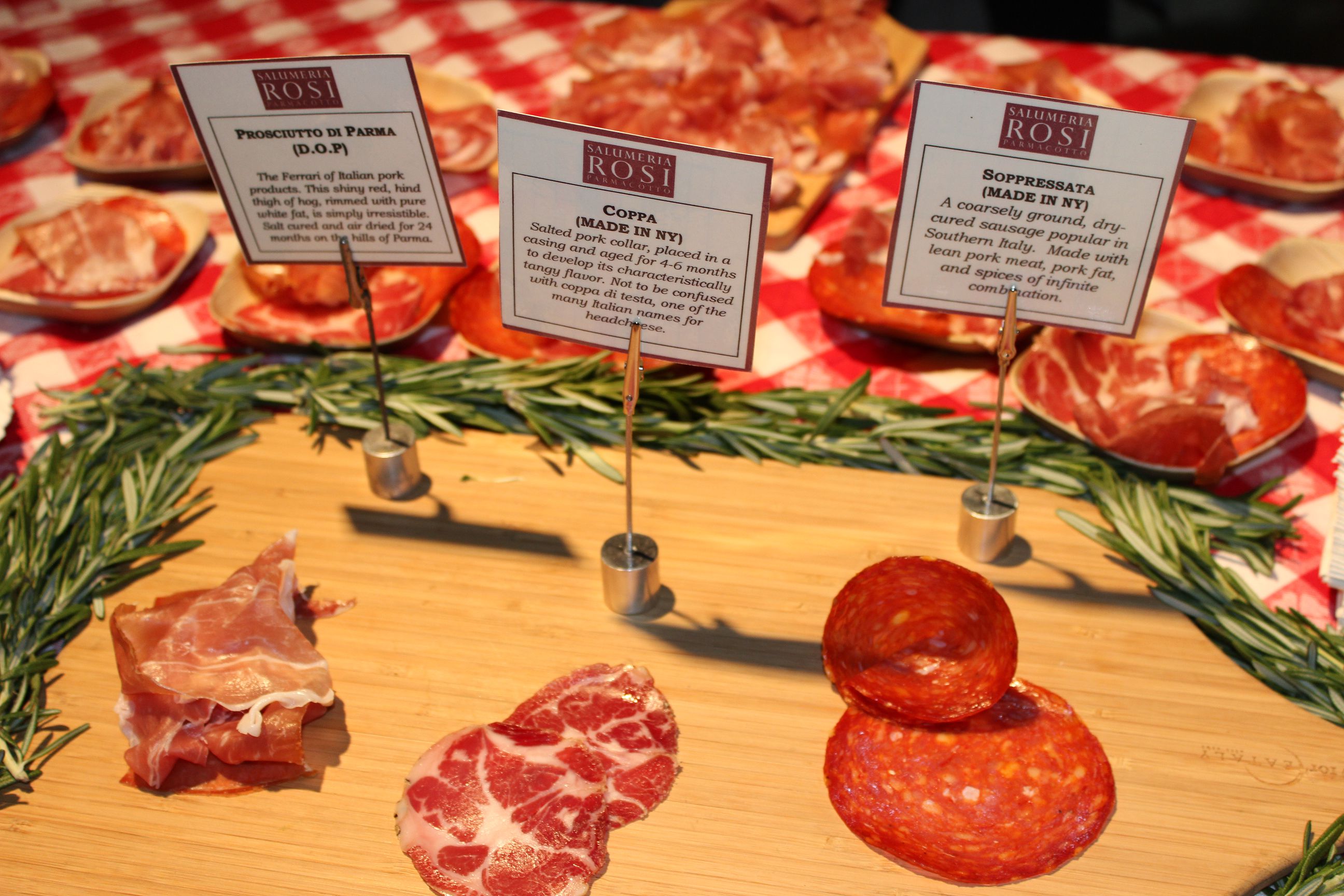 Fletcher's Brooklyn Barbecue - Cubano Mojo Pork with Plantain Chips

Prospect - Truffled Deviled Egg with Duck Confit, Pickled Zucchini & Red Mizuna Microgreens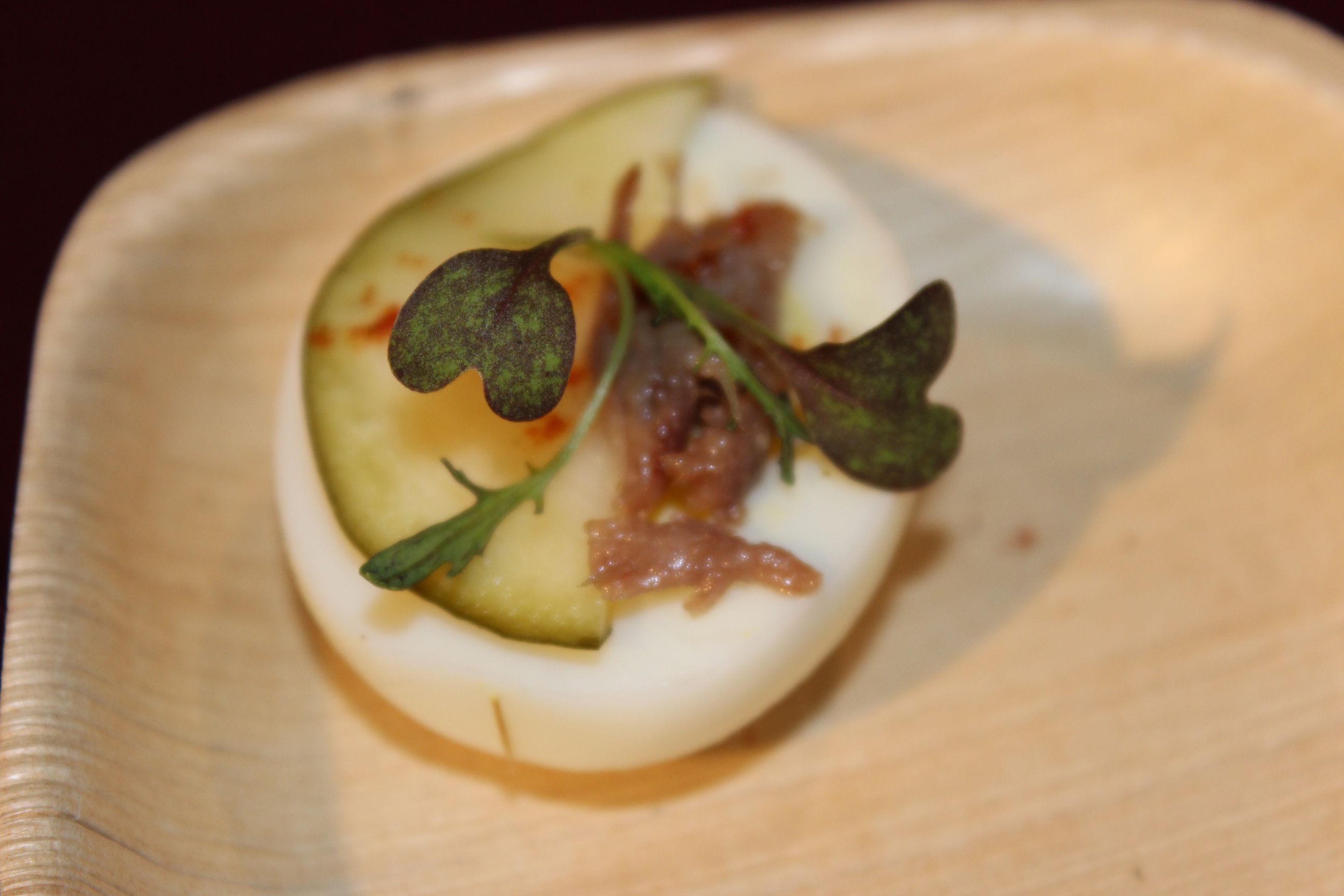 Dizzy's Club Coca-Cola - Miss Mamie's Fried Chicken on Mac & Cheese Croquette

Moran's Restaurant - Filet Mignon on Garlic Bread; Tortellini with Pesto and Mozzarella Wraps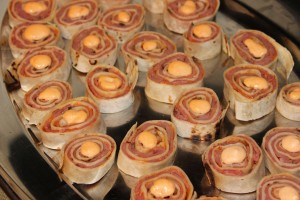 Related Articles
Share
About Author
(0) Readers Comments