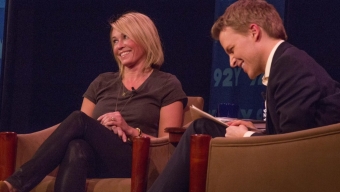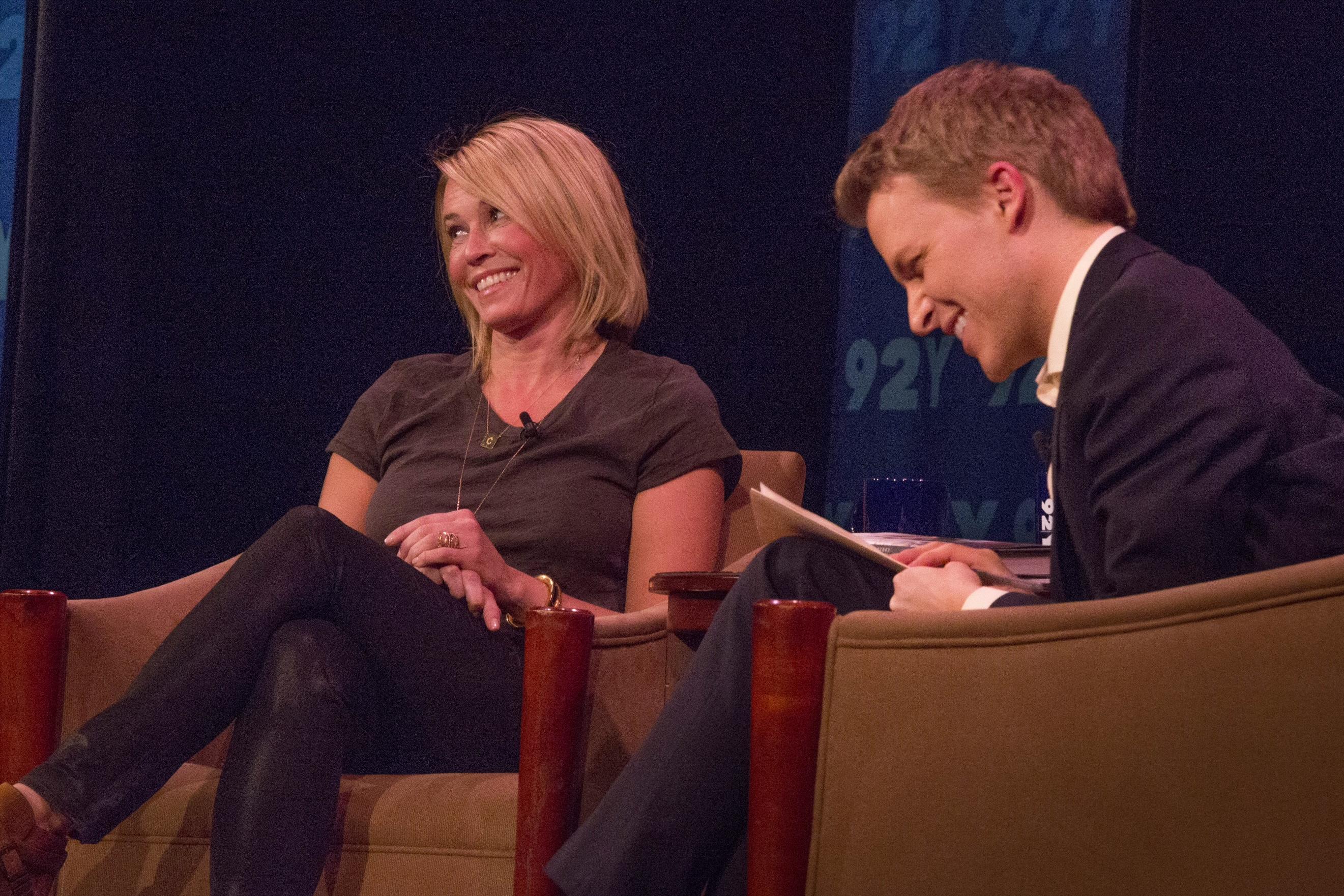 (Photo Credit: Joyce Culver)
"I'm pretty much annoyed by anyone in general," mused talk show host turned multi-faceted entrepreneur Chelsea Handler. The comedic host made a stop on her lengthy New York City media tour on Tuesday evening at the Upper East Side's 92Y as part of the venue's "7 Days of Genius Series," in support of her fifth book- the recently released "Uganda Be Kidding Me." As an established stand up, best-selling author and host of her own show, Handler is used to owning the spotlight. But on this night, it was her interviewer who seemed hellbent on making the evening his own.
At just 26 years old, Ronan Farrow, son of Mia Farrow and Woody Allen, has led a fascinating albeit short life thus far. A Rhodes Scholar from Oxford University and Yale Law School graduate, Farrow recently began a turn in television as the host of his very own daytime talk show on MSNBC, "Ronan Farrow Daily." But on Tuesday evening, Farrow's inexperience in this live setting really shone, casting a shadow upon the focal point of 92Y's "Conversation" series. Throughout the hour plus candid conversation between the two, Chelsea Handler certainly delivered some laughs as well as some notable nuggets of information to be gleaned by her adoring fans- in between Farrow's incessant and grating mile-a-minute style of dialogue, references to more of his own persona than the live crowd cared for and his downright hogging of Handler's rightful place in the limelight.
Eschewing many of the fun facts that led toward Handler's path to superstardom, Farrow instead focused on analytically dissecting the comic's words- focusing more on interpreting her thoughts rather than candidly conversing for the live audience. Perhaps the moderator was attempting to adhere to the subject of the series and delve into Handler's 'genius,' but the onstage banter and the relatively flat conversation seemed to reflect poorly upon Farrow's recognition of the mood, wherein Handler fans ponied up upwards of $80 to attend the sold out show- which streamed live on The Huffington Post.  Farrow's attempts at quick barbs, his personal interjections and his continual anecdotes were maddening by the show's close, especially for this writer who simply wanted to marvel at Handler's wit in person.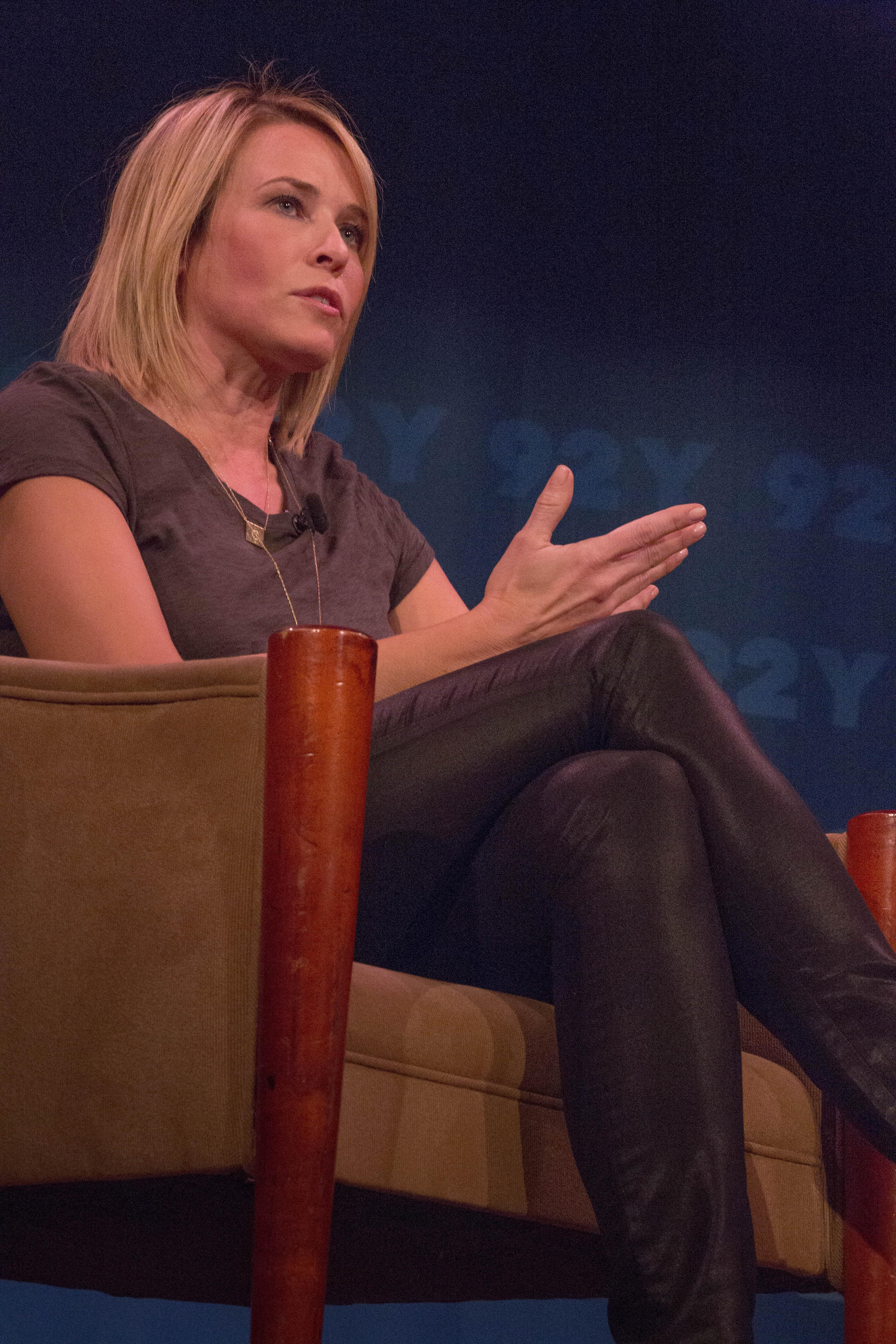 (Photo Credit: Joyce Culver)
To her credit though, Handler came off as a completely charming everywoman, revealing her subconscious penchant for overcompensating, from being socioeconomically disadvantaged and purchasing different cars to overcoming her lack of college degree by attempting to read challenging material. But Handler also tipped her comedic cap throughout the evening with choice quotables like "Sometimes I'm a real bitch, but I try not to be one every day," and "I don't make a living by being serious. But there's only so much time you can spend talking about Justin Bieber. And I don't give a shit about Justin Bieber." Handler proved to be just what the crowd expected- frank, self-confident and remarkably humbled by her success. Her advice to Farrow on his new show? "It's impossible not to read negative press when you're just getting started." In that regard, perhaps Farrow would be best suited to stay far away from this piece.
- Jane Van Arsdale
Other reactions by Chelsea Handler:
On her television staff being made up of 50% women: "It wasn't that deliberate. I'm a woman and I relate to other women and if you're a woman and you don't you should think about what you're up to."
On the future of her show and women in late night television: "I want a woman to take over my show so I don't have to do this stupid job anymore."
On her love of reading: "I love to laugh alone. I just love that feeling You're like a little kid 'oh gosh I'm having fun alone."
On being humbled by four New York Times bestselling books: "It's luck it's complete luck. It's not like I'm some literary genius I wanted to make people laugh that's all I wanted to do."
On overcompensating for her lack of a college degree: "I do read stuff that's really challenging because I don't want to be an idiot."
On continuing her show in perpetuity: "I know that to maintain my happiness for where I am in life I have to be really challenged and I have to be surrounded by the right people."
On her work ethic: "It's about setting an example not resting on my laurels and collecting a paycheck. I don't want to live my life like that."
On her personal life: "I don't want to get married. I don't want to have a white picket fence. I don't want to have children. I just want to have a good time."
On Jane Fonda (who was in attendance) being an inspiration: "I like people without guile and that's inspiring to me."
Related Articles
Share
About Author
(0) Readers Comments