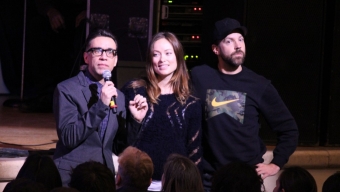 New York City's Town Hall space is typically reserved for shows of all flavors- be it live performances, comedy or music. Wednesday night, a nonprofit group called 826NYC was celebrating its tenth anniversary inside the historic venue, bringing together some of our area's most brilliant thinkers, authors, entrepreneurs, actors and entertainers under one roof.  The "One-on-One Chat Spectacular" has become an annual event that showcases revolutionary minds conversationally to a live audience in a relaxed setting. Though the list of participants reads like a Hollywood who's who, it's the New York City nonprofit that would act as the show stealing beneficiary on this night.
The importance of academic mentorship cannot be understated, especially considering the historical lineage of our public school system. 826NYC is a group of leaders, teachers and mentors focused on changing all of that, supporting students from first grade to high school and fostering strong writing skills while assisting the students to be inspired to write. Opportunities for creativity are to be encouraged and supported not stifled, and the structure that comes from the person to person attention that 826NYC promotes allows for these students' outlets to be heard.
The bi-level space at The Town Hall was filled with an energetic bunch that was excited to celebrate this milestone anniversary in style, entertained by a lineup of performers who combined being casually candid and undeniably interesting even at points when the audience may have been unfamiliar with their focus. Author Sarah Vowell, who moonlights as President of the Board of 826NYC joined comedian Eugene Mirman to welcome and thank the crowd for attending the "Chat Spectacular," and after a few short minutes of stand-up, the pair welcomed author/journalist Jon Ronson (The Men Who Stare at Goats) and actor Chris O'Dowd (Bridesmaids, This is 40) out first- with beer bottles in hand. The evening's setup was such that over the course of two and a half hours, each pairing would have ample time to discuss a focused topic in an interview format. With O'Dowd gearing up for a run at Broadway opposite James Franco in "Of Mice and Men," Ronson pressed him on his early days in acting, how most attempts at dramatic acting typically result in uproarious laughter and his preference of Los Angeles to New York.
The evening wasn't all fun and games however as author Masha Gessen addressed the harsh realities of a Vladimir Putin Russia and her recent move as a result to Harlem with journalist Anand Giridharadas and a brief three song musical interlude by Robyn Hitchcock, which broke up the otherwise routine presentation of different speakers. Though the show closed on a relatively serious if not overly upbeat note with famed documentary director Ken Burns being interviewed by acclaimed author Kurt Andersen about his landmark documentaries on our country, it was the more humorous moments during the show that were truly memorable.
First, Ahmir "?uestlove" Thompson, perhaps show business' hardest working man, was joined by former Daily Show correspondent/host John Oliver for an abbreviated chat that delved into his band The Roots, working on The Tonight Show and his efforts at record producing, owning a restaurant and establishing himself as an author. Waving everything off in a very ho-hum way, Thompson came off as very down to earth, and as we'd soon learn, as a result of a root canal earlier in the day, was a bit hopped up on some lingering meds as the two cackled together with laughter on stage. The evening's most fun moment would come from Saturday Night Live alum and current band leader on Late Night with Seth Meyers, Fred Armisen (Portlandia). Armisen was slated to spontaneously interview the live audience and after a few particularly funny encounters, he 'stumbled' upon actor Jason Sudeikis and girlfriend Olivia Wilde, pregnant with the couples's first child, seated in the front row. The three exchanged some comedic pleasantries early on, but the sheer surprise of their interaction made for the show's highlight.
During the live run of the show, small buckets were passed around for crowd donations- both of which were overflowing with dollar bills at last glance, a testament to the many supporters that are passionate about 826NYC's central ideology. The tenth anniversary celebration brought out some inspirational luminaries from many walks of life, each of whom showcased the level of creativity, intelligence and free thinking that the mentors involved at 826NYC can only hope extends to their students- a group that deserves to be effectively educated and shown what they are truly capable of.  For more information of 826NYC and to find out how you can get involved, visit 826NYC.org.
- Jane Van Arsdale
Related Articles
Share
About Author
(1) Reader Comment