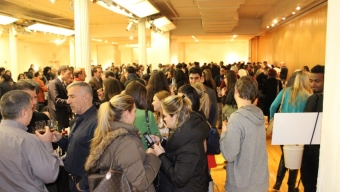 There's an additional stamp of approval that goes beyond the simple validation of an already acclaimed Italian wine. Though diminutive in size, its color and imagery is recognizable across regional and even language barriers. The black and white snail is an icon that represents Slow Food, a philosophy that's become a movement that analyzes a multitude of elements that go into the creation of different foods. Monday evening, as part of said movement, the celebration of the recently published third annual English version of the Slow Wine Guide descended upon the versatile Metropolitan Pavilion with dozens of participating wineries pouring tastings of their outstanding varietals, each appropriately rewarded with mention in the highly anticipated Guide.
For two and a half hours, guests paraded around the Pavilion's first floor space, grabbing an empty glass and heading off on a tour of eleven differing regions of Italian wines. Wines were divided up in terms of their distinguished creation from characteristics like environment, setting, bottling that each align with Slow Food's focus, high quality cellars that are typically renowned for their array of wines, and finally by value, indicative of a great wine that is reasonably priced. As the assembled crowd began to gather inside of the spacious room, we found a clear path toward a recognizable bottle and true to form, Mionetto Prosecco Brut,Treviso DOC did not disappoint. Among the oldest grape's in Italy's incredible history, Prosecco grapes are twice fermented utilizing stainless steel tanks for roughly sixty days and yields a refreshingly dry finish despite a preponderance of crisp white fruits and with a retail price of less than $15, there's hardly a better value for a sparkling wine available anywhere.
With glasses in hand, we jumped on the quickly growing food line, with promises of delicious cheeses, meats and fresh bread to reward our collective patience. Joining other guests that preceded us, we filled up a plate with helpings of ham and cheese filled paninis, freshly sliced pork, and slices of pizza bread alongside a smattering of four distinctive cow and sheep's milk cheeses, each utterly delectable in their own right. With more than 100 different wines to try, we sought out some new varietals to sample and really enjoyed the superior sips of L'Armangia's "Barbera D'Asti Superiore Nizza Titon," a dark red wine which lends itself to cold winter months and hearty meat dishes. Lightly smoky, the wine has a pleasantly fruity nose and full bodied taste. We also enjoyed the "Barbera D'Asti Spra Berruti," which provided a much fruitier cherry taste profile and was admittedly a touch sweeter than its predecessor. Similarly eye opening was Boscarelli's "Nobile Di Montepulciano Riserva," a pleasant 2009 blend of Sangiovese and Melot grapes that is incredibly tight, rich and floral with an undeniable oaky finish.
Aside from the pricier vintages that we enjoyed, it was the everyday sort of table wines that impressed us most like the $14 Cantine del Notaio "L'Atto 2012," the medium bodied $15 "Trappolini "Cenerto," and our favorite of the affordable wines, Cantine Rallo's "Il Principe" which provides a punch of flavors, is incredibly drinkable and is again, on the sweeter side. That's not to say we also didn't have our fill on other bottles of distinction, which included some fantastic Chianti (Badia a Coltibuono's "Chianti Classico 2010″), Pinot Grigio (Volpe Pasini's "Colli Orientali Del Friuli Pinot Grigio 2012″), Riesling (Aquila del Torre's "Riesling AT") and even a Lambrusco (Cleto Chiarli's "Lambrusci di Sorbara del Fondatore 2012″) among a sea of others vying for our palates' subjectivity. While we didn't get to sample each of the wines on hand, $45 got us in the door, a full plate of savory food, samples of endless wines and our very own copy of the 2014 Slow Wine Guide to take home, all of which was experienced over two and a half fun filled hours at this year's stop on the Slow Wine US Tour.
- Jane Van Arsdale
Related Articles
Share
About Author
(1) Reader Comment