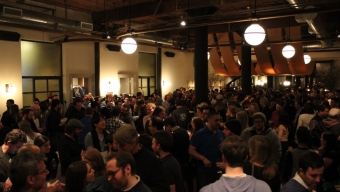 As New York City Beer Week continues to rage on (it concludes on 3/2), more than thirty different beermakers joined forces in Williamsburg on Wednesday evening for a three hour beer fueled tasting event titled "Brewer's Choice." The upscale Wythe Hotel's multiple rooms would host hundreds of celebrating revelers filling up on thousands of sudsy pours of locally produced beer. And what's more, some twenty different brewers actually utilized local New York grains to create beers being poured at this event, courtesy of GrowNYC, an environmentally conscious non-profit movement that focuses on Citywide quality of life improvements.
Though getting to the venue on a chilly winter night was particularly frustrating, an erected and heated tent provided some additional and much welcomed space for attendees but more importantly, it made some extra room for more breweries and food purveyors as well. Our first stop at Brewer's Choice was at the table of our pals at Bronx Brewery. The masters of the Pale Ale were pouring their "Black Pale Ale," which has become a staple at craft beer events all over town, but also their "Bronx Belgian Pale Ale" which we were excited to taste for the very first time. The golden blend of fruit and spice is another brilliant offering under the ever expanding Bronx umbrella, known for making delicious and complex beers right here in our adjacent borough. Speaking of other boroughs, Williamsburg's own Brooklyn Brewery was also in the house, doling out samples of their newly brewed "Brooklyn Wild Streak," a part of their Brooklyn quarterly experiment series. This one was aged in bourbon barrels and was particularly sweet and a bit malty, but delivered on the anticipated 'funky' taste profile best described by the reps that handed out our pours.
After filling our tasting glass with the likes of some Finback IPA, Ommegang's "Wild at Heart," and Peekskill's "Aristocrats," which was created with 100% ingredients from New York, we sought out some of the food purveyors on hand to satiate our now rumbling stomachs. We headed downstairs to the bottom level where we found a room swarming with guests, which indicated we had come to the right place. Loading up on endless toothpicks of Cabot's "Habanero" cheese, we found ourselves staring straight at the Luke's Lobster table, whose succulent chilled "Shrimp Rolls" are without question the best in the business. The fluffy buttered bun envelops a heap of tiny shrimp for an unparalleled confluence of different flavors that are rich and delicious. Picking up a quick pour of "H3 Belgian Trippel" from Port Jeff, we briefly chatted with Eddie of Blue Island Oyster Company, who was shucking dozens of briny Huntington Bay "Rocky Reef" oysters for the taking.
Our favorite brew of the evening came courtesy of Rushing Duck from Chester, New York. The brand's "War Elephant" was a fantastic double IPA that poured a beautiful bronze, smelled of fresh citrus and offered a pleasantly hoppy taste. For our first time tasting the beer, the "War Elephant" was an absolute winner. Back upstairs meanwhile, guests noshed on "Smoked Meat Sloppy Joes" from Mile End and a variety of different pretzels from Sigmund's, both of which paired perfectly with the sea of suds being poured. The Wythe Hotel was packed with thirsty drinkers on this night and "despite Brewer's Choice" being a big success, New York City Beer Week isn't over just yet. Head on over to their website to secure tickets for the remainder of the events, of which there are aplenty.
- Jane Van Arsdale
Related Articles
Share
About Author
(0) Readers Comments