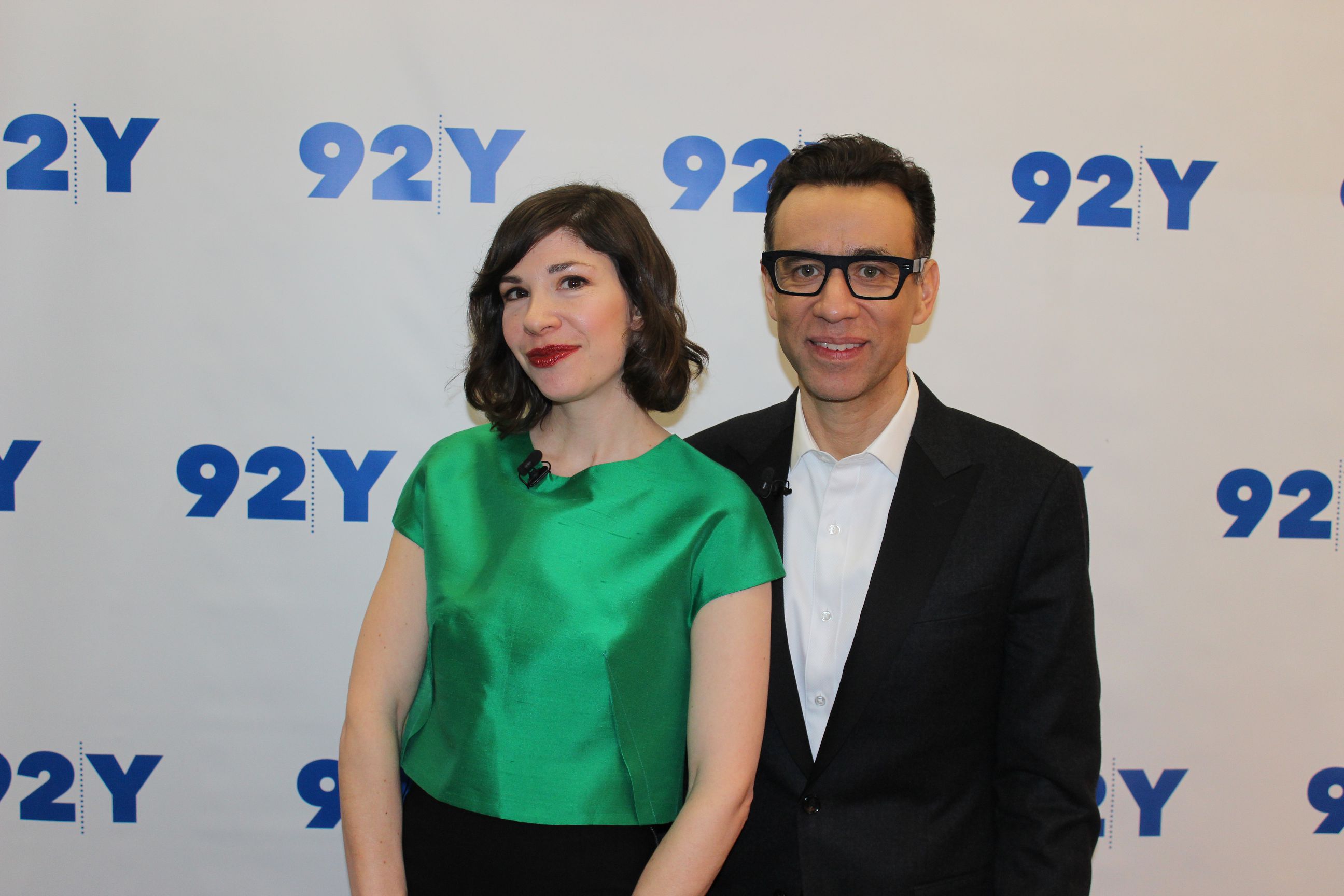 Carrie Brownstein and Fred Armisen are hardly a modern day Carol Burnett and Harvey Korman. That much was clear on Tuesday evening at the Upper East Side's 92Y as the pair, interviewed by Ophira Eisenberg of NPR fame, though in great spirits, scarcely seemed to find much humor in their own material.  The audience on the other hand never seemed to be able to catch their breath.   "A Conversation" brought together the three talents on stage in front of a sold out house, focusing primarily on the origins and rise of the pair's hit IFC sketch comedy show Portlandia and teased what's to come in the upcoming fourth season, which resumes Thursday, February 27th.
The mostly dry show is both exploratory and exaggerative through a variety of characters that exacerbate the sometimes mundane and sometimes outrageous nature of everyday life. Though it exists and is shot entirely in Portland, Oregon, the show is a microcosm of small town America that exists seemingly everywhere. Arranged in typical fashion, "A Conversation" meshed video clips with an hour of candid conversation, followed by a thirty minute interactive Q&A period with the audience- clearly a room filled with some of the show's most ardent fans. Perhaps most revealing aside from the show's ascension from playful sketch show to the heights of critical acclaim, is Portlandia's creative semblance, forged from mostly singular ideas and situations that often turn into different tangential improvisations which wind up far beyond the initial blueprint set at each scene's start. But it's that creativity that allows Brownstein and Armisen to glean enjoyment from what they're doing and allows them to create literally, as Brownstein put it, from 'the ground up.'
While the pair is quick to credit everyone on set- from their wig-makers to their editing team in post production for the quick cuts and sound effects that turn a seemingly pointless sketch into comedic excellence- it is Brownstein and Armisen's trust in each other and their relationship off-screen that allows their love for the show to shine though- not only during filming but also in their affection for each other in this setting. The audience meanwhile seemed mostly divided between wildly laughing each time Armisen would speak and listening to Brownstein's eloquence when posed with a question, giving us a plethora of different words to look up once leaving the theater.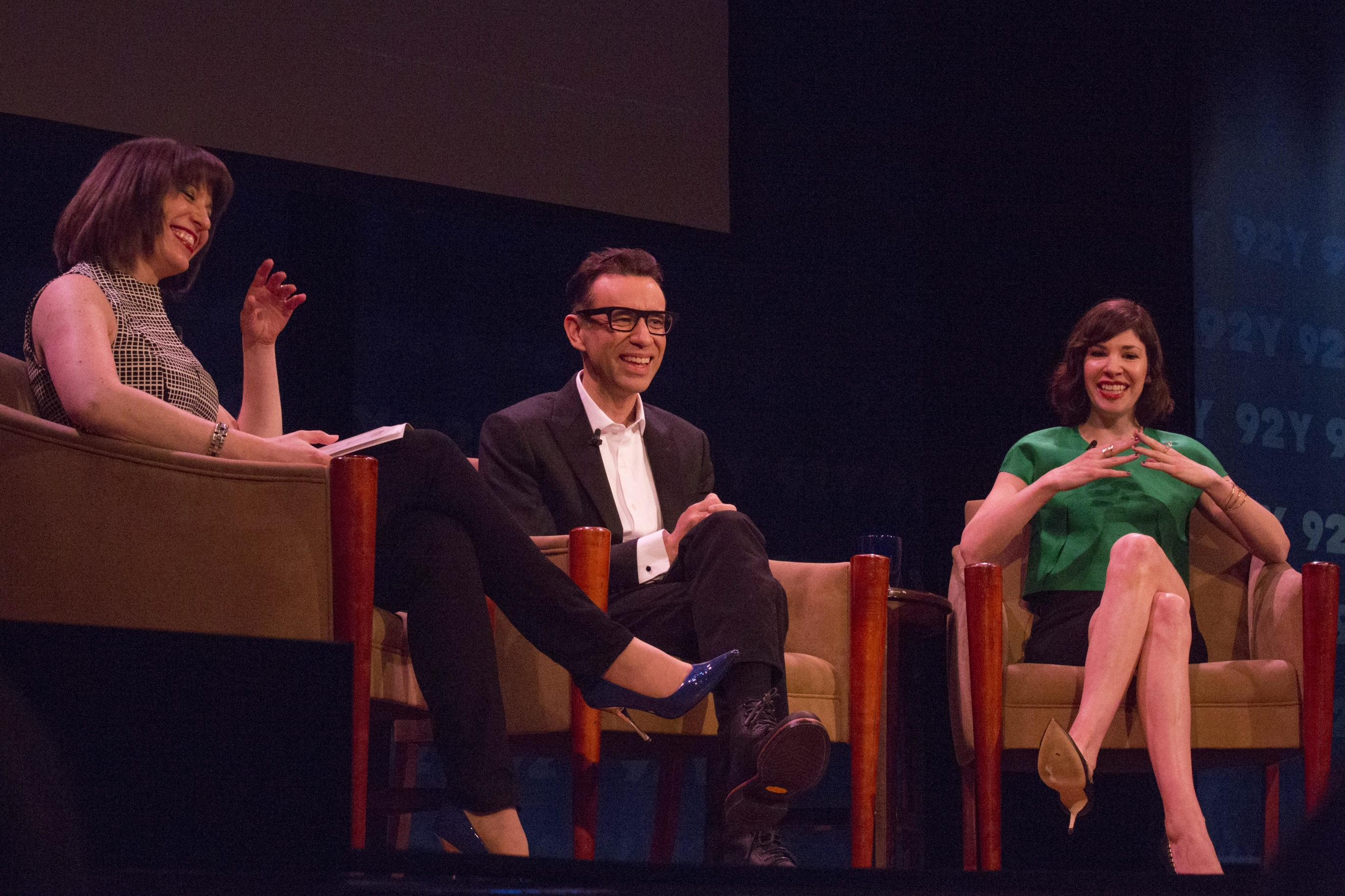 (Photo Credit: Joyce Culver)
As a comedic duo, their formation is nothing if not inspiring. Brownstein was the guitarist for Wild Flag and indie-rock trio Sleater-Kinney, a band that had made a name for themselves locally in opening slots for Pearl Jam and Armisen, then a cast-member on Saturday Night Live, had wanted to check out one of the group's local performances- but on a Saturday night, unfortunately had other responsibilities. The pair then met and subsequently hit it off later that night at the SNL afterparty and began making videos under the ThunderAnt moniker, strictly for their own enjoyment. With about a dozen sketches under their belt online, they pitched their idea to Broadway Media (Lorne Michaels' production company) who brought the idea to IFC and their greenlight set the stage for this new satirical show.
To her credit, Eisenberg played an ideal moderator on this night, keeping the conversation focused while also staying out of the way. While little was mentioned of Armisen's latest gig as the bandleader on NBC's "Late Night with Seth Meyers," fans of Portlandia were likely satiated with nuggets of content from their favorite sketches to special guest stars emerging during Season Four. Though the conversation was highly sarcastic for the full ninety minutes, the comedy pair still seemed unbelievably down to earth and humbled despite their successes. The key to such satisfying work says Brownstein, "We never really take it for granted and that's the main thing," and Armisen chimed in "we just amuse ourselves." Seems to be working for the rest of us as well.
- Jane Van Arsdale
Related Articles
Share
About Author
(0) Readers Comments