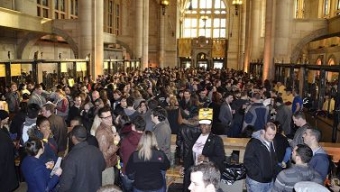 H
undreds of beer-lovers fought off the early winter blues this past Saturday in Brooklyn, as throngs of hops-seekers descended upon Brooklyn for the winter edition of the LivingSocial "BeerFest."  Even the event's lightly enforced ticket-per-drink policy couldn't put a chill on the proceedings, as revelers who had been braving the cold outside Skylight One Hanson streamed into the venue starting at 2 pm (1 pm for VIPs) to enjoy the event's modestly seasonal take on the craft beer theme.
While the majority of the beverage dispensing occurred in the attractive Art Deco building's towering main floor, the party really got going downstairs on the former Williamsburg Savings Bank's vault level.  Whether your game was foosball, ping pong, pop-a-shot, cornhole, or Twister, there was ample opportunity to test your rec-room skills against scores of others revelers while sampling upwards of 80 drafts (plus a handful of wines and ciders) from local and national brewers.
As for the beers themselves, hop-heavy IPA's, thick winter ales, crisp lagers, and luscious ciders dominated the slate, as the lively crowd — composed mostly of pleasure-seeking twentysomethings interspersed with a handful of genuine beer enthusiasts — bounced between the drinking troughs, game rooms, and outdoor dining options.  Highlights on the beer side included the Coronado "Islander IPA," Shmaltz Brewing Company's "He'Brew Hop Mama," and Schlafly's "Dry Hopped American Pale Ale," with honorable mention to Peak "Winter Session," locally-brewed Empire "IPA," and Salt Lake City's own Uinta "Baba Black Lager."  Among the half-dozen or so food trucks that populated the back lot, the ubiquitous Morris Grilled Cheese seemed to draw the biggest crowd, with lobster rolls and Tex-Mex style fare also satisfying the masses.
While the relative paucity of high-ABV and limited release selections may have the left the more serious beer connoisseur a bit unfulfilled, the event squarely hit the mark for anyone looking to try a few new brews and blow off some steam in advance of the holiday season.  The event was sized perfectly for the venue (with the exception of some supply/demand imbalances on the restroom side), creating a festive — but not overly boisterous — atmosphere in which all attendees appeared to thoroughly enjoy themselves. LivingSocial proved once again that their competencies don't lie on coupons alone.
- Matthew Morris
Related Articles
Share
About Author
(0) Readers Comments