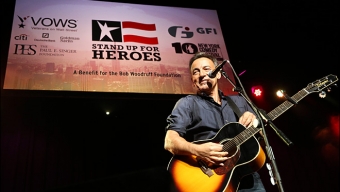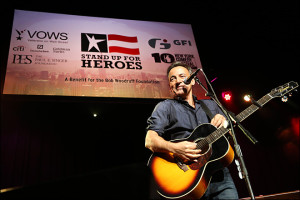 (Photo Courtesy: komonews.com)
With Veterans Day quickly approaching, it is fitting that "Stand Up For Heroes" rocked the Theater at Madison Square Garden in New York City on Wednesday evening. The annual kickoff event to the New York Comedy Festival opened in style, presented by the Bob Woodruff Foundation aimed at raising awareness as well as funds for various programs which assist injured service members and Veterans.  And as per usual, the red carpet was rolled way out for the A-list celebrity guests in attendance this year.
The festivities kicked off just after 7pm with the carpet literally flooded with notable musicians, actors and actresses, comedians and politicians alike; each walking the media parade with one of the soldiers being honored at the event. Notable attendees on the red carpet included Pink Floyd's Roger Waters, who spent a considerable amount of time speaking with each and every Veteran and comedians Jim Gaffigan and Bill Cosby as well as the evening's hosts Bob & Lee Woodruff.
While they may not have been available to walk the red carpet, comedians who took the stage for this year's 7th annual "Stand Up For Heroes" event included Jerry Seinfeld and Jon Stewart. There was also an unexpected video message from First Lady Michelle Obama and Dr. Jill Biden, offering their love and support for the Bob Woodruff Foundation's incredible efforts. The night included a riveting performance by Bruce Springsteen who has performed at all seven "Stand Up for Heroes" benefit concerts and from all accounts stole the show this year as well. The Boss' abbreviated three song set included "Dancing in the Dark," a stirring version of "If I Should Fall Behind" with wife Patti Scialfa and a Roy Orbison cover of "Dream Baby Dream."
To no surprise, this year's "Stand Up For Heroes" benefit proved to be hugely successful, raising more than $5 million – a new record for the event.  In addition, the night's live auction raked in an impressive $750,000 in additional guest funds.  Most importantly perhaps, the night continued to raise awareness of the trials and tribulations that today's Veterans go through when being reintegrated into society.  For more information on the event itself and to learn more about how you can contribute to the Bob Woodruff Foundation, check out bobwoodrufffoundation.org.
- Eugene Jerome
Related Articles
Share
About Author
(0) Readers Comments