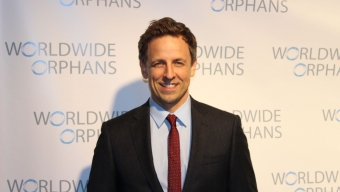 Since 1997, the Worldwide Orphans Foundation has worked tirelessly to change the lives of orphaned children around the world. Founded by Dr. Jane Aronson, WWO now has a presence in countries like Vietnam, Serbia, Haiti and Ethiopia, using an array of different programs and specific initiatives aimed at assisting the children in each of these regions according to their needs. From mentoring and developmental training to healthcare treatment and one-to-one education, the WWO's many facets are wide reaching, focused on working hands on with the underprivileged to bring about positive change.
Monday evening, the stars aligned at the lavish Cipriani Wall Street ballroom in downtown Manhattan as the group's signature blue carpet was rolled out for the collection of celebrity guests. The organization would host their 9th Annual Gala inside of one of the City's finest venues, equipped with a full dinner and program amid the luxurious setting. The 2013 Gala would welcome upwards of 900 guests to assist in their fundraising efforts for the year, honoring fashion icon Diane von Furstenberg, a longtime proponent of the WWO's efforts as well as Dr. Sophie Mengistu, Country Director for WWO Ethiopia.
The evening's host and honorary Worldwide Orphans Ambassador would be Saturday Night Live Weekend Update chair and host of his own upcoming late night talk show Seth Meyers was all smiles walking on the carpet with his new bride Alexi Ashe amid the illumination of flashbulbs from the photographers around them. Luminaries from the world of fashion included designer Elie Tahari (who would provide Meyers' killer wardrobe), models Ger Duany and Nyamuoch Girwath and Veronica Webb while other familiar faces like 2002 Olympic Gold Medal figureskater Sarah Hughes, Top Chef Master Sang Yoon and NBC correspondent Ann Curry also made scant appearances on the carpet. Fresh off of the team's heartbreaking loss to the Buffalo Bills on Sunday, New York Jets' wide receiver David Nelson (also wardrobed in Elie Tahari) also dropped by to chat with the press along with his brother Patrick, before heading inside for the main program to begin- where guests could be seen clinging glasses together filled with the evening's premium liquor sponsor Marquis Vodka.
Around the world, more than 153 million children have lost either one or both of their parents but an organization like Worldwide Orphans is doing their part to ensure that they are never truly alone. The nonprofit group's initiatives toward the advocacy, education, and direct assistance to the children in developing countries are vast- far more expansive than we can simply describe in this space. And while Monday evening's Annual Gala was a complete success, there's still more work to be done and more help to give. Find out about all the great work being done and how you can get involved at WWO.org- because "it's not where you start, it's where you FINISH."
- Jane Van Arsdale
Related Articles
Share
About Author
(0) Readers Comments