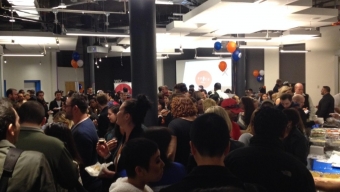 Blog: The Best of Delivery.com at WIX Lounge
On Thursday night, "The Best of Delivery.com" food event was definitely the place to be for New York City foodies. Held inside of Chelsea's WIX Lounge, there was a whole lot of food and drink squeezed into the diminutive space.  I knew I had arrived when I fell behind a line of people half way down the block, but to their credit the staff did an admirable job of keeping things organized and most importantly moving forward. Once inside, the scant elevator space gave attendees an opportunity to literally, warm up to each other. Alternatively there was the opportunity to get a pre-feast workout in if you wanted to walk up 8 flights of stairs. The choice was yours.
From a marketing perspective, the delivery.com team did a fantastic job of branding the event. From distributing free tcha tchkas that included pens, cup holders with $5 Delivery.com gift cards, a raffle ticket, and branded sunglasses, the giveaways were plenty. All guests meanwhile were given a BINGO card to encourage visitation to all of the sampling stations, which was a nice touch. The participating vendors included a cornucopia of New York City staples stationed alongside some lesser-known establishments who nonetheless, made their mark during the event. As soon as I arrived to take in all of the activity surrounding me, I heard someone say, "Where should we start? Maybe Pinkberry to clear the palette?" I thought that was a stellar suggestion being the Pinkberry aficionado that I am. I shamelessly followed suit and started there.
Now having a feel for the entire space, after my Pinkberry fix I decided to follow the room set up and walk around the perimeter tasting the foods along the way. First stop was Spice Thai. As the name indicated, there was quite a spicy kick to their dish du jour. They served a generous portion of their "Nam Prik Ong" (spicy tomato sauce meat sauce over pasta) taking the time to meticulously sprinkle a cilantro garnish on top. Their table also had a small, artistic decorative touch with a rice, flower and menu spread that added flair and a just a sprinkle of posh to their overall display.
As the evening progressed, the room began to fill up with swarms of people now pouring inside. The event staff was on it though, encouraging guests to join the shorter lines toward the back of the venue. I ended up once again following suit. My next stop was Archie's and boy was it a good one. I sampled the freshest "Chicken Salad"…perhaps ever! It had a clean, fresh, well-flavored taste, was not slopped in mayonnaise and was really very light and tasty. Just a few steps away, Pita Grill had laid out a nice spread of hummus, baba ganoush, falafel and a really tasty rice and chicken blend- although they probably could have used some signage, as everyone kept having to ask which restaurant they were representing.
From there we stopped at Maguey y La Tuna for a pretty underwhelming selection of "Chips and Guacamole" before deciding to taste something sweeter as we stood directly across from Pie Face. We stood in line and, to our dismay, they were all out of the goods and were waiting on another delivery. The staff was friendly and politely invited us to return a little later, but truth be told, we were bummed out. But with Blockheads right in front of us, we recovered quickly. Now most New Yorkers know Blockheads for their dirt-cheap margaritas, but their "Chicken Soft-Shelled Taco" was pretty good. They actually get the award for the most charming and attentive staff of the evening, making sure to rectify an incorrect order quickly. Their "Veggie Taco" was similarly tasty, particularly because of the chipotle mayo, but overall a good flavorful treat. Who knew the food was just as much a reason to stop by as the margaritas?
Among the other standout tables were the creative chocolate creations from Sugar Plumm, Salvo's incredibly delicious "Penne Pesto," and BXL, whose pairing of "Leffe" beer with "Creamy Chicken Stew" decorated with mushrooms and bacon, were pretty tasty as well. This was beer and bar food done right. Fortunately at this point, Pie Face got round two so they saved the day for our sweet fix. And boy was it worth the wait! Their little pies were SLAMMIN!!! We tasted the chain's "Cheesecake" their "Apple Crumb" and needless to say, there were no leftovers.
By this point the organizers had cut the music were raffling off $75 Delivery.com gift cards to three lucky winners, an iPad mini and a one-year membership to Netflix. At $15 a ticket, this event was well worth the investment and Delivery.com completely lived up to their promise that we'd "Sample delicious dishes and wonderful wines from the best delivery.com merchants." I think they are definitely ready for a bigger venue next time.
- Maritza Reveron
Related Articles
Share
About Author
(1) Reader Comment