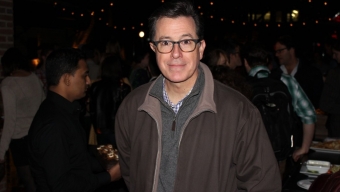 Blog: Comedy Central Kicks off NYCF
If you want to learn a thing or two about throwing a party, just ask the folks from Comedy Central. The latest in a string of events gathering together some of the country's funniest talents in one place served as the official kick-off to the 2013 New York Comedy Festival on Thursday night. The setting was the posh Refinery Hotel Rooftop with fantastic views of midtown Manhattan behind a swell of guests fortunate to be in the house on this night.
The New York Comedy Festival has become an annual rite of passage in our city, a testament to so many of the funny comedians honing their craft night after night inside of small clubs and in front of skeptics with a collective 'make me laugh' mentality. With a plethora of big names coming to town year after year for the festival -and certainly this year is no different- it's easy to forget where so many of them began their careers, way before playing to sold out five and six thousand seat theaters. And for years Comedy Central has traversed these clubs and has uncovered so many of the young comedians that have become ingrained in our cultural lexicon be it with stand up specials, sitcoms and sketch comedies based around them, and of course, roles in films. They've scoured the country's talent pool and have unleashed them upon us, so it seems only fitting then that they host the official kick-off party commemorating the Festival's special ten year anniversary.
Appropriately, the evening kicked off at 10pm and the lineup of guests were whisked upstairs to the chic open air roof. Despite a preponderance of heat lamps outside, the November wind had brought an expected chill to the space's outdoor area. But an array of eats like savory "Prime Rib Sliders" and "Chicken Tacos"alongside warm shot glasses filled with creamy "Butternut Soup" more than made up for the seasonal air. Tables around the venue were decked out with buckets of beers the the few hundred guests in attendance, casually kicking back on the plush couches inside. The Festival also made sure to dole out its own specialty cocktail as aptly named drink "The Comic Relief" combining Sailor Jerry spiced rum with prosecco, apple cider and bitters, proved incredibly refreshing considering this time of year.
What would a Comedy Central sponsored event be without its share of celebrity guests? "The Colbert Report's" Stephen Colbert was among the first to arrive and was all smiles despite a relatively short stint inside. Many of the members of his writing staff meanwhile managed to stay at the party for quite awhile following the rigors of Thursday's live show. We also bumped into Saturday Night Live's signature impressionist Jay Pharoah and his guest, arriving just as we were heading for the exit, giving us pause momentarily to gawk at one of our favorite sketch comedy performers. As the evening progressed and glasses of red wine and prosecco were flowing throughout the Refinery space, the entire Rooftop was filled up with groups of guests- catching up with each other, sharing drinks, and of course, laughing- which is what the New York Comedy Festival and Comedy Central are all about.
- Jane Van Arsdale
Related Articles
Share
About Author
(0) Readers Comments