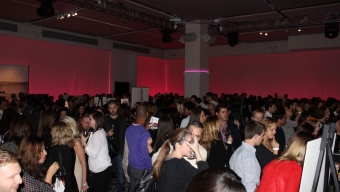 Some 600 thirsty guests traveled to lavish west side venue Espace on Friday evening for an exceptional wine tasting event bringing together some of the finest winemakers on the globe under one chic roof. The 2013 "Around the World in 80 Sips" was just the latest extravagant evening hosted by Bottlenotes, an online community for wine lovers to explore, interact, and share tips on all things wine. With hundreds upon hundreds of distinctive wines, guests were encouraged to drink to their heart's desire and the participating wine pourers were more than happy to oblige, discussing each varietals qualities.
Typically at wine events of this caliber, there's a good meshing of folks that fall into roughly three categories- the distinguished wine taster who knows a great deal about wines and seeks out the truly special ones being poured, the open minded wine taster who is genuinely interested in tasting and learning about new wines, and the drinker who makes sure that their glasses are full at all times- and candidly, the array of different people across all three spectrums are what makes these events so much fun. "Around the World in 80 Sips" was no different- and that's a good thing.
The special VIP hour kicked off at 6:30pm, with a special selection of wines being poured strictly for these guests. We made our way over to the wine glasses, grabbed a few, and began on our way to the tasting tables. Inside, there was a sizable crowd already gathered with each person sporting much more than the promised 1 ounce pours seemed to indicate in each glass. Â Almost immediately we headed to the exclusive "Sherry Suite" sponsored by Sherry-Lehmann Wine and Spirits, the evening's official retail partner. The special sectioned off area would provide a selection of special wine pours and different eats solely for the guests gathered inside the Suite area. Here we found some of our favorite pours on the evening and also enjoyed a bit of the good life with some Bollinger Champagnes which retail for upwards of $195 per bottle. Their "'Special Cuvee' Brut NV" ($54.95) was absolutely delicious though, crisp and refreshingly smoky. Eschewing some of the sweeter wines, we sipped on some fantastic varietals from Italy (Allegrini "La Poja" 2007, $84.95), France (Domaine Barge "Cuvee Plessy" 2010, $52.95) and from Napa (the Dominus "Napa Valley Red" 2010, which retails for $195 was our favorite here) inside the Suite.
Grabbing some "Mini Grilled Cheese Sandwiches" and "Shrimp Cocktail," we headed back out toward the main space as the house DJ was playing some familiar top 40 hits in the background to the enjoyment of the crowd on hand. Pleasantly we stumbled upon the Samuel Adams table, a much welcomed alternative to the innumerable collection of wines here and sipped upon repeated pours of the "Winter Lager" and the "Nobile Pils." Meanwhile the food being offered around us was ideal for pairing- an assortment of meats and cheeses and a bruschetta table near the venue's entryway with an array of fresh breads and crostinis for spreading.
With so many different wines to sample, choosing the evening's best proved nearly impossible and as such, we jotted down some notes about the event's true standouts which provided the best values. Our recommendations are below, but for some real analysis, make sure to check out Bottlenotes.com and get lost on their website. Whether you're an aficionado or a novice, there's a plethora of wine-centric information for you here and Bottlenotes makes it easy enough for you to sound like you know what you're talking about. And face it, that's what we all want.
*Domaine Paul Pillot Bourgogne Rouge 2010 – $24.94 – Delightfully full bodied with hints of dark cherry
*Purple Cowboy Tenacious Red Cabernet Sauvignon 2011 – $14 – Great value for the price, drinkable table wine, rich with subtle earthy hints
*Robert Talbott Logan Pinot Noir 2011 – $25 – Oak aged taste with hints of vanilla, ripe fruit finish
*Francis Ford Coppola Director's Pinot Noir 2011 – $21 – Black cherry and berry flavors, intense and flavorful Pinot
- Jane Van Arsdale
Related Articles
Share
About Author
(1) Reader Comment