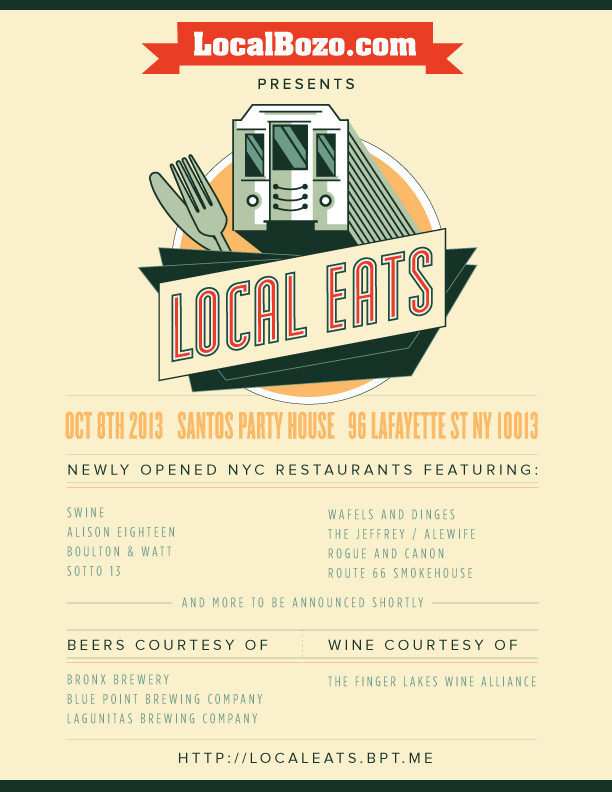 Tuesday was a special evening for us here at LocalBozo.com as a few hundred guests headed out to Santos Party House on the Chinatown/Tribeca border in honor of our outlet's first ever food tasting event, "Local Eats." We had been working around the clock to secure some of our favorite newly opened New York City restaurants, paired alongside some of the finest craft beers and pours of local wines in a two hour all you care to consume frenzy. Whether you told a friend about our event or decided to attend yourself, we extend our deepest appreciation in helping to make Tuesday night a complete success for us. We made sure that we kept the cost of tickets reasonable and had some of the best food offerings of any recent event that we can think of. And it certainly seemed like the entire crowd enjoyed themselves on this night. If you've got any pictures or memories you'd like to share with us, send them along to localbozo@gmail.com and we'll try and have them posted in this space. We hope that this is just the first step in the next line of events for us and that you'll continue to support us by just reading our pieces, Tweeting us out, and checking up on our calendar of events for what's doing in and around the City. Thanks for reading and for being a part of this journey with us.
READ:  The Couch Sessions was kind enough to recap their "Local Eats" experience HERE.
READ:  Eat Along With Me also had some nice things to say about "Local Eats" HERE.
READ: Solo Dove PR also recaps her tasty rundown of "Local Eats" HERE.
Related Articles
Share
About Author
(2) Readers Comments