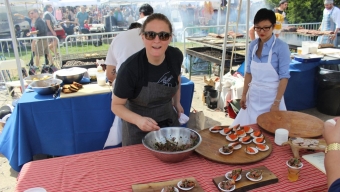 A
ll weekend long, Williamsburg played host to a bevy of different informational and interactive workshops, seminars, and conversations in celebration of all things food- from preparation to photographing to eating. Taste Talks, curated by celebrity chef April Bloomfield (The Spotted Pig, The Breslin, Salvation Taco), culminated on Sunday afternoon at East River State Park with two afternoon sessions entitled the "All Star Cookout." Conceptually, the idea was ripped straight from a show on the Food Network- two entirely distinctive chefs pairing together to serve the masses a singular dish that encompasses both of their styles. And while the samples were a bit unorthodox, wow- were they delicious.
More than ten different pairings gathered under each Taste Talks tent space in the open air along the Williamsburg waterfront. Sponsored by Amstel Light, the "All Star Cookout" would bring out luminaries from restaurants like Dinosaur BBQ, Hill Country, Marlow & Sons, and Fatty 'Cue to name a few, as well as hundreds of hungry guests looking to feast upon the exciting collaborative dishes. We headed out via the L train for the early session kicking the summery day off at 1pm. The line of attendees jutted from the park entrance all the way out toward Kent Street for the two and a half hour festival.
Once inside, we were greeted by familiar faces that we had encountered all weekend long at many of Taste Talks' other programs. But rather than make too much small talk, we quickly hit the food tables before lengthy lines would mount. Fittingly, we began with Chef Bloomfield herself, paired with Allswell Chef Nate Smith. The pair's "Chargrilled Beef Heart" was our initial foray into tasting animal heart, but it was surely an eye-opening revelation. Topped with a lemon relish on rustic bread, the tender meaty morsels blended perfectly with the rich orange spread, despite having more thin slices of heart than we knew what to do with. Similarly inventive, Chef Nicholas Kayser teamed with Mast Brothers Chocolate on a thick, "Cue Smoked Bacon" served atop amole and salsa verde mixture. The sauce yielded a fiery kick adding a sweet and spicy element to the fat-laden hunks of pork.
Our favorite taste of the day was no surprise from a restaurant that is consistently excellent. Dinosaur BBQ's Chef John Stage was teamed with Stumptown Coffee Roasters Jon Feldman and the pair delivered a "Brown Sugar and Coffee Rubbed Pork Shoulder Slider." Doused in remarkably sweet red-eye gravy barbecue sauce and topped with two pickle slices, the bulbous sandwich was well seasoned and tender, despite so many unlikely elements complimenting each other. The day's longest line belonged to Chef Hugo Uys who brought a "Mini Ostrich Burger" topped with chutney and a side of fries. We unfortunately had our fill by the time the line for the dish died down, but you'd be hard pressed to find a happier group of people than those who were just served Chef Uys' plate.
While just about every dish was noteworthy in some way, other standouts included Chef Francis Mallman and The Meat Hook's Brent Young and Tom Mylan ("Ribeye with Chimmichurri and Chapa Bread"), the band Chromeo's Dave 1 and Mile End Deli's Eli Sussman ("Grilled Beef Tongue with Pearl Couscous and Matbuncha") and Pies & Thighs' Carolyn Bane and Saltie's Caroline Fidanza ("Coriander Rubbed Smoked Chicken Thigh Skewer")- each of whom was in the running for best in show. We capped the sunny afternoon with a couple of "Sweet Corn" and "Fresh Mint" ice cream cones, served at the Van Leeuwen Ice Cream Truck, paired with Blue Hill at Stone Barns' Dan Barber. Although we might not enjoy similar weather for the remainder of the year, Taste Talks' "All Star Cookout" combined the best elements of cooking outdoors through some of the City's most inventive culinary minds in an event and an experience unlikely to be duplicated – that is, until next year.
- Jane Van Arsdale
Chef April Bloomfield & Chef Nate Smith – "Chargrilled Beef Heart and Preserved Lemon Relish on House Bread"
Chef Nicholas Kayser & Mast Brothers – "'Cue Smoked Bacon, With Mast Brothers Mole and Salsa Verde"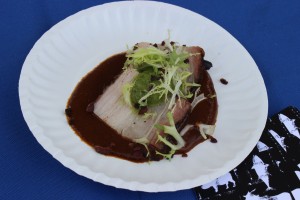 Chef John Stage & Chef Jon Feldman – "Brown Sugar and Coffee-rubbed Pulled Pork Shoulder Sliders"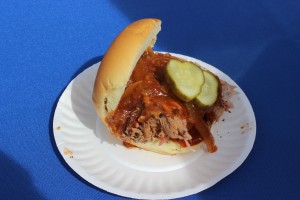 Chef Francis Mallman & Chef Tom Mylan & Brent Young – "Rib Eye with Chimmichurri and Chapa Bread"
Chef Hugo Uys – "Mini Ostrich Burger with Tomato, Black Cherry Chutney and Watercress on South African "Rooster Brood" with Cape Malay Seasoned Frites"
Chef Eli Sussman & Chromeo's Dave 1 – "Grilled Beef Tongue with Pearl Couscous and Matbucha"
Chef Brian Leth & Chef Joe Pasqualetto – "Mediterranean Inspired Wood Grilled Yellow Fin Tuna Collar"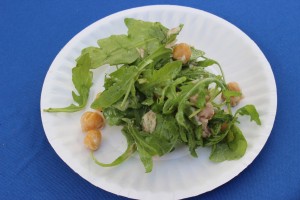 Chef Carolyn Bane & Chef Caroline Fidanza – "Ancho and Coriander Rubbed Smoked Chicken Thigh Skewer with Yogurt, Pickled Onions & Herbs"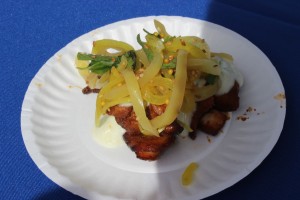 Chef Elizabeth Karmel & Chef Jeremy McMillan – "Smoked Texas Beef Tenderloin with Summer Corn Succotash"
Chef Dan Barber & Van Leeuwen Artisan Ice Cream – "Sweet Corn" and "Fresh Mint" Ice Cream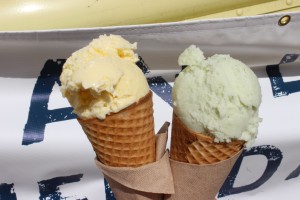 Related Articles
Share
About Author
(1) Reader Comment