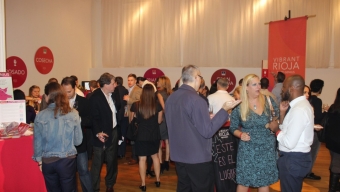 M

ore than 300 decorated wines were gathered in one place on Tuesday night- each one particularly distinctive, despite their derivation from a singular geographic region. Entitled "Spain's Great Match: WineFoodDesign," the sprawling Metropolitan Pavilion played host to more than 500 attendees in an ideal setting, celebrating some of the country's best varietals and dishes under one roof. The 20th Annual "Great Match" was a tasting event like none other featuring authentic style Spanish fare and flare for a massive room filled by well dressed clientele.
Guests that arrived at 6pm were certainly given the VIP treatment with a wide open room filled with dozens of wine pourers and chefs from ten different restaurants preparing different bites of delicious tapas, sandwiches, and even paellas. The early start time gave us the opportunity to take our time parading around the space and chat with the different wine and craft beer representatives that make Spain such an incredible place for grape growing and harvesting ingredients. But because each wine table had upwards of ten different wines to taste (and because it was a school night), we were forced to be a bit fastidious with our choices.
Over time, we've grown quite fond of the Rioja region, known for its different blends of grapes- much of which is red. Rioja wines are typically aged in oak barrels which yield a subtle smoky flavor profile, best known for the tempranillo. And with more than 14,000 vineyards, there was no shortage of these blends at "Spain's Great Match." Sampling from bottles ranging in retail from $15 up to $118, we enjoyed the five year aged (three in barrel, two in bottle) "Ontanon Gran Reserva 2001" from Bodegas Ontanon ($39.99) which was the very first year that winemaking was passed down generationally from father to son. The earthy notes and floral aroma stood out from the bold red wine, ideal for sipping during the change in weather to fall. Other standouts included the 2011 "Martin Codax Tempranillo" ($12.99), the "Marques de Riscal Grand Reserva 2007" ($17), and the "Beronia Gran Reserva 2006" ($32.99).
Fortunately, we also tasted some great wines from Spain's southern most parts (Malaga) the northeast (Cava, Barcelona) and even on the coast of the Atlantic Ocean (Rais Baixas) in the northwest. The wines paired admirably with the selection of restaurants participating in the event, many of whom are recent and notable openings in Manhattan. Chef Seamus Mullen was out front and center representing West Village eatery Tertulia. The restaurant's "Coca de Setas" (flatbread with ricotta, pickled and grilled mushrooms) and "Mel I Mato" (peaches, ricotta, and honey) were among the first traditional tapas dishes that we sampled, small enough to not feel guilty about repeat visits to their table. A few steps away, Solera was serving a sardine filet wrapped in ham on a crunchy toast called a "De Santurce a Jabugo." The delicious bite sized sample was sweetened by fig and some tomato and proved to be a tasty contrast to their chorizo filled "Empanada" meat pie.
After some tasty scoops of two different paellas from Socarrat Paella Bar, we stumbled upon the evening's finest dish- a "Pork Belly Mollete" from newcomer, Manzanilla. With a spread of spicy mayonnaise, the tender fatty hunk of pork belly was enveloped by a steamed bun, delivering the tastiest and largest sample of the entire evening. Boqueria's "Bikini de Jamon and Truffa" placed a close second as the hot ham and cheese with a sprinkle of truffle oil was a rich and creamy mini-sandwich half. Other standouts were Barraca's "Piquillo Peppers Stuffed with Cod," Casa Mono's "Mushroom Tortilla with Truffle Aioli" and Salinas' "Fideos de Conejo, Gambitas, y Jamon Iberico" or Canarian noodles with rabbit, shrimp, and iberico ham. The space was also rife with Spanish cheeses, olives, and oils ensuring that nobody attending would head home hungry. Or sober.
You'll never find a more affordable or more fun way to get to Spain than attending "Spain's Great Match," evidenced by the several hundred guests posing for pictures on the makeshift red carpet or for LocalBozo.com's swarming cameras. But on a Tuesday night, there was also perhaps no better way to spend a night out in New York City than by exploring some of the area's most festive eats and drinks celebrating Spanish heritage.
-Jane Van Arsdale
Related Articles
Share
About Author
(1) Reader Comment