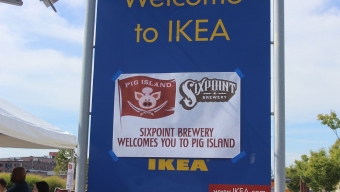 The move from Governor's Island to the Ikea Waterfront in Red Hook was a completely successful one for the folks behind the always fun "Pig Island." Returning this weekend, the event would sport more than 25 different local chefs intricately preparing delectable cuisine using snout to tail cooking methods. And while getting out to Red Hook is never exactly the most convenient of trips especially for Manhattanites, the fantastic Saturday weather and the good vibes exuded by the crowd in attendance all worked collaboratively to make "Pig Island" among the year's best all around events.
With Sixpoint beer tents scattered all around the grounds, finding draught pours of their perfectly titled "Crisp" proved to be no issue as the tasty suds washed down each helping of savory pork we'd find all day. The layout of the space at "Pig Island" was particularly great. Adjacent to Ikea's massive parking lot, the event was setup both on ample grass space for picnicking as well as on concrete walking paths which allowed attendees to move around freely or throw down a blanket and kick back with some friends. The seemingly endless array of restaurants were serving food at every turn- some certainly more enjoyable than others, but delicious nonetheless.
Live music from the likes of Sistermonk and 79.5 filled the air in the background behind the chews of delicious food, many of which were inventive takes on traditional pork dishes. Candidly we got a late start heading out to the "Island" which meant that some of the more sought after dishes were sold out once we arrived. Fortunately the samples that we were able to taste didn't disappoint in the least. We went wild for Chef Will Horowitz's "Crispy Pigs Ear Tacos" from Duck's Eatery. The spicy lettuce wrapped delicacy was packed with pink pickled vegetables, a pork pate, and then doused in black sesame seeds, all of which complimented the dish's unique use of crunchy pig meat. Speaking of sesame, Parish Hall's "Sesame Pig Skin Noodles" combined scallions and pickled mushrooms with tender hunks of spicy sausage served deliciously chilled. Meanwhile, the forthcoming Financial District hotspot Route 66 Smokehouse brought out a mouthwatering "Porchetta Sandwich" with some of the day's most delectably prepared pork, aioli, and pickled vegetables served on a perfect bun.
Among the day's other standouts were Fort Reno's "Pulled Pork with Cole Slaw," Chef Zarela Martinez' joint venture with Arrogant Swine for an "Oaxaca Style" whole roasted pig, and Butter's "Butter McMuffin," which was served Atkins' style by the time we got to their table. Fortunately, we still managed to enjoy more than two full hours of eating and imbibing in the beautiful weather, with picturesque views along the waterfront and meet New York City Mayoral Candidate Christine Quinn, who was walking the grounds and taking pictures with some of her constituents at "Pig Island."
Red Hook, an area truly ravaged by Hurricane Sandy is still in its recovery phase and as such, any excuse to bring an audience to the neighborhood- be it Ikea, the Ballfields, even esteemed eatery/bar Brooklyn Crab- brings the Brooklyn suburb one step closer to normalcy. And "Pig Island" once again proved, that no matter where it is held, folks will come out in droves – and hungry – to sample such immense culinary innovation.
- Jane Van Arsdale
Related Articles
Share
About Author
(0) Readers Comments