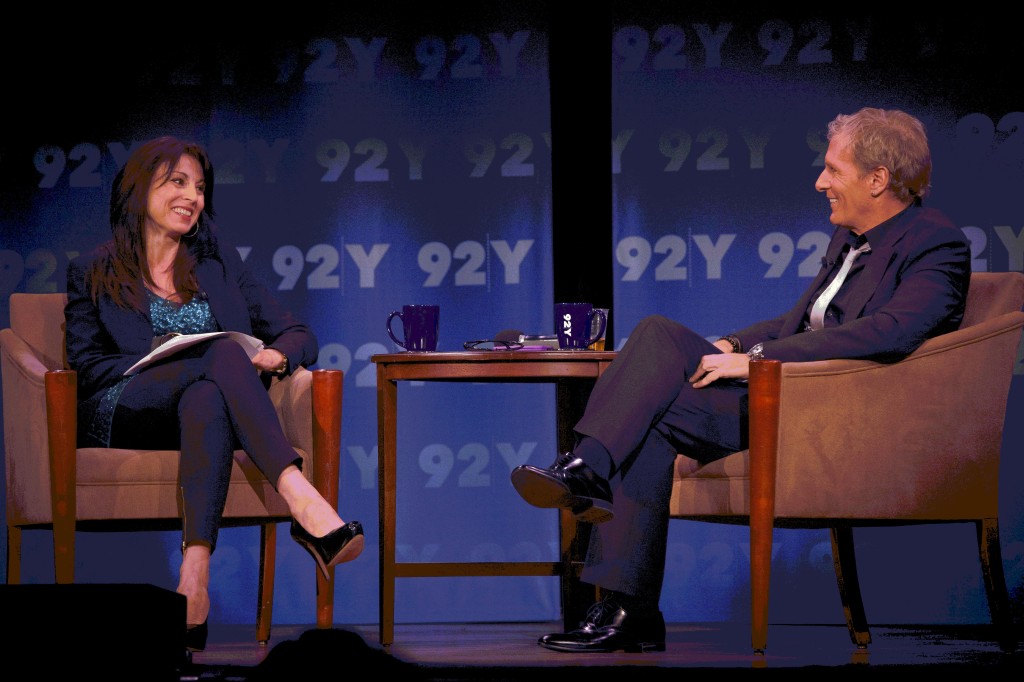 Photo Courtesy joyceculver.com
Monday may have been been the beginning of another rigorous work week, but it was also yet another night to head to the Upper East Side's 92Y for an interactive and informative event. The venue's auditorium space would be filled with curious ears in an evening moderated by the familiar voice of Valerie Smaldone, esteemed radio host and voiceover artist. Smaldone would welcome iconic crooner and New Haven resident Michael Bolton out to the stage for a candid and introspective look at the soulful artist's life and career under the microscopic lens of a New York City audience.
With the release of his first autobiography- January's "The Soul of it All: My Music, My Life," the now sixty year old Bolton is often reflective and revealing. Smaldone it seemed, saved the juicier details however for the book itself, touching less upon the artist's personal life and keeping the conversation focused on Bolton's incredible career. Still though, the dialogue was inspirational considering the occupational road blocks that he faced through the progression of his career- being repeatedly dropped from record labels, battles with executives, and his culpability in a widely publicized copyright lawsuit which dragged on for many years.
Although his last single to find true mainstream success was 2007's "Go the Distance," which peaked at number one on the US Adult Contemporary Chart, in recent years it's Bolton's work with other writers on both his "Gems – The Duets Collection" album and in songwriting that has allowed the continuance of his career in his later years. He's worked alongside everyone from Lady Gaga to Rascal Flatts, but his appearance on a Saturday Night Live 'Digital Short' with The Lonely Island, on the song and accompanying video for "Jack Sparrow" is what really brought Michael Bolton a new level of notoriety.
The conversation's opening moments focused on this specific experience- described as working two 17 hour days in New York after originally passing on the group's comedic idea because it was deemed by Bolton as 'too crude.'  The singer then completed the recording of the song in Atlanta over the course of five hours, accompanied by The Lonely Island troupe who would produce him from Manhattan over Skype. Following the video's premiere, Bolton was approached by John Mayer at one of the legendary SNL after parties who prophetically informed him- "Tomorrow, you're gonna see something you've never seen before. A whole new audience of people are going to be exposed to your music." The following day, the video on YouTube began receiving over 1 million views a day, and currently sits at more than 112 million views worldwide to date.
Whether or not you appreciate Bolton's music, his career arc is certainly an uplifting one. Driven by a passion for music and inspired by his older brother, Bolton left high school at age 16 and signed with Epic Records. When his deals failed to pan out, he turned to the world of commercial jingles while continuing to write and contribute songs to the likes of Luther Vandross and James Ingram. Inspired by Ray Charles, Marvin Gaye, and Stevie Wonder, Bolton took some advice early on and decided to keep some of these songs for himself, finding his first hit with 1987's "That's What Love is All About." 1989's "Soul Provider" followed suit selling more than 12.5 million copies and his best seller, 1991's "Time, Love & Tenderness" would go on to sell more than 16 million copies- in spite of a record label executive insisting that Bolton's cover of Percy Sledge's "When a Man Loves a Woman" be left off of the album. No word on what said executive is doing now.
Smaldone to her credit kept the conversation flowing as the hour plus chat seemed to breeze right by. Toward the evening's conclusion, Bolton answered some questions from the audience on the current state of pop music, his inspirations artistically, his favorite collaborations, and of course his proudest achievement to date – his daughters. Bolton then generously agreed to a brief book signing in the 92Y hallway following the conversation, as the rest of us filed for the exits- now more well-informed and with a new found respect, for one of the music industry's most hard working artists.
- Jane Van Arsdale
Blog: Michael Bolton at 92Y
Related Articles
Share
About Author
(0) Readers Comments