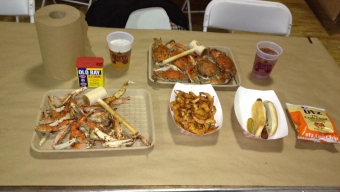 Blog: Hammer and Claws 2013
A

beautifully sunny fall Sunday afternoon proved to be the perfect setting for the 3rd Annual 'Hammer & Claws' Blue Crab Feast at The Tunnel located in Manhattan's industrially trendy West Chelsea neighborhood. What has now become an annual event seamlessly attracted hundreds of New Yorkers for a day of great music, unlimited Abita Beer and a virtually endless supply of delicious food. And with three sessions all weekend long, there were plenty of tasty Blue Crabs to go around for everyone.
Given the number of people in attendance, the event was extremely well organized, allowing guests to dig-in to the delicious feast with virtually no wait at all. The setup consisted of multiple serving stations which primarily included heaps of Blue Crabs freshly steamed in Old Bay seasoning. Nevertheless, if the blue crab didn't quite do it for you, guests were free to indulge in perfectly charred hotdogs from Pat LaFrieda, freshly shucked corn on the cob, and a variety of Utz crab and Old Bay seasoned potato chips.
The afternoon session was highlighted by some delicious Old Bay seasoned peel & eat shrimp, which were tender and meaty. However, there was a slight caveat with these shrimp in that they were not included in the $95 price of admission. But for just an additional $10 charge these Maryland classics were worth every penny. For those guests attending the event with hopes of getting a nice Sunday buzz, they were certainly in luck as multiple tables were setup to serve a variety of beer selections courtesy of Abita Brewing Company. The available beers consisted of 'Abita Light,' 'Purple Haze,' and 'Turbodog,' and each was both distinctive and satisfying.
Admittedly, there is a true art to eating Blue Crabs and that art requires a considerable amount of effort- although you would never know it by watching the hundreds of guests happily hammering away at the shellfish with their wooden hammers. Making the day even more enjoyable was the cool breeze blowing in off of the Hudson River, coupled with a live DJ spinning an array of upbeat 80's tunes that kept our spirits high while our bellies were getting full. Tasty suds, mouthwatering crab and shrimp, and some outstanding hot dogs all combined to make the 3rd Annual 'Hammer & Claws' Blue Crab Feast another expertly executed and highly anticipated event with hundreds and hundreds of pounds of Chesapeake crabs acting as the collective guests of honor.
-Eugene Jerome
Related Articles
Share
About Author
(0) Readers Comments