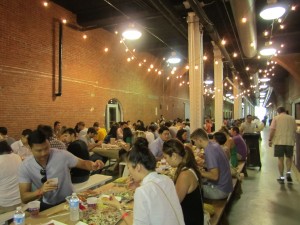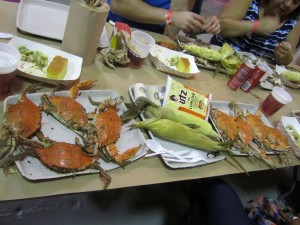 When you think of fresh seafood, New York City is hardly the first place that comes to mind. But for the third consecutive year, a little piece of Maryland makes its way toward the big City for a weekend long experience like none other. We speak of course about the 2013 "Hammer & Claws Feast," which brings together an all you can eat and drink smorgasbord of Maryland blue crabs, delicious beer, and much more in three different tasting sessions.
Authenticity is the name of the game as the fresh crabs are sourced right from the Chesapeake just days before the event and are brought to Manhattan and cooked on site. This year's event promises to be even more mouthwatering with Pat La Frieda now on board as the event's sole hot dog purveyor, plus an endless supply of beer courtesy of Abita. We're going to make sure to be in the house, mallets in hand, and celebrating the change of season in absolute style. With tickets going quickly though, time is of the essence to secure your very own crabs by checking out the "Hammer & Claws" website right now.
LocalBozo.com had the chance to catch up with founder of the "Hammer & Claws Feast" Joshua Morgan for an exclusive interview. Read below about the challenges in hosting a massive event of this caliber, how the event has evolved, what's in store for this year, and most importantly- the right and wrong ways to crush crab with the best of 'em. For tickets, check out this link- and also make sure to read our appetizing recap of last year's Feast to see just what you may have in store for 2013.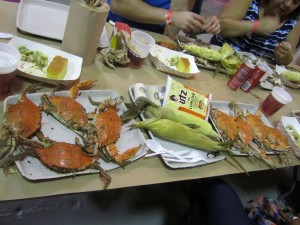 LocalBozo.com: The "Hammer & Claws Blue Crab Feast" returns to Manhattan's west side venue, The Tunnel for its third exciting year. Let's talk first about the origin of the event and what brought it to New York initially.
Joshua Morgan: Back in 2010 I had a restaurant in the West Village called Choptank. Essentially it was a Maryland style, neighborhood crab shack. One of the most successful things we did was our traditional crab feasts. It was amazing to see how many people came to Choptank for our authentic crabs. Unfortunately after about a year I sold the restaurant due to partnership problems but I always wanted to continue some of what we did so well. So in 2011 I decided to create a large-scale food festival that focused on Maryland Blue Crabs. "Hammer & Claws" was born.
LocalBozo.com: Each seating is three hours in duration with two sessions on Saturday, September 21st and a singular on Sunday afternoon, September 22nd. For folks who haven't read our full recap of 2012′s stellar event, give fist time attendees a glimpse of what they can expect from the "Hammer & Claws Blue Crab Feast."
JM: "Hammer & Claws" is a true glimpse into the most popular, cultural tradition of Maryland–the blue crab feast. It's as authentic as it gets, which is one of the most important things we try to do- to create an experience that is just like what you would see in Maryland. So we bring in the best crab guys from Maryland who truck up live blue crabs in large reefers, pulling custom trailers built specifically to steam thousands and thousands of crabs. We also bring only the best product–#1 Jimmies (the largest Male crabs available) right from the Chesapeake Bay. They are caught the Wednesday and Thursday before the event. During this 3 hour feast, you get as much crab you can eat and as much Abita beer you can drink. You get 3 full hours to catch up with friends and family and enjoy this unique dining experience. You get 3 hours of catharsis as you crack claws, break open shells, and work to get that massive piece of Old Bay-flavored jumbo lump. I can assure you you'll get 3 hours of one of the best feasts you'll ever have.
LocalBozo.com: What's historically been the biggest challenge for you in staging three of these massive sessions over the course of one weekend?
JM: To be honest there are tremendous challenges in pulling an event like this off. First of all, being in New York City, it is extremely expensive and labor intensive to make this event happen. The permits and licenses required- as well as the expenses- can certainly be punitive. But the largest challenge by far is getting 50,000 live crabs to New York City, keeping them at the right temperature so they stay alive throughout the weekend (you can't cook dead crabs), finding the right team of experts to cook the crabs properly, and making sure it all goes off without a hitch. It's not easy, but when it goes well, it's tremendously rewarding for me.
LocalBozo.com: There are hundreds upon hundreds of pounds of fresh and delicious crab brought in for the weekend- where are these sourced from and how will they be prepared for serving at the Feast?
JM: I go directly to the source–the Chesapeake Bay. I grew up in Annapolis, Maryland and I've been lucky to get to know many real crabbers and crab caterers that are in the blue crab business. It's an entire industry in Maryland. I've become especially close with one of the best there is–Mike Storm from Shoreline Seafood in Gambrills, MD. They've been in the crab business for over 30 years. They're the only guys around that have the relationships and know-how to pull off a crab feast of this size. Once the crabs arrive in New York, they are stored at about 50 degrees in large reefers so they will stay alive. Crabs must be cooked alive. About an hour before the start of each event, the guys begin to steam crabs in large vats, about 9-10 bushels in each one. Large custom-built trailers equipped with high power boilers provide the steam to cook such vast numbers of crabs. The crabs are covered in layers of Old Bay, the vats are closed, and the steam does the work. All of this happens right on 11th Avenue directly in front of the venue, so as guests line up before doors open, they are watching the entire cooking process. Old Bay aromas and smells of steamed crabs fill the air–there's nothing else like it. It's an extremely experiential event. The guests really get into it and experience the whole aspect of the feast.
LocalBozo.com: Now is there a proper way one should smash and eat these blue crabs?
JM: There is definitely a right way and a wrong way to eat a blue crab. But part of the fun is figuring it out. Some people go a little crazy with the mallets and crack the heck out of the crabs. It's fun but not the best way to get the most meat out. In fact, you really don't need a mallet to pick the crab–you only really need it for the claws. The best tools you have are your fingers. We have step by step instructions and videos on our website: www.hammerandclaws.com as well as our You Tube channel: www.youtube.com/hammerandclaws. Before the Feast, I definitely recommend watching some videos and freshening up your crab-picking skills. It's much more rewarding when you can get a ton of meat out of each crab.
LocalBozo.com: This has become such a highly anticipated event year after year- what changes are in store for the 2013 event and what surprises can we expect to see this year?
JM: We try to keep it all about the blue crabs and the authenticity of the experience, so it doesn't change all that much. But we are doing a few things differently this year. We always try to partner with the best companies and products around, so there are a few new things. We are extremely fortunate to have Pat La Frieda as a new sponsor this year. They will be providing all of our hot dogs this year, which are essential at a crab feast. They have the best hot dogs. We are also fortunate to have Honest Tea as a sponsor this year. They are such a great company. Finally we have decided to bring in a few extra products which will be available for purchase on an a la carte basis. This will include traditional steamed shrimp–cooked in old bay as well as kegged wine, through a sponsorship with the Gotham Project, the leader in providing high quality wine in kegs. It's going to be great.
LocalBozo.com: Lets talk about the other vendors we can expect to see. There's a seemingly unlimited surplus of beer and drinks. Who are some of the non-crab participants this year and are there non-seafood options for finicky eaters that still might want to come out and have a good time?
JM: I got a bit ahead of myself here. See above!
LocalBozo.com: Tickets are going quickly for the sessions. How many total attendees does the Feast anticipate drawing all weekend and what's being done to curb the long lines that can frustrate so many hungry eaters?
JM: Tickets are going extremely fast, especially for the most popular seatings. We are expecting approximately 800 people per seating, so it's going to be a lot of fun- basically a huge crab party. Over the past two years we've gotten pretty good at 'staying ahead' to make sure there are no lines–or at least that the lines go very quickly. When guests walk in, there is a mountain of steamed crabs ready to be picked, so we can keep the lines down. One thing that guests can do to help keep the lines down is to start with only one tray of crabs, get seated and get picking. We try to make sure everyone gets a tray right in the beginning so everyone can get started. Some people get so excited and anxious that they take 2 or 3 trays right away, which means it takes longer for everyone else to get crabs. We put 6 crabs on each tray, and I can assure you it takes a good 20-30 minutes to thoroughly pick 6 crabs and actually enjoy it. I promise there will be enough for everyone, so start with 1 tray, and come back when you're done. In years past I'll walk by tables and see groups of 6 or 8 with dozens of trays with wasted crab.
LocalBozo.com: Anything else you'd like to leave for the readers of LocalBozo.com?
JM: Crab feasts are the perfect event for large groups. Picking crabs takes time, a little bit of effort and even a little patience. During this time, it's best spent catching up with friends, family and colleagues. So tell your friends all about the Feast. Rally the troops. Like our Facebook page and share the event with all your Facebook friends. The more friends you come with, the better time you'll have. I promise! See you at the Feast!
- Jane Van Arsdale
Related Articles
Share
About Author
(0) Readers Comments