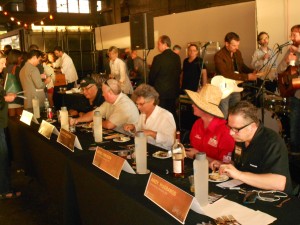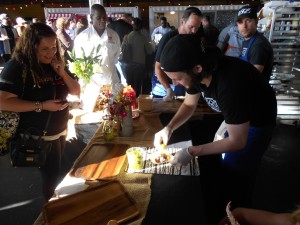 Kansas City, Memphis, Texas, and North Carolina are home to some of the finest barbecue spots in the United States but on Saturday, the epicenter of the national barbecue scene was right in our backyard.  Ten of the Country's top barbecue pit masters and chefs competed this weekend at the 1st Annual StarChefs.com "SMOKE @ICC," emanating from Chelsea's Pier 57 and sponsored by Chung Jung One- Korean producer of sauces and marinades. The rules were simple: all competitors were challenged to distinctively use the brand's "Gochujang Red Pepper Paste" in each of their wagyu beef brisket dishes. At stake was a trip to Korea courtesy of Chung Jung One, an MLR 150 competition-level smoker, and a chance to compete in the World Food Championships in Las Vegas this coming November (courtesy of Southern Pride).
Vying for both the prizes and the bragging rights, contestants took the competition seriously, as did the judges who have earned legendary status in the BBQ community: Andy Husbands (Tremont 647 and Sister Sorel in Boston), Brad Orrison (The Shed in Ocean Spring, MS), Steven Raichlen (The Primal Grill in Miami), Kenny Callaghan (Blue Smoke in Manhattan), and Dave Anderson (Famous Dave's). A representative from the Kansas City Barbecue Society was even on hand to ensure that the judges adhered to their objective criteria. Those of us who were fortunate enough to attend were treated to ten damn good selections of 'cue served in bite-sized plates that were every bit as unique and creative as they were delicious.  Throw in pours of beer from Cooperstown's Ommegang and live tunes while watching the setting sun at Pier 57- yes, on this day we saw clearly: being a correspondent for LocalBozo.com certainly has its privileges.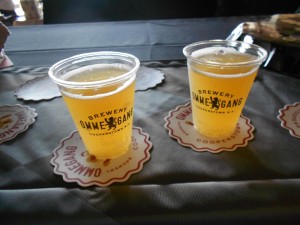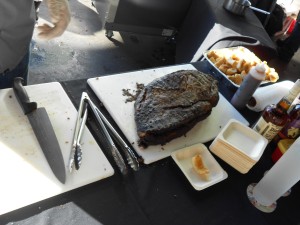 Ted Lee, co-author of the best-selling barbecue handbook "The Lee Brothers Southern Cookbook," emceed the event which kicked off with a panel discussion among the competition judges. It was here that we were taught Barbecue 101 from some of the best professors in the country. Our education consisted of the history of barbecue as well as the camaraderie and pride that everyone in this community takes in their craft. But by the end of the discussion the smell of smoking meat had us salivating and waiting to get started.
Then it was moo time! Two New York City establishments were represented among the contestants: Rub It Up and 'Cue Train. If you are ever traveling toward the Atlantic City area, we'd highly advise a stop at Meat BBQ Co., located on the way in Forked River, NJ. Their "Slab on a Cheese Crostini" really hit the spot. To give you an idea of some of the creative and delicious samples served, Houston-based Killens presented their "Brisket" with bonito flakes, shitake mushrooms, and a consommé instilled with a tiny plastic squeeze-bottle to give a tangy jolt of flavor. Meanwhile, the Essex Junction, VT veterans from Belted Cow BBQ took advantage of an Asian inspiration by pairing their "Hibachi Onion and Kimchi Mayo Brisket Sliders" with a Passion fruit and sake creamsicle punch. Other contestants included Stand Up and Snout (New Orleans), Jason Dady Restaurant Group (San Antonio), 4505 Meats (San Francisco), Guerrilla Ultima BBQ (Philly), and The Carillon (Austin, TX).  They were all delicious and kept us going back for more. Definitely consider dinner at these establishments when planning a trip to any of these towns.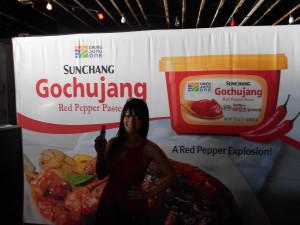 The Carillon took home the Grand Prize, while 4505 Meats took Regional American honors, The Belted Cow won the New World Category, and The Jason Dady Restaurant Group won The People's Choice Award. Regardless of who the official winners were though, EVERYTHING was amazing. Locally, The Kuma Inn's trio of "Pickled Vegetables" and The Meatball Shop's "Braised White Beans, Kale, Tomatoes, and Anchovy" provided a veggie relief to a beeftastic event. Capping off a day filled with great hearty eats, the Patina Restaurant Group (CA) served up "Maple-Bacon Bourbon Bombolinis" and some mouth-watering "Spicy Kettle-Corn Chicharones" for dessert.  Great food and drink aside, we left with a newfound respect for the barbecue community, and a strong desire to take advantage of the growing number of BBQ joints in our fair city. Here's hoping you join us next year fit for any lover of 'cue.
- Melissa Schwartz
Related Articles
Share
About Author
(0) Readers Comments