Blog: TONY's 'Battle of the Burger'
Pretend for a moment that you are but a naïve New Yorker. Rarely traveling outside of the realm of your studio apartment. Unaware of the delectable eats that the city has to offer. Perfectly comfortable preparing your own dinner night after night. Your head would have literally exploded on Wednesday evening at the Hudson Hotel bar Hudson Common. More realistically, you know the chefs by name, you've trekked all over the City, you've argued with your friends about it and now, the time for talking is done. With Time Out New York's "Battle of the Burger" presented by Amstel Light, the three hour tasting extravaganza would crown New York City's finest burger amongst a litany of serious competitors.
With a massive outdoor patio extending out from an indoor beer and burger hall, the bar is one of the most unique and fun seasonal spaces of the summer. And hundreds of hungry guests would fill the entirety of that space on Wednesday evening. Attendees were handed a wooden Amstel Light coin upon entering, used to cast their vote for the event's finest burger. As the evening kicked off promptly at 6pm, Hudson Common was jam packed from pillar to post. The outdoor area was filled with unparalleled energy as swarms of guests grabbed at each table's offerings quickly and almost recklessly and chomped them down in groups. Each table yielded tastes which were completely distinctive, lending each burger to have its merits and shortcomings debated after seemingly each bite.
Corner Bistro is commonly referred to as Manhattan's best burger, and fittingly the West Village spot would be our first stop on our journey to hamburger heaven. The eatery's delicious "Bistro Burger" came equipped with a special blend of sirloin, round, and chuck beef, topped with a slice of salty bacon and the usual burger accoutrements- lettuce, tomato, onion, and a pickle chip. Moving quickly and decisively, we grabbed at Bill's Bar & Burger's aptly named "Bill's Burger," with their blend of Pat Lafrieda beef and special sauce on a sesame bun followed by Bayside's Donovan's whose "Classic Cheeseburger" blend of chuck, sirloin, and New York strip and American cheese proved to be the event's burger most similar to a backyard barbecue.
Nearby, Le Parker Meridian's ode to fast casual fare, Burger Joint, was slinging helpings of their "Cheeseburger with The Works," decorated in yellow and white cheddar, mustard, mayo, and ketchup- all of which managed to compliment a truly decadent hamburger patty. Also worthy of mentioning- Jeepney's sauce covered concoction, Minetta Tavern's always delectable "Black Label Burger" in slider form, alongside Five Guys' double patty burger and even host Hudson Common's mouthwatering "Common Burger," with a brioche bun, creamy Velveeta cheese, and 'common sauce' dousing the beef mixture of short rib, chuck, and brisket, each went down wonderfully smooth.
Between full bottles of thirst quenching Amstel Light, we did manage to taste our two favorite burgers of the evening, one of which would be crowned champion of Time Out New York's "Battle of the Burger." Our runner up managed to conflict us as primarily, this is our go-to burger more often than not, but PJ Clarke's basic "Cheeseburger" was a quintessential tasting on this night. Adorned with the fundamentals- bibb lettuce, cheddar cheese, onion, and fresh tomato, there's something about their combination of flavors that is both familiar and outstanding at once. But reigning supreme at "Battle of the Burger" this year was the Gramercy Park Hotel's Maialino, who was our hands down pick long before the crowd had agreed with us. The restaurant brought out the big guns with their "Late Night Burger." A signature blend of Lafrieda beef, atop a rosemary brioche bun, topped with housemade pancetta, and the topper- melted gorgonzola cheese which richly brought all of the flavors together brilliantly and made for the event's best overall hamburger- a surprise considering that Maialino is typically known for their pastas and Italian inspired fare.
The folks at Time Out New York sure do know a thing or two about hosting fantastically run events that expose audiences to different restaurants and vice versa. The raucous event that was "Battle of the Burger" may have ended on the earlier side, but it was certainly an all out smorgasbord of partying while it lasted. And Hudson Common played as an ideal host for a crowded, but certainly not overly packed event. Slugging down tasty brews, enjoying some of the City's best burgers, and somehow doing it all outside, on the second floor of a posh hotel patio. What better way is there to enjoy the summer?
- Jane Van Arsdale
Corner Bistro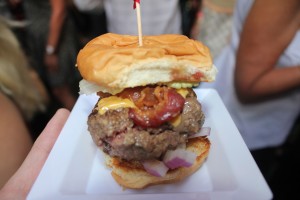 Jeepney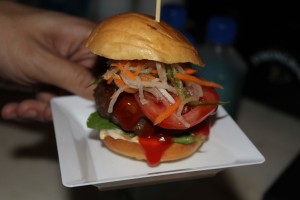 Hudson Common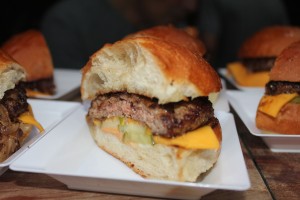 Five Guys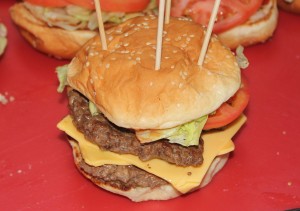 Donovan's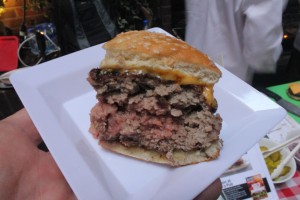 PJ Clarke's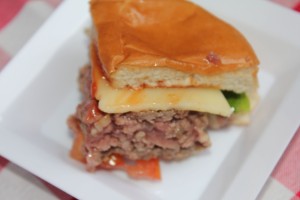 Maialino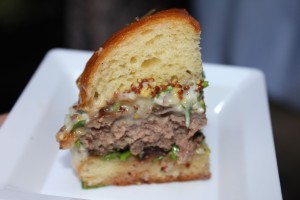 Bill's Bar & Burger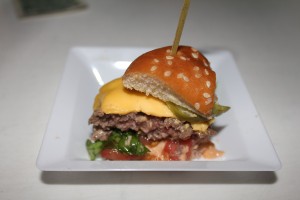 Related Articles
Share
About Author
(1) Reader Comment