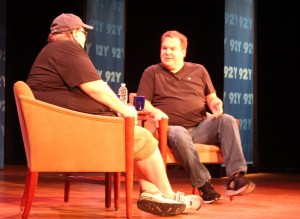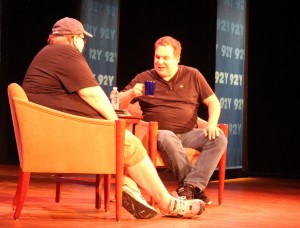 The Upper East Side's 92Y is renowned citywide for bringing together decorated guests from all walks of life for entertaining and engaging conversations, as celebrities pull back the curtain while reminiscing about their careers. Such was the case on Monday evening as documentarian and filmmaker Michael Moore was tapped to host an event entitled "A Conversation with Jeff Garlin." The heavyset funnyman best known for his role on HBO's Curb Your Enthusiasm would join Moore on stage for an introspective ninety minutes touching upon everything from the comedian's current political views to his outlook on technology's pervasiveness in our everyday interactions to his recent arrest, for which he remains apologetic but still somehow justified. The no holds barred discussion was both frank and fun and gave fans of Garlin's comedy, his books, and his television shows a glimpse at the man behind the entertainer, led by Moore's conductor-like demeanor of bringing some of the comedian's best stories to light.
The room inside 92Y's Kaufmann Concert Hall was packed with Curb fans- some young, some old- but each, equally delighted each time the conversation would shift toward the popular comedy. The pair was introduced following a screening of the trailer for Garlin's new movie "Dealin' with Idiots" (NR) released via IFC on July 12th, which he later revealed he was able to shoot entirely in 12 days for under $1 million. Conversationally, the banter was completely relaxed as Moore and Garlin's admiration for one another was evident as soon as the evening commenced. The two have been long time friends. Moore peppered in some pressing questions about Garlin's upbringing, his start in comedy, and his thoughts on the recent George Zimmerman trial with attempts at levity to break up the conversational gravity as the evening progressed- particularly "tell the audience about the first time you had sex," which drew a tremendous response from the attended crowd.
Garlin to his credit kept the evening light even in the face of questions pointed from Moore's political perspective, unsurprising considering the evening's host. But even Moore himself seemed interested in steering back toward Garlin's career as a stand-up, on Curb, and his brand new sitcom, ABC's The Goldbergs, which debuts in the fall. Particularly fascinating was the pair's discussion around Garlin's recently released film, which was based solely around a twenty page outline for technical purposes, but improvised entirely on set during shooting. Despite these ancillary projects, the former University of Miami film school dropout turned comedian made it abundantly clear that Curb was still his top priority, declaring "one of the reasons I agreed to do The Goldbergs is that they agreed to let me do Curb." And on the prospects of another season of Curb Your Enthusiasm, currently unscheduled, but which would be the show's ninth- "I think yes, but not a strong yes. I think it's a good shot."
Using his hands often as he speaks while raising his voice to his elevated signature comedic pitch, Jeff Garlin has become an accomplished comedian, an author, a television and film star, and a part of creative both in front of and behind the camera over the past decade. And yet, he still comes across humbly, as genuinely appreciative if not utterly bewildered by his successes in show business to date. On Curb, Garlin states "The fact that people find it funny, I'm still amazed by." Garlin sounds off on a variety of different subjects, much of which we've transcribed below and is a worthwhile read for any fan of the show. And while we hold out hope for a new season of the show at some point, we're willing to bet that either way, we'll find Jeff Garlin somewhere, continuing to make us laugh.
Jeff Garlin Sounds Off On….
On driving a Cadillac – "I want to bring back the Jew comedian who's successful with a cigar."
On losing his virginity – "I lost my virginity to a heckler at 20 years old. In a lifeguard stand. In South Beach." And "Heckle me, I'll fuck ya."
On Michael Moore – "The least likely guy that a gay man would be attracted to."
On not appearing on "The Tonight Show with Jay Leno" out of reverence to Conan O'Brien – "I realized I was the only one. Nobody else took a stand. You don't need to go on 'The Tonight Show.' Who watches that shit anyway?"
On shooting 'Dealin' With Idiots' in 12 days for $750,000 – "Generally you can shoot a movie in twelve days, but you like to have two locations. And three actors."
On the ridiculousness of 'White House Down' – "I said, 'let's go see anything that's playing.' I laughed all through the movie. It was a joyful time. I laughed hard and people were shushing me.'
On cell phones – "I wish we could all get rid of cell phones. I'm serious. It's eliminated being in the moment. I go to see Leonard Cohen – Leonard Cohen – and everyone's got their phone up. What's he doing?' And "You go out to lunch with someone, they place their phone on the table. It's like 'I'm so happy to be with you- this is fantastic. But if this buzzes, fuck you."
On people narrating their lives on Facebook – "'Having lunch at Bill's deli. Great fun. Having corned beef.' Nobody gives a shit!'
On the death of his relatives – "My grandmother lived to 94. My grandpa lived til 99. He died just a few weeks short of his 100th birthday. We just didn't want to throw him a party."
On who lived in South Florida while he was in school – "Artists, Cuban refugees, old Jews, and me."
On the Trayvon Martin case – "I blame everyone but the jury. What's the law – 'stand your ground?' It's a big bowl of fuck. But I'll tell you what – all the outrage and protesting makes me feel good to be alive. But I'm the guy in the air conditioning saying 'good for you.' It inspires me, but not enough to get up."
On mixing Political views – "I love when people say 'I'm fiscally conservative and socially liberal.' Fuck you."
On sympathizing with Republicans who hate Michael Moore without ever having seen his movies – "I've never seen a Michael Bay movie and I hate him."
On his new ABC sitcom The Goldbergs – "It's The Wonder Years meets All in the Family. With Jews."
On ABC monitoring Garlin and his views – "Fire me." And "I'm very respectful. But I question authority."
On the name of the show – "I fought for the name of the show. I would have loved to have called the show 'Jew.'"
On Curb Your Enthusiasm – "We are not afraid to attack anything. I will say, you don't get bolder than 'I'm going to fuck the Jew out of you, Larry.'" ('Palestinian Chicken' – Season 8, Episode 3)
On Larry David – "He's the most brilliant dude and I've learned so much from him. He's just balls out- 'this is what we're doing!'"
On his recent trouble with the law – "I was arrested. Now my wife is really cringing. No, there's no charges. I have to talk to the city and they have to make sure that I'm not an asshole. None of the cops knew who I was. All the prisoners knew who I was and God bless Kim Kardashian and Kanye west for having their baby that day." And "I take it very seriously and I was the one in the wrong."
On recently disgraced NYC politicos Anthony Weiner and Eliot Spitzer leading their respective races – "I don't live here…so good luck to them. Really what it comes down to is lack of integrity. So vote with your gut." And "I voted for Mary Carey for Governor [of California] when she was running against Schwarzenegger. She's a porn star. But she wasn't hiding from the fact that she was a porn star- it was all there for me on Pornhub."
On dropping out of school to be a comedian – "If you're going into the arts and you have something to fall back on, you will. I had nothing to fall back on so my only choice as a person was- move forward. Successful people don't let fear paralyze them."
On the potential of doing an internet only show – "Would I do something that hardly anyone would see just for the Internet? I'm 51, no."
On his favorite episode of Curb Your Enthusiasm – "Wandering Bear. Larry and I are trying to watch Girls Gone Wild, my dog gets run over and Cheryl gets an itchy vagina…that gets cured by a Native American."
On his favorite shows currently on television – "Breaking Bad. Mad Men. South Park makes me laugh."
On what keeps Larry David going – "Everywhere I go with him, young girls hit on him. He is completely motivated by comedy. That's why the show stays funny. He doesn't care about the money. It's not boredom it's passion. The guy is probably the best ever at writing television comedy. I hope he wants to do more but I won't ask him. Susie [Essman] will ask him and then tell me."
- Jane Van Arsdale
Related Articles
Share
About Author
(1) Reader Comment