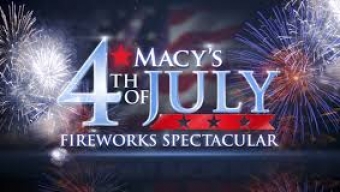 There's no time in the city quite like summertime. Whether you're dining outdoors during an afternoon brunch, sweltering outside in central park, or watching the 4th of July fireworks from a friend's rooftop, New York City's unique style of Americana is undeniable during summer's first full month. July is an especially fun time to be living in and around the area and the list of events below is proof of that. Check out some LocalBozo.com approved events where you need to be all month long.

July Events in New York City: Where You Need to Be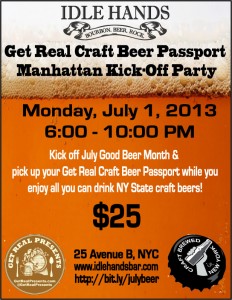 Date: Monday, July 1st 2013
Event: Get Real Craft Beer Passport Manhattan Kick-Off Party

Place: Idle Hands

Cost: $25
The Scoop: Our pals over at Get Real are kicking off July Good Beer month in absolute style with this fun-filled, all you can drink fest at the dimly lit Alphabet City beer haven. On Monday night, listen to rock music at their "Kick-Off Party" as you imbibe upon four full hours of New York state craft beers in celebration of the Get Real Craft Beer Passport, good for 37 craft beers at 37 of Manhattan's craft beer bars. Whether you're sipping on some "Sweet Action" from Sixpoint or a "Summer Pale Ale" from The Bronx Brewery, Idle Hands has some of the city's most distinctive brews and bourbons and an infectious rock vibe to boot.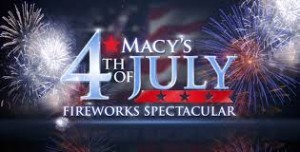 Date: Thursday, July 4th 2013

Event: 37th Annual Macy's 4th of July Fireworks

Place: Hudson River

Cost: Open to the Public

The Scoop: If you're a New Yorker or from the tri-state area in general you know the Macy's 4th of July Fireworks well. From New Jersey out to Brooklyn you can witness these stunning balls of fire reach deep into the evening sky. In its 37th year, this world renowned spectacular promises to deliver the goods in a bold way by having Grammy award winning R&B singer Usher curate the entire event. The crooner and judge on and NBC's "The Voice" will hand-pick the music to pair with every burst of light. Just remember, if you want to see the firework display live get there early because it is one of the most jam-packed events in town all year.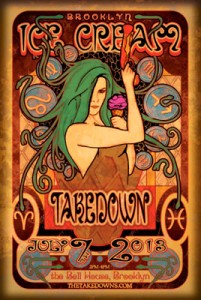 Date: Sunday, July 7th 2013

Event: Brooklyn Ice Cream Takedown

Place: The Bell House

Cost: $15 General Admission

The Scoop: For over a decade and counting Matt Timms has been traveling the country proving that cooking competitions can be as fun as rock concerts. Timms returns home to The Bell House, the popular Brooklyn venue for one of his famed "Ice Cream Takedowns" which happens to be one of the most competitive in his entire arsenal. For one Sunday afternoon guests can sample more than thirty local home cooks' take on this legendary dessert. In the past we have tasted everything from bacon to doughnut flavored ice cream and needless to say, we are waiting with baited breath to see what these inventive chefs come up with next. The best part about the event is that the guests themselves vote upon who they think is best. We love to see democracy at work! Buy your tickets here.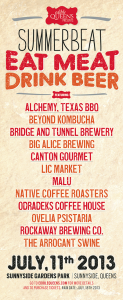 Date: Thursday, July 11th 2013

Event: Edible Queens Presents, "Summerbeat: Eat Meat, Drink Beer"

Place: Sunnyside Gardens Park

Cost: $40 General Admission

The Scoop: The LocalBozo.com team adores the growing "Edible" magazine franchise and the terrific events they produce city-wide. That is why we are thrilled that their Queens edition is taking off in such a memorable fashion. A borough as diverse as Queens deserves a magazine and a social media presence to support all the good that's going down just a train ride away. All of this will become even more apparent at "Summerbeat: Eat Meat, Drink Beer." The title of the event alone should spark your interest. Ticket holders will be presented with two of summertime's best friends: meat and beer. Samples of smoked whole hog, peking duck, roasted lamb and more will tantalize your taste buds. While you devour all these delectable and savory dishes there will be plenty of local craft beer on hand from the likes of "Rockaway Brewing Company," "Big Alice Brewing" and "Bridge And Tunnel Brewery."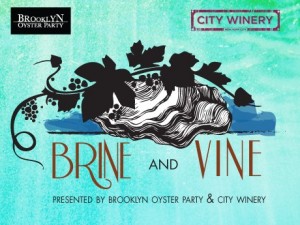 Date: Tuesday, July 16th 2013

Event: Brine and Vine

Place: City Winery

Cost: $85 General Admission

The Scoop: While beer and meat are certainly a noteworthy pairing, sometimes a little refinement isn't such a bad thing either. With that in mind, City Winery has teamed up with Brooklyn Oyster Party to host a brand new event series specifically for summertime. "Brine and Vine" opens on Tuesday, July 16th in style with an unlimited pouring of selected seasonal wines- from Rose to Prosecco to Sauvignon Blanc alongside a dozen or so freshly shucked oysters from the northeast. If you've never attended a City Winery event, perhaps this should be your first as it is certain to sell out quickly AND be a celebration of one of the season's best pairing combinations.
Date: Wednesday, July 17th – Sunday, July 21st 2013

Event: Beer for Bags at Crumpler

Place: Crumpler Soho

Cost: Free (Well, sort of.)

The Scoop: Aussie bag maker Crumpler is trying out an innovative approach in an attempt to outfit New Yorkers with some of their awesome gear.  They want you to bring in some beer to their adorable location on Spring Street and send you home with one of their bags.  It's the brand's "Beer for Bags" event, running through Sunday, July 21st.  Bring in choice brews for a whopping 30% discount on a selection of bags for your laptop, camera, iPad, and more.  Perhaps best of all, the beer you donate is getting saved up for a party on Sunday night at an undisclosed location in or around the City.  Booze? Check.  Fashion? Check.  The only thing missing now, is you.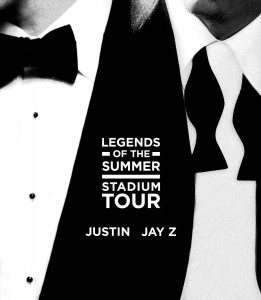 Date: Friday, July 19th & Saturday, 20th 2013

Event: Legends of the Summer: Justin Timberlake & Jay-Z

Place: Yankee Stadium

Cost: Varies by Ticket- $58 – $293.75

The Scoop: There are scant tickets remaining for perhaps summer's most sought after tour as media icons Justin Timberlake and Jay-Z team up for a co-headlining bill making two stops in the Bronx at the historic Yankee Stadium. While surprise appearances are rumored, you'd be hard pressed to find a show with two bigger headliners and a larger combined catalogue of hits. If last month's JT show at Roseland was any indication, Timberlake is ready to take on stadiums on his own. And Jay-Z, well, he may just be at the very top of his game.

Date: Saturday, July 20th 2013

Event: NYC Craft Beer Festival – Summer Jazz

Place: Webster Hall

Cost: 2 Sessions – $55 General Admission, $75 VIP Admission, $125 Connoisseur

The Scoop: We are jazzed to return to Webster Hall for one of the best beer festivals in our city going today. Spend a beautiful summer Saturday sipping some of the greatest seasonal beers all under one roof. It's the "NYC Craft Beer Festival – Summer Jazz!" Time and time again our outlet has brought you coverage of this fantastic series of beer sampling that truly covers every aspect of our favorite beverage. Once you purchase your tickets prepare to drink in the good life with approximately 150 craft beers from all around the country. But don't wait till the last minute, as past events have sold out in record time. Whichever session you choose, prepare to have your brew horizons expanded as you sip ales that are completely new to you! Music will be provided all day by the gifted musicians from the legendary Blue Note Jazz Club.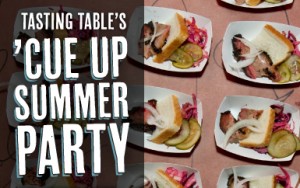 Date: Thursday, July 25th 2013

Event: An Epic Urban Cookout Presented by Tasting Table

Place: Elizabeth Street Garden

Cost: $76.21 plus fee

The Scoop:It's a veritable smorgasbord courtesy of TastingTable.com, the free subscriber based website that seeks out adventurous eaters with recipes and restaurants in your area. The New York team is hosting an "Epic Urban Cookout" featuring the likes of Delaney Barbecue, Bobwhite Lunch & Supper Counter, and unlimited cocktails courtesy of Hendrick's Gin, Goose Island beers, and Marghertia Wines. Add in some live bluegrass music and yard games and it's a real summertime party, right here in our urban backyard.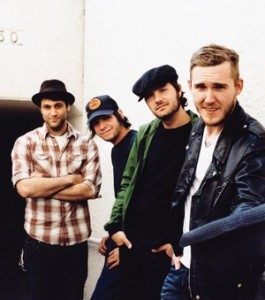 Date: Friday, July 26th & Sunday, July 28th 2013

Event: The Gaslight Anthem

Place: Pier 26 at Hudson River Park

Cost: $35 Advance and $40 Day of Show

The Scoop: New Brunswick, New Jersey's biggest accomplishment for years was a sandwich stuffed with everything from the fridge. Luckily times have changed and the ever popular The Gaslight Anthem have done a ton to change that. The folk punk band has a growing following due to their stripped-down, working class songs made popular by another New Jersey son, Bruce Springsteen. "The Boss" has taken a shine to the boys in recent years, playing live and even recording with them. Check out these Jersey boys as the take over the outdoor venue, Pier 26 at Hudson River Park for a raging summer concert to make you feel proud to be from the East Coast!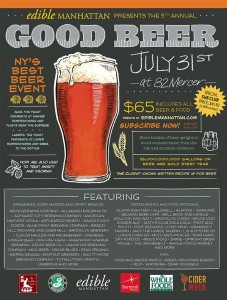 Date: Wednesday, July 31st 2013

Event: Edible Manhattan's 5th Annual "Good Beer"

Place: 82 Mercer

Cost: $65

The Scoop: Well after another long year of waiting, summer's most anticipated food and drink event is back! We're talking of course about Edible Manhattan's "Good Beer," and for the 5th straight year, the local magazine is pulling out all of the stops. The incredibly spacious 82 Mercer is once again the setting, hosting the likes of local eateries Alison Eighteen, Allswell, Swine, Luke's Lobster, Gramercy Tavern, Boulton and Watt, Almond, The Vanderbilt and more. You like beer? How's Abita, Smuttynose, Sixpoint, Dog Fish Head, Blue Point, Brooklyn, Kelso, Tuthilltown, Sierra Nevada, and more? This will sell out.

 - Jane Van Arsdale & Jay Rubin
Related Articles
Share
About Author
(0) Readers Comments