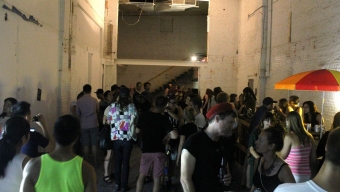 Blog: Crumpler's Beer for Bags Party
Aussie bag maker Crumpler has made a comfortable home for themselves with their adorable Soho storefront, featuring a variety of styles and colors from messenger bags to casually inspired carry-alls and protective cases for both genders. Much of last week, the outfit had resumed running their popular "Beer for Bags" promotion (written about here), where the brand would hand out choice selections of their fashionable gear in exchange for specific cases of delicious suds. The mid-week sale would culminate Sunday evening in Williamsburg with a fun invite-only party open exclusively to participants involved in the in-store promotion, using that same traded-in beer as the after-party's calling card.
With live music in the house as well as some DJ's working the mix, utilizing everything from Ray Parker Jr.'s "Ghostbusters" to the Beastie Boys' "Sabotage." But make no mistake about it- the party was definitively Williamsburg style. The event's laid back vibe exuded out from the egg shell white art gallery space and onto Wythe Street, where the loud music would spill out across the street from the Wythe Hotel's rooftop bar- somehow bumping on a Sunday night. Approaching the doors to enter, various Brooklynites lit up cigarettes, each engaged in their private conversations and each dressed distinctively unique. Moustaches, some clothing of decades' past, and the requisite skinny jeans and male Capri pants were all on hand, in that kind of 'don't care what you think, but I'm trying to make a personal statement' outwardness that makes Brooklyn well, Brooklyn.
The space was perfectly adorned for a party of this caliber with a small makeshift bar underneath a red and yellow umbrella you'd find hovering above a hot dog cart, backed by two friendly faces doling out bottles of beer. Negra Modelos, Pacificos, and Sixpoints were popped open and grabbed by revelers either dancing in front of the DJ table or casually lounging along one of the side walls. Part of the gallery's charm though was the fact that it felt incomplete- like Crumpler had staged a secret party in an unknown and secretive spot not yet completed- and yielding a fun event overall, in celebration of their growing brand, and the success of their novel 'Basg for Beer' exchange concept. Whether guests were found watching the projected images of surfing being shown on the expansive white walls or whether they were dancing hard enough to work up a sweat, one thing was certain- the guests were having a great time. And they had only Crumpler and its store in Noho, to thank for it.
Visit www.crumpler.com/us/beerforbags.html for further details and a full list of beer and products available for swapping.
- Jane Van Arsdale
Related Articles
Share
About Author
(1) Reader Comment