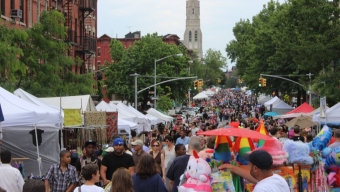 Blog: 7th Heaven Street Fair in Park Slope
As summer kicks into high gear it's time to get outside and soak up the sun! This past weekend Park Slope, Brooklyn welcomed in the heat with a sprawling street festival to rival many of the ticketed events one might find around town. It's the 39th annual, "Seventh Heaven Street Fair" and for an entire day we ate, drank, shopped and strolled this popular stretch of the historic avenue.
Shortly after noon we hit the bustling streets, breathing in all the delectable eats peppered throughout. Needless to say we were thrilled to be able to visit all of our favorite eateries and bars that would be temporarily relocated to the street for great portable eating and imbibing. It wouldn't be Seventh Avenue without a visit to two of the most popular establishments which only opened a few years ago but have garnered a huge following. We first stopped by the booth set up by Crespella who was doling out freshly prepared desert style crepes. Each tightly wrapped sweet was loaded with the likes of fresh fruit and Nutella. Sometimes you just have to skip right to dessert. We sure did! A few blocks away we passed by some great shops selling the likes of Mexican wrestling masks and beautiful hand made pillows with designs of cats on them. After drinking in the commerce it was time for some savory eats. Fortunately for us, Zito's Sandwich Shoppe was ready to serve up a few choice selections from their delicious catalog of Italian favorites. For a low price patrons could order overstuffed meatball sliders on a hard roll and prosciutto and rice balls with a cup of their homemade tomato sauce on the side for dipping. We also grabbed a tall pint of Sixpoint Brewery's, "Crisp" to wash all this goodness down. The meatballs on the sliders were literally the size of a baseballs. Each bite showed off how incredible their meat blend is, making us crave a full parmigiana style sandwich!
With brews in hand we made our way down the street seeing all the smiling families purchasing toys for the kids, crafts for mom and records for the hipster dads. There was literally something for everyone to buy and help support local, small business. After making a few purchases, mainly house plants and pickles because that's how we roll it was time to eat some burgers. Popular New York chain, Bareburger set up shop outside of their corner location to grill up slider versions of their signature organic burgers. We could have popped at least five of these in our mouths! Next up we were happy to run into friend of LocalBozo, Chef Jacques Gautier owner of the Union Street barbecue joint Fort Reno. As per usual Chef Gautier and his brilliant pitmaster were smoking some choice cuts of pork to prepare their highly noteworthy 'cue. But on this occasion they changed it up by serving a sandwich made out of smoked blue fish with homemade pickled vegetables and aioli on a hot dog bun. The smoked and salty fish perfectly blended with the vinegary pickles, making this one of the big winners of the day. Seriously, what will this chef think up next?
As the hours rolled on the fun grew and so did the early summer heat! Since this was such a neighborhood centric event we were pleased to see local politicians such as Chuck Schumer and Anthony Weiner on the street meeting their constituents. Like all great events this one had to come to a close. We may have had a slight sun burn but we couldn't have been happier to spend the day in this fantastic neighborhood and do our part to support local business.
- Jay Rubin
Related Articles
Share
About Author
(0) Readers Comments