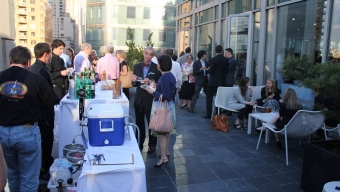 Amid the stunning views of Columbus Circle and Central Park South as the sun was setting Thursday night, nonprofit organization The Hope Program brought together a few hundred guests for a fundraising effort dubbed "A Taste of Hope." Tasked with helping to empower the poverty stricken and the reformation of once promising citizens turned to a life of crime, The Hope Program provides opportunities for learning, re-adjusting, and returning a sense of normalcy to the underprivileged who desperately seek a second chance at life.
The seventh floor of the Steelcase, Inc. building proved to be an absolutely ideal space for "A Taste of Hope," an evening that would bring together several student success stories, philanthropic friends of the Program, and some New York City restaurants and catering companies in celebration of the organization's initiatives. With a selection of spirits provided courtesy of Tito's Homemade Vodka, wines from City Winery, and brews from City Island Beer Company, guests were treated to a bevy of distinctive imbibing options to wash down many of the evening's delectable eats. But the different samples being doled out took a rightful backseat to some of the stories shared by The Hope Program's students.
The program provides a minimum of 280 hours in educational training for its participants that runs a wide spectrum from literacy and math to computer skills and stress management, all focused on career enhancement. With a minimum of 380 hours of actual job training and classroom instruction, students from all walks of life are thoroughly taught basic life essentials necessary to foster their futures. With Hope's two programs, HOPEworks, a twelve week classroom intensive program for a variety of career opportunities, and GROCERYworks, an eight week program in the food retail industry, the nonprofit has the direct capability of schooling their students and teaching them principles as their lives progress. The evening's most poignant moments were addressed by The Hope Program's students as Ebony and Angel took to the podium to address the crowd. Each touching story revolved around their troubled upbringing, their disappointment in how they'd chosen to raise their children, and how The Hope Program had begun to turn their lives around entirely. The guests meanwhile, with their glasses raised, left each student with a standing ovation for their bravery in coming forward candidly, in front of a full room of onlookers.
While the attendees and students are to be commended, the participating food vendors should be as well. Guests paraded around from table to table, casually noshing on some delicious samples both inside the event space and on the outdoor, sun-kissed patio. The folks from Chelsea Market Baskets were serving up such incredible hunks of "Grilled Cheese Sandwiches" that they had a difficult time keeping them on the plate and away from people's vulturing hands. The rich, gooey sandwich was buttered on both sides and topped with a pickled jam that packed an intense flavor kick. Our pals at Jimmy's No. 43 meanwhile brought a light "Polenta Cake" topped with salty diced bacon that became an instant hit with our taste buds. But it was vegetarian/organic spot Terri that pulled out all the stops with a trio of tasty sandwiches, juices, and cupcakes- an entire meal from just one place. Kudos also go out to the folks at Murray's Cheese, Butterbeans, Neuman's Kitchen, Sip Soups, Schnippers, and Inside Park at St. Bart's for being some other noteworthy participants at "A Taste of Hope."
With The Hope Program's 'crawl before you can walk' mentality, three quarters of their graduates have secured job placements and more than 15,000 hours of internships have been compiled by the Program's students, while also assisting and contributing to the growth of local businesses, since 2010 alone. And Thursday evening's efforts alone raised upwards of $100,000 to help fund the organization over the next year and beyond. That's reason enough to give anyone, no matter how down on themselves they might be, a little bit of hope. Check out the great work being done by The Hope Program at their website now, and find out how you can become a part of turning someone's life around, one step at a time.
- Jane Van Arsdale
Related Articles
Share
About Author
(2) Readers Comments