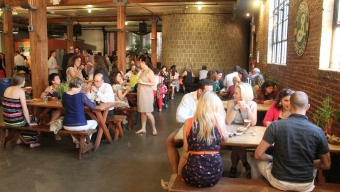 The statistics are certainly cause for alarm. 1 out of every 5 Americans is considered overweight or obese, with 1 out of every 3 American children considered the same. Our country spends more than $147 billion annually on health care- solely for diseases considered diet related. When you reflect upon the fact that this is the first generation of children likely to have a shorter lifestyle than their parents, it's startling enough to realize that puttering along and doing things the way we've been doing them simply isn't working. Enter FoodFight, a nonprofit group started more than three years ago by two former New York City schoolteachers that aims its advocacy at utilizing schools as a teaching platform through the use of instructional wellness programs to disseminate the knowledge necessary for living a healthy, long life.
The battle against obesity is hardly a novel concept as our own Mayor Bloomberg's ill-fated attempt at limiting the size of sugared up drinks can attest. But like anything else, it's all in the approach, and FoodFight conceptually is working to change the way that we think about food- where it's from, what it does to our bodies, and how we can make healthier choices accordingly. Interestingly enough, the organization also focuses on the wellness of the teachers themselves, often a forgotten piece as the focal point lies on their students. With all that in mind, the group invited some of its most ardent supporters to Williamsburg's Brooklyn Brewery on Thursday night for the Third Annual Food Fight Benefit. Guests would be welcomed to help themselves to enjoy artisanal food courtesy of food trucks Mexicue and Coolhaus directly outside of the venue, and the likes of Baked by Melissa cupcakes, pickles from Rick's Picks and some choice charcuterie courtesy of Green Grape, alongside the full variety of pours from the Brewery itself. And in a last little nugget of entertainment, ten minutes of stand-up comedy courtesy of former contestant on NBC's 'Last Comic Standing,' Cory Kahaney.
Attendees could be seen mingling throughout the evening, with many gathered at the lengthy picnic tables which comprise the Brewery's seating area and others perusing a table of silent auction items- many of which, inspired by healthy cooking ideals. The program portion of the evening would commence shortly thereafter with Co-Founders Carolyn Cohen and Dr. Deborah Lewison-Grant heartily welcoming the philanthropic guests, and encouraging them to open their wallets in the spirit of FoodFight's focus. The program, which began locally, has begun to branch out domestically, reaching as far west as Colorado and Texas, with efforts toward expansion continuing to progress in the coming months in Pittsburgh, Boston and Los Angeles. The co-founders then welcomed a local teacher and student from New York City's Edward R. Murrow High School, who extolled the nonprofits virtues, candidly discussing the positive effects that FoodFight had had on them personally. Said Lewison-Grant, "we have wellness programs in every corporate setting in America, except in schools. We are focused on shifting the culture of health and wellness in schools. Part of that is getting the teachers themselves to buy in."
The entire evening was in essence a celebration- of the organization's incredible successes to date, of the overwhelming support given by its attendees, and for FoodFight's continued growth and expansion. And while it's a bit ironic that an annual benefit for a program aimed at health and wellness occur inside of a brewery, the space was a perfect setting for the event, and its purpose was certainly not lost on any of us. For more information on FoodFight, it's as simple as checking out their website and opening up your wallet. After all, obesity is the leading cause of preventable death in the United States, but the word preventable is key.
- Jane Van Arsdale

Related Articles
Share
About Author
(0) Readers Comments