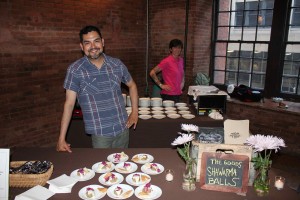 Sometimes it takes a collection of famous local chefs and their even more well known restaurants to help bring attention to a truly worthy cause. Such was the case on Wednesday night as the Astor Center once again played host to the 6th Annual STREETS International NYC Benefit. With freshly prepared cocktails and an open bar, a slew of fantastic silent auction items, and tasting tables positioned throughout the space, the two plus hour event would be a journey through some of New York City's finest culinary staples while raising funds for disadvantaged youths in impoverished countries.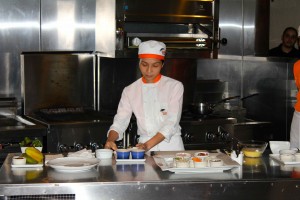 Beginning in Vietnam, STREETS International is focused on offering the severely underprivileged the opportunity for a fresh start. Bringing young adults from the street to the kitchen, the organization's outreach program centers around the hospitality and service industry, bringing in potential apprentices for a comprehensive eighteen month program which includes everything from learning English to mentoring and teaching life skills. Moreover, the trainees are given housing, medical care, food and an incredible amount of support. From the perils of poverty, STREETS International equips those without hope with the very real opportunity at a second chance.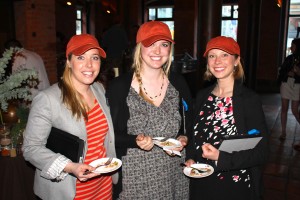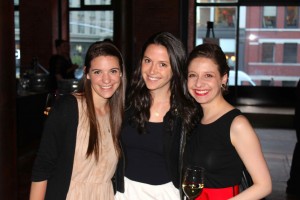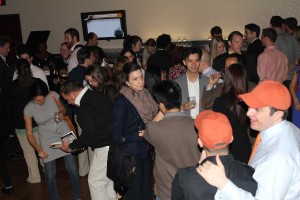 The sprawling space was an ideal setting as usual- lines for food and drinks were basically nonexistent and the friendly staff of volunteers paced the rooms with iPads to place bids for silent auction experiences like vacations in Naples, Florida and a 15 day trip through Southeast Asia. As guests paraded around between the restaurants, they were also fortunate enough to take in an authentic culinary demonstration, courtesy of two STREETS trainees- the final product of which was as tasty as anything being served during the event.
The list of restaurants lined up to participate at the event, and their corresponding chefs, reads like a who's who of the New York City food industry. With mixologist Pete Vasconcellos from Upper East Side haunt The Penrose slinging a specialty cocktail specifically for the evening, we made our first stop at King Phojanakong's Kuma Inn & Umi Nom, for a plate of "Pan-fried Rice Crepes" stuffed with Kuma pork bolognese. The salty and sweet sauce doused every sticky piece of the layered white crepe and the serving was absolutely delectable. Mere steps away sat Blue Smoke & Jazz Standard's Kenny Callaghan with a southern inspired "Shrimp and Grits with Red Eye Gravy," which let's just say, disappeared quickly and completely. The bulbous shrimp was perfectly prepared, saturated in a glean of shiny copper colored broth.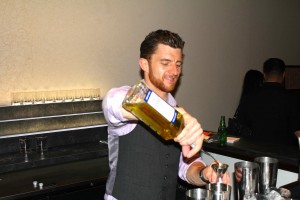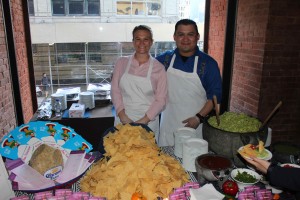 Other highlights of the evening included August Restaurant and Chef Josh Eden's "Shrimp and Pork Pot Stickers," Floyd Cardoz of North End Grill and his "Roasted Turnip and White Bean Soup," and Nightingale 9's Robert Newton and his "Jasmine Rice Chao." Even Joe Quintana of Rosa Mexicano's straightforward "Guacamole en Molcajete" was a revelation. Our favorite- and no surprise- dish however came courtesy of The Meatball Shop, where Dan Holzman and Michael Chernow brought a tender "Shawarma Ball," basted in tahini sauce, red cabbage, and topped with a tangy onion slaw.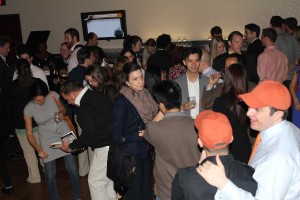 Although STREETS International is currently focused on people inhabiting some bleak elements in Vietnam, their efforts for advocacy, empowerment, and improvement are far greater reaching than in just one area. And attendees of the 6th Annual NYC Benefit can certainly attest to the outstanding work being done. But now that they've done their part, it's time to do yours. Make sure to spread the word about STREETS International and head over to their website. You could be helping to find the next great chef and saving their lives.
– Jane Van Arsdale
The Meatball Shop's "Shawarma Ball" & Nightingale 9′s "Jasmine Rice Chao"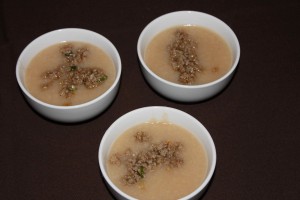 Edi & The Wolf"s "Bucheron with Green Asparagus" & Num Pang Sandwich Shop's "Roasted Cauliflower Nam Pang"
Rosa Mexicano"s "Guacamole en Molcajete" & North End Grill's "Roasted Turnip and White Bean Soup"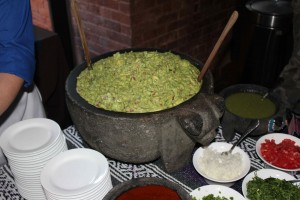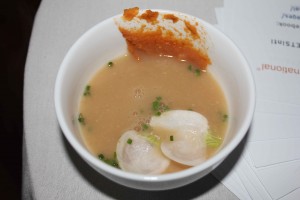 Blue Smoke"s "Shrimp & Grits with Red Eye Gravy" & Kuma Inn's "Pan-fried Rice Crepes"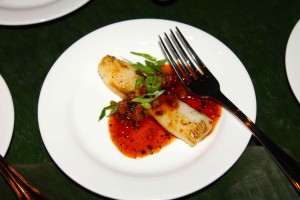 August Restaurant's "Shrimp & Pork Pot Stickers" & STREETS Restaurant Cafe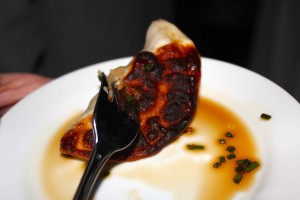 Related Articles
Share
About Author
(1) Reader Comment