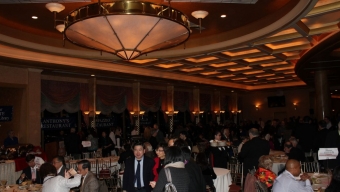 It's truly time to kick the tires and light the summer bonfires because June is finally here. Your friends at LocalBozo.com want you to soak up the sun all month long with some fantastic events that we feel you truly cannot miss! Whether you're looking to celebrate in an up and coming neighborhood with some delectable dishes or rocking out to some killer live tunes, we truly have you covered on all fronts. Just remember, in New York City nothing lasts long, so be sure to purchase your tickets for these outstanding events before it's too late.
June Events in New York City: Where You Need to Be
Date: Tuesday, June 4th 2013
Event: The 8th Annual Taste of Long Island City

Place: Gantry Plaza State Park
Cost: $60 General Admission

The Scoop: The 8th Annual Taste of Long Island City is the perfect way to seriously kick off your summer on the right foot. Gantry Plaza State Park is a sprawling venue on the East River Waterfront and a perfect location to sample some of the best dishes from this up and coming neighborhood. As you stroll through the grounds prepare for your jaw to hit the floor as you sip and sample everything from LocalBozo.com favorites Alewife, Alobar, and opendoor, and even the folks at Tom Cat Bakery. The date simply cant come fast enough. Once the food and spirits are gone, you"ll have plenty of the cityscape to gawk at for some serious eye candy! Grab up those tickets today!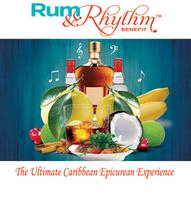 Date: Friday, June 7th 2013

Event: Rum & Rhythm Benefit & Auction

Place: Tribeca 360

Cost: $100 General Admission, $75 Exclusive Sale

The Scoop: LocalBozo.com is proud to be the media sponsor of the highly anticipated "Rum & Rhythm Benefit & Auction." On Friday, June 7th head to the posh space at Tribeca 360 and be prepared to be whisked away to the Caribbean for a high energy evening of rum loaded cocktails, rhythmic music and a one-of-a-kind auction event! All of this celebrating will benefit "The Caribbean Tourism Organization Foundation" which provides scholarships and financial assistance to Caribbean nationals interested in pursuing studies in tourism and hospitality, and also supports employees wanting to improve their foreign language skills. Grab your tickets and get into the spirit and rhythm of the night! OR stay tuned to LocalBozo.com THIS WEEK for a full preview of Caribbean Week and for your very own chance to win a pair of tickets for you and a guest. (HINT: You'll need to follow @localbozo on Twitter)


Date: Saturday, June 8th – Sunday, June 9th 2013

Event: 11th Annual Big Apple Barbecue Block Party

Place: Madison Square Park

Cost: $125 Fast Pass (Valid Sunday Only)

The Scoop: Can you believe a year has gone by this fast? Lucky for you we are just days away from the "11th Annual Big Apple Barbecue Block Party !" One weekend a year, New York City's Madison Square Park is transformed into a barbecue heaven, with Pitmasters representing smoked meats getting tons of love. From Jim Hagood of Charleston, South Carolina's own "BlackJack Barbecue" to 'Que champ Mike Mills of Las Vegas, no pig is left unturned. Don't worry, the hometown crowd will be well represented with John Stage holding down the "Dinosaur Bar-B-Que" smoker and Charles Grund Jr. manning the "Hill Country" sauce brush! If you haven't attended before prepare for a crazy good time, but one with waits for these mouthwatering delights. That's why we highly advise all our readers to purchase a "Fast Pass" right away. As of now, only Sunday passes remain.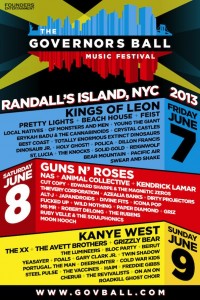 Date: Friday, June 7th – Sunday, June 9th 2013

Event: The Governors Ball Music Festival

Place: Randall's Island

Cost: Friday VIP $180, 3 Day VIP $470; Saturday and Sunday Sold Out

The Scoop: New York City's biggest music festival of the summer keeps getting better with three huge days of live music coming to Randall's Island for the Governors Ball Music Festival. Headliners include Kings of Leon, Guns N' Roses (what?!) and Kanye West with acts ranging from The Lumineers and Bloc Party to Pretty Lights, Of Monsters and Men, and Nas. Tickets are running out though so you had better have some cash to shell out if you want to see any of it live.
Date: Monday, June 10th 2013

Event: An Evening with The Les Paul Trio featuring special guest Zakk Wylde

Place: The Iridium

Cost: $37.50 General Admission ( Two Performances 7:00 PM and 10:00 PM)

The Scoop: Zakk Wylde is truly one of the premiere guitarists working today. From the look of this guy it appears that he eats, sleeps and breathes rock music. You may be a fan of Zakk's from his band Black Label Society, his years touring and recording with Ozzy Osbourne or seeing him in the movie "Rockstar." Either way, we are thrilled he is playing two, one night only performances at Iridium, a club known primarily for jazz. On this special Monday, Mr. Wylde will team up with The Les Paul Trio to truly melt some faces while horns are raised proudly to the sky! Grab your tickets today and prepare for true rock bliss!

Date: Tuesday, June 18th 2013

Event: BBQ & You: Benefiting New York Needs You

Place: Southwest Porch at Bryant Park

Cost: $95.00 General Admission

The Scoop: We are thrilled that, "BBQ & You" is returning for a second spectacular year at a very New York City centric location! The Southwest Porch at Bryant Park will play host to an evening of dining on mouthwatering barbecue and delectable delights from Tom Colicchio's 'wichcraft. While you eat prepare to imbibe on some serious craft beers from Peak Organic Brewing Company and wine from Apothic. The sophomore event raises much needed funds to benefit NYNY (New York Needs You), a non-profit organization that pairs high-achieving, low income college students with young professional mentor coaches. These pairs work tirelessly together on interview skills, resume writing and engage in job shadowing just to name a few. So why not spend an amazing summer night under the stars eating delicious BBQ while helping out those who want to attain their goals and succeed! Tickets are still on sale now!
Date: Sunday, June 23rd 2013

Event: iadventure.com's 'Bacon Bash II'

Place: Bowlmor Times Square

Cost: $35- entry and 1 draft beer; $45- 5 tastes and 1 draft beer; $85- entry for 2, 10 tastes and 2 draft beers

The Scoop: The power of the pig compels you. Join iadventure.com at Times Square's most famous bowling alley in a celebration of all things bacon. With samples courtesy of Little Town, House of 'Que, Baconery, Bacon Bites, and Bare Burger to name a few, and a slew of varying ticket prices to experience, strap on an oink nose for one of the two daytime sessions. If the 'Bacon Bash' is anything like the previous 'King of the Wing' or 'Oysterfest' events thrown by the thrillseeking website, it will be a truly wild Sunday afternoon into night.

Date: Tuesday, June 25th 2013

Event: Queens Centers for Progress Annual Gala

Place: Terrace On The Park

Cost: $250 General Admission

The Scoop: There's simply nothing more important to us than supporting a worthy cause whenever the chance arises. The Queens Centers for Progress was founded by the parents of children who suffer from cerebral palsy and developmental disabilities. The organization works tirelessly to raise funds to provide the necessary help to better the lives of those stricken. On Tuesday, June 25th you will be able to stand proudly next to QCP and lend your support at their "Queens Centers for Progress Annual Gala." Terrace On The Park, a lovely Queens establishment will host an evening of delicious dishes served on a continuous buffet plus an open bar. Any chance we can support QCP and the Queens community as a whole, is a night well spent and you should do the same!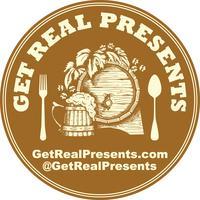 Date: Tuesday, June 25th 2013

Event: Get Real Presents 'Farmhouse Fest'

Place: Alewife Queens

Cost: $50 – Early Bird (Sold Out); $65 in advance; $85 Day of Event

The Scoop: Well, our pals at Get Real are at it again. You've survived the 'aPORKalypse.' You've doused yourself in 'Beer Balls.' In June, Long Island City's Alewife now hosts the 'Farmhouse Fest,' a slightly more refined tasting experience for those with a palate to match. But you need not worry- there's plenty of beer involved. And as a reader of LocalBozo.com, the discount code 'LocalBozo' gets you a cool $5 off the ticket price.  Enjoy entry to the festival and an unlimited amount of Farmhouse craft beers from the US, France, and Belgium, and Farmhouse style wines to pair with charcuterie, breads, fresh cheeses, pickles, and more. With Murray's Cheese participating alongside breweries like Allagash, Ommegang, BedStuy, Sixpoint, De Ranke, and De La Senne- if that's not enough, then there is no pleasing you. Jump on these tickets now before they sell out.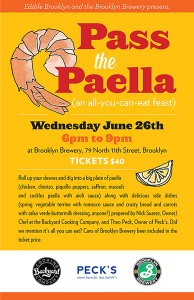 Date: Wednesday, June 26th 2013

Event: Edible Brooklyn's 'Pass the Paella'

Place: Brooklyn Brewery

Cost: $40

The Scoop: Well tough guy, just how much paella do you think you can eat? It might not be a contest, but there is certain to be all you can stomach at Edible Brooklyn's 'Pass the Paella' event. Cans of Brooklyn Brewery beer will be on hand to wash down the heaping portions of rice, chorizo, peppers, mussels, and chicken, with a smattering of side dishes, all courtesy of the Backyard Cooking Company and Peck's. Whether you taste a lot or a little, the choice is yours. But at $40, this sure to sell out event, is perhaps the best value of the entire month.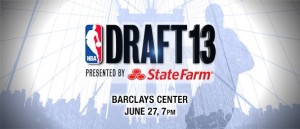 Date: Thursday, June 27th 2013

Event: The 2013 NBA Draft

Place: Barclays Center

Cost: $19.50-$35.50

The Scoop: Sports! Catch the NBA All-Stars of tomorrow at the 2013 NBA Draft live from Brooklyn's sparkling Barclays Center. Televised live, the event will emanate from the BK for the very first time at the end of June and figures to be a fun and interactive fan event. Regardless of who the Nets or Knicks take, there are likely to be boos (and booze) all over the building. It's a cheap and fun way to check out the Barclays Center for the first time AND to be a part of NBA history all at once.

- Jane Van Arsdale & Jay Rubin
Related Articles
Share
About Author
(0) Readers Comments