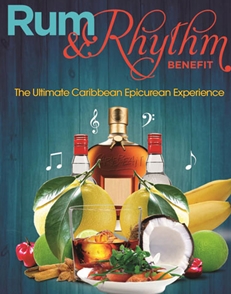 With the first glimmer of sunshine coupled with the creeping up of temperatures, New York City finally has some warm weather and that unmistakable summertime feel within its grasp.  Not coincidentally, Saturday is the official launch of the 2013 Caribbean Week in New York, a fun and festive weeklong festival that celebrates the sights, sounds, and tastes of the picturesque region, and emulates all of them right here at home.  And whether your passion pertains to art, fashion, music, or you're like us- the culinary scene, New York Caribbean Week has something for you.
The festivities are presented by the Caribbean Tourism Organization, encompassing some 30 countries and focused on making the Caribbean the premiere warm weather destination year round for those seeking a temporary respite from the rigors of their everyday.  As such, they've taken many of the authenticities indicative of the region and will parade them through a variety of New York's most vibrant settings.
Caribbean Week in New York kicks off in style on Saturday June 1st in Brooklyn with a Gospel Celebration, championing the destination's diversity and unity featuring inspirational messages, intertwined with live performances and dances, with nearly a dozen well-known gospel performers.  The week also features a Caribbean Celebrity Chef Program (June 4th), a Caribbean Fashion Show (June 4th), the OneCaribbean Vacation Mart and Caribbean Romance Pavilion (June 5th), and culminates on Friday June 7th with the Rum & Rhythm Benefit & Auction.  Held inside the posh Tribeca 360, the three hour event features some of the most delicious liquors and dishes that encompass the spirit of the Caribbean.  With live music, exciting silent auction items, and the opportunity to mingle with Caribbean entertainers, while sampling some distinctive rums, the event will wrap up one incredible week of Caribbean experiences.
As the Rum & Rhythm Benefit & Auction's sole media sponsor, LocalBozo.com sat down with Director of the Caribbean Tourism Organization Foundation, Sylma Brown Bramble for an exclusive interview, previewing the event for our readers.  We're proud to offer tickets for you and a guest to the Rum & Rhythm Benefit & Auction.  Details are below.  Pick up your tickets now and tell 'em that LocalBozo sent you!
- Jane Van Arsdale

LocalBozo.com:  How did the concept of Caribbean Week in New York come to fruition?
 
Sylma Brown Bramble:  40 years ago, the leadership of the Caribbean Tourism Organization (then Association) began hosting their annual Spring meetings of the Board of Directors and Ministers of Tourism in New York.  They also staged a Governments of the Caribbean State Ball as a fundraiser for the Organization and called the Week in which the events were held, Caribbean Week.  Over the years, the diversity of the Organization moved from it's government membership of Dutch, English, French and Spanish speaking countries in the Caribbean to non-government members which included a varied constituency comprising the Caribbean Diaspora, the Media, retail travel agents, consumers and private sector companies that chose to become members of the organization to benefit from the value that they derived from membership.  It became abundantly clear that the Organization needed to engage all of these important groups during Caribbean Week, in its major source market. Over the years, the number of events on the Caribbean Week calendar has expanded to include activities that involve all of these important allies and ambassadors.
 
Caribbean Week in New York is a celebration of the sights, sounds, color, culture and unique vacation experiences of the Caribbean. Caribbean tourism officials, the media, artists, performers, celebrity chefs, fashion designers, models, investors and other strategic partners converge on New York.  Caribbean Week in New York now showcases the diversity and vibrancy of the region and offers Caribbean vacations at super special prices available only during the Week.
 
The objectives are:  To provide a platform for the sale of Caribbean vacations … To create events that attract significant positive media attention for the Caribbean … To provide opportunities for members to promote their individual products and services … and To engage the Caribbean Diaspora.
 
LocalBozo.com:  What's typically the biggest challenge in just pulling off an entire week of different events and activities celebrating the Caribbean all over the City?
 
SBB:  As with many activities, the larger the group, the more complex the planning.  We represent 30 countries, each with different needs and all of whom we are required to make happy.  That is a welcome challenge.  We have to ensure that the public and private sector members co-exist harmoniously at our events.  We manage to do that because it is the Caribbean, after all, and we infuse the business events with our warmth and hospitality.  Our biggest challenge is in putting the strength of the millions of Caribbean Diaspora to work toward securing financial support for the activities and the educational charity, the CTO Foundation, that the Week benefits.  We would be able to provide scholarships to many more nationals with more corporate support for our events, and we would be quite content that we are leaving the industry in the capable hands of a cadre of trained leaders.
 
LocalBozo.com:  The week is filled with celebrity chef demonstrations, a fashion show, and a holiday fair featuring deals on Caribbean Vacations to name a few of the events, but the end of the Week is capped off with the big Rum and Rhythm Benefit and Auction.  For first time guests, what can they expect to find inside the event?
 
SBB:  Authenticity.  That is what consumers are looking for in their vacation experience and that is what Rum and Rhythm delivers.  Authentic foods from various Caribbean countries, Award–winning Rums from across the Caribbean, authentic music from top musical talent, warm smiles, dance lessons, if one wishes to brush up on their reggae, or soca… all in an elegant "Caribbean" setting.  Rum and rhythm delivers an experience that inspires first-time participants to aspire to taking a Caribbean vacation (and they could get one free of charge) and creates a yearning in those who have already visited the Caribbean to return or experience another destination.
 
LocalBozo.com:  Who are some of the participating rum and food purveyors and what are some of the great Caribbean inspired tastes we can expect at the Benefit?
 
Participating destinations include: Anguilla, Antigua & Barbuda, The Islands Of The Bahamas, Barbados, Jamaica, Trinidad & Tobago and US Virgin Islands.  These will all have either a chef or a local caterer serving authentic Caribbean food samples.  Rum brands include: Mount Gay, Appleton, El Dorado Demerara, Angostura 1919, among others.
 
LocalBozo.com:  How did the organization settle on the posh TriBeCa 360 venue as the host site for the Benefit?
 
SBB:  Over the 5 years of its existence, we have hosted Rum and Rhythm at several locations in Manhattan – all good, but none as perfect as Tribeca to mimic the elegant epicurean experience that can be had in the Caribbean, down to the view of the water, if one looks past the Manhattan skyline.   We knew it the minute we walked into the building and we are happy that it has been available to us.
 
LocalBozo.com:  Will there be an organized program as part of the evening or any surprises in store for guests?
 
SBB:  Certainly, there will be an organized program, which includes a Silent Auction to benefit the CTO Foundation.  We have hinted at some of the surprises, but I am afraid that we cannot divulge more.  Guests will have to be present to win, I mean, to be surprised! 
 
LocalBozo.com:  Can guests that are looking to vacation soon come away with a clear picture of where they should be heading?
 
SBB:  They could, but for that particular objective, we would recommend the OneCaribbean Vacation Mart and Caribbean Romance Pavilion which will be held at the New Yorker Hotel, on Wednesday, June 5th from 5pm-10pm.  There is no fee to attend and consumers can walk away with Caribbean Vacations at special prices and be guided in their choice of destinations by professional travel agents who will be on location to assist them.  At Rum and Rhythm, they may bid on a Caribbean Vacation at the Silent Auction and support a worthy cause, but they will have to do their homework beforehand, unless of course they wish to make that decision based on their individual experience with participants at the event.  In any event we recommend that they log on to our website www.CaribbeanTravel.com, the definitive source of information on the entire Caribbean, if they are not yet Caribbean enthusiasts or island collectors. 
 
LocalBozo.com:  Anything else that our readers should be aware of for Caribbean Week in New York?
 
SBB:  Those who are interested in Fashion will get  a glimpse of top Caribbean designers at the  Caribbean Fashion show at the New Yorker Hotel on Tuesday evening.  On Wednesday, June 5, engaged couples may enter a sweepstakes to win their ALL EXPENSES PAID Caribbean Wedding getaway to the Islands Of The Bahamas at the Romance Pavilion, which is part of the OneCaribbean Vacation Mart, also at the New Yorker Hotel.  Lovers of Gospel music will be enthralled by the line-up of Caribbean Gospel superstars on Saturday, June 1 at the Bethesda Healing Center in Brooklyn … reggae Gospel, Calypso Gospel and more.  Your readers will enjoy them all and should choose to attend one or all.  We are staging them for their pleasure and convenience.  For more on Caribbean Week, go to: www.CaribbeanWeekNY.com.
Ticket Giveaway
LocalBozo.com wants to send you and a guest to Friday, June 7th's Rum & Rhythm Benefit & Auction sponsored by the Caribbean Tourism Organization.  All you need to do is follow LocalBozo.com on Twitter @localbozo and Tweet us out with the hash tag #RNR2013.  We'll select a winner in the middle of next week so enter as many times as you want, but be creative- and spread the word for Caribbean Week in New York 2013!!
Related Articles
Share
About Author
(1) Reader Comment