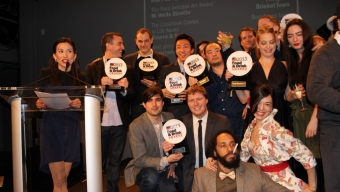 Blog: Time Out New York Food Awards 2013
It was there for you when you first moved to the big and scary city and wanted to find a cheap bar for you and your buddies to throw back some college style brews. A few years later it was there when you wanted to take that special person on a memorable first date. You guessed it, I'm talking about, "Time Out New York" the oracle of what's new and hot all around town. Once a year the minds behind the magazine pay tribute to the very best joints and chefs in our fare city. On Monday evening the LocalBozo crew headed to the cross streets of Charles and Greenwich in the West Village for the, "2013 Time Out New York Food & Drink Awards." For one night only, New York's finest culinary masters would be honored while droves of their most ardent supporters would join them in sharing in their honor, while drinking in and of course eating the riches.
At 6pm we shuttered through the doors and entered into the sprawling, wonderfully designed party space at Stephen Weiss Studio. A large bar loaded with the likes of delicious Prosecco, Stella Artois beer and Pig Nose scotch whiskey plied the crowd nicely to get the evening off on its proper foot. Surrounding the lovely bar was a ring of Time Out New York's favorite establishments and award nominees. Since hunger was certainly in the air we made our first stop to the aptly named Dear Bushwick. And in a happily surprising turn their choice eat for the night consisted of "Wine Barrel Smoked Eggs and Roe." Each bite of these awesomely unusual eggs yielded bold and salty flavors with the over-sized roe exploding in our mouths. Mere steps away sat DUMBO, Brooklyn's own Gran Electrica, who continues to impress with their innovative use of meats often served raw. Their trend of carnivorian goodness was on display with their bite sized "Carne Cocida en Limon." Served on a tortilla chip and bursting with flavor, we simply couldn't throw these in our mouths quick enough.
After satisfying our hunger we grabbed another cold boozy beverage from the fantastic and fast moving bar and began to scan the room for some of the city's best culinary talents. It didn't take long to spot Chef Josh Capon, owner of LocalBozo.com favorites Lure Fish Bar, Burger & Barrel, and now El Toro Blanco, nominated for an award on this night. A short time later we saw Chef Dale Talde looking over his team from the ever popular Brooklyn joint Pork Slope. Chef Talde and his crack team quickly doled out their "Signature Nachos," far from the typical bar variety and overloaded with jalapeños and brilliantly spiced savory meats. Needless to say they went perfect with bottles of ice cold Stella. L'Apicio's showing brought out a delicate "Polenta with Pork Meatballs and Amatriciana Sauce" which embodied everything we love about these tender hand rolled balls of meat.
At 8pm, the award ceremony gathered all in attendance to the front of the house. Time Out's traditional award plates filled out the front of the stage causing those up for the coveted awards to nearly drool with each passing second. And moments later a projection screen boldly shined the winners of both the "Readers' Choice" and "Critics' Picks" selections. A huge roar blared throughout the room as the winners took to the stage for an old school yet very cool class photo style picture. The LocalBozo.com crew had an outstanding evening of rubbing shoulders with the greats while eating their food art. We are proud to bring you the exclusive list of all the winners so you can head out there and enjoy the very best of New York City!
The Time Out New York Food Awards 2013 Award Winners 
Readers' Choice
Best New Restaurant – The NoMad
Best New Italian Spot – Perla
Best New Neighborhood Joint – Dear Bushwick 
Best New Cocktail Bar – Pouring Ribbons
Bes Second Act – Biang! 
Chef Of The Year – Daniel Humm
Best Sandwich Shop – Mile End Sandwich
Best New Bakery – Ovenly 
Best New Mexican Eats – Gran Electrica 
Best New Beer Bar – Alphabet City Beer Co. 
Critics' Picks
The Smoking Hot Number One – Mission Chinese Food
The Same Same But Different Award – Pok Pok NY
The Food Imitates Art Award – M. Wells Dinette 
The Cookbook Comes To Life Award – Beurre & Sel 
Best Pint Size Brew Shrine – Proletariat 
Best Big-Pimp' Brooklyn – Blanca
The New Nordic Wonder – Aska 
Best Smoked Meat Evangelist – BrisketTown
Best Seoul Food – Hanjan
The High Rolling Stoner Sushi Award – Chez Sardine
- Jay Rubin
Related Articles
Share
About Author
(0) Readers Comments