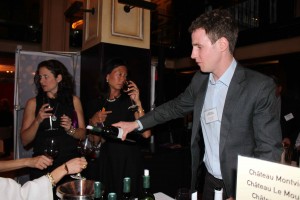 The clientele was dressed to the nines on Thursday evening at Murray Hill restaurant Millesime inside the posh Carlton Hotel as a plethora of the finest wineries from France's Bordeaux region gathered together in the same room for the annual "Right Bank" New York Grand Tasting. The wine tasting and literal schmoozefest hosted a selection of "Le Cercle Rive Droite De Grands Vins De Bordeaux," a group that comprises 143 of the Right Bank's most prestigious vineyards, known for the region's outstanding and diverse soil and its ideal climate for growing. With a live band, some small passed around bites, and some truly exceptional wines, the Carlton Hotel for once was forced to play second fiddle to the event taking place inside.
Although the event lasted just two hours in duration, it was more than sufficient to taste as many of the wines as you desired as well as giving attendees the opportunity to kick back and revel in a slightly more refined evening than even we're admittedly used to. Candidly, we were forced to take note of the delicious wines we'd be tasting for the very first time following our failed efforts at simply pronouncing most of them. The friendly French speaking winery representatives however were more than willing to respond to whichever bottle we'd pointed at and filled up our glass with a smile. We grabbed our empty wine glass after checking in and headed toward the back of the room, where the main space opened up to a full bar.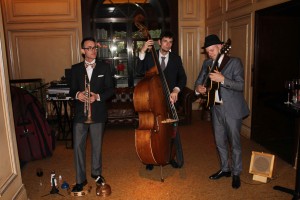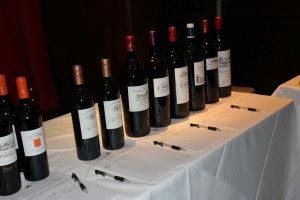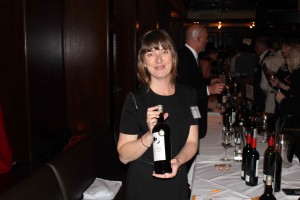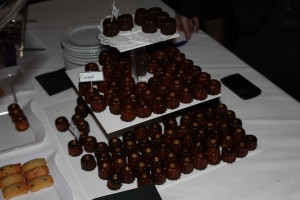 It should be noted that the 2013 Grand Tasting boasted more than thirty distinctive wines all considered to be 'elite chateaux.' With that in mind we spotted an opening and headed toward Chateau Gaby and their 'Canon-Fronsac' 2009. Made with a predominance of Merlot, the dark fruit flavors of the rich wine drank surprisingly smoothly for a varietal that had us longing for a chilly winter evening. A bit on the more acidic side was the relatively similar 2010 vintage, which slightly underwhelmed in comparison. Mere steps away, we also thoroughly enjoyed several visits back to Chateau de Laussac for sips of their 'Cotes de Castillon' 2010. The Merlot and Cabernet Franc blend was robust and dark with a smattering of cherry notes. Tasty and bold at once, the young wine was delicious, but is likely best reserved for next year for the full flavor profile to develop.
With a 6pm start time, our stomachs were bound to need satiating and fortunately for us the hors d'oeuvres being passed around by the hospitable staff absolutely hit the proverbial spot. Succulent lamb lollipops and tender sliced beef with a dollop of creamy sauce atop a crunchy crostini made the rounds briefly before guests descended upon the serving trays like vultures. Meanwhile, bite sized quiches embedded with leeks and some with fresh asparagus appeased the hunger of the non-meat eaters in attendance. But regardless the food selections paired brilliantly with the complex and dynamic wines being poured all evening long and also gave us something to nosh on while we perused the selection of silent auction wine bottles and magnums being offered to benefit Citymeals-on-Wheels.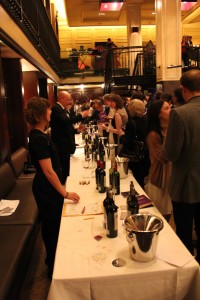 With so many wines to sample, we did manage to stumble upon some excellent finds which stood out as highlights for our palettes. First, the Clos du Clocher 'Pomerol' 2008 was distinctive for its aromatic smokiness with a finish that combined equal elements of dry fruit and a kick of pepper on the back end. The Chateau Bonalgue 'Pomerol' 2009 however had a more silky, chocolatey taste. Smooth and fruit-filled, we found this to be amongst the most drinkable of the night, as either a standalone wine or a delightful accompaniment to a hearty dinner.
As the Grand Tasting reached its conclusion, the terrific wines had left us with some excellent lingering tastes on our tongues, as we explored a reputable region of specific wines without having to make the trek to Europe to do so. It's been said that because of August's warm weather for the region, the 2012 vintages will be some of the finest the Bordeaux region has ever produced. It's uncertain at this point how these wines can get any better, but hey, we'll leave that up to the pros who so clearly know their stuff.
– Jane Van Arsdale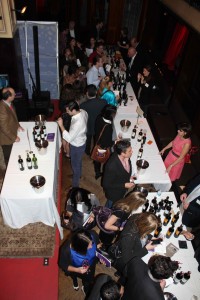 Related Articles
Share
About Author
(0) Readers Comments